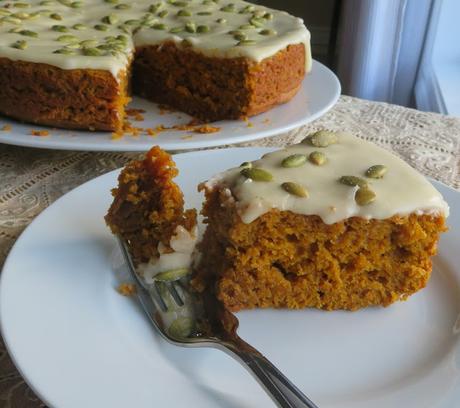 Pumpkin Olive Oil Cake. I have never made an olive oil cake before, but when I saw this recipe in Yossi Snacking Cakes, I knew I wanted to try.  In fact this is the cake she chose to grace the cover of her book, Snacking Cakes, by Yossi Arefi.
I bought this book on a whim. I love snacking cakes.  They are not overwhelming cakes, easy to make, small in stature and no fuss no muss.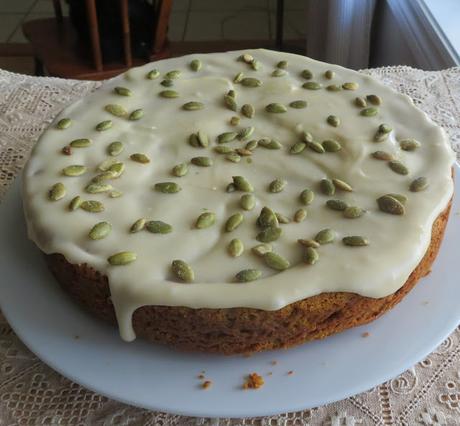 This recipe was adapted from that book. I have made several cakes from the book now, and I can tell you, every one has turned out beautifully.
I can't recommend the book highly enough. If you don't have it yet, you really need to get it!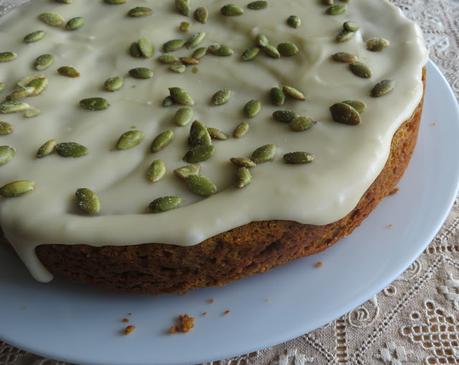 In honor of this being the first week of Autumn, I wanted to bake another pumpkin cake. (Can you ever have too much pumpkin? I think not!!)  When I spied this recipe I decided this was the one.
I still had pumpkin left from baking my Pumpkin, Orange & Cranberry Bread that needed using up, and this was the perfect cake to do just that!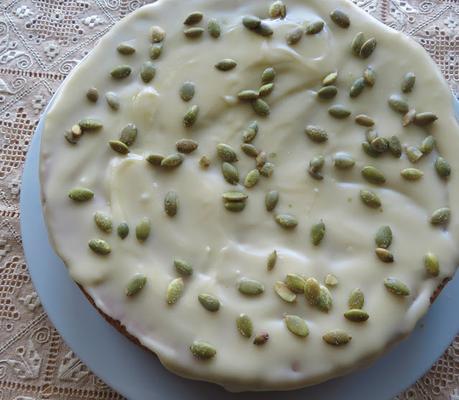 I have never made an olive oil cake before, but I have always been intrigued by the concept. Olive oil cakes are very popular in Italy, and are in fact considered to be signature cakes in some areas.
Any cake containing olive oil is considered to be an olive oil cake actually.  Usually the flavors used in olive oil cakes tend to be citrus flavors.  This is because olive oil itself lends a bit of a citrus-like flavor to the cake.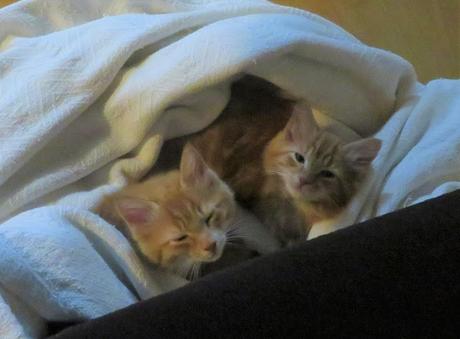 KITTY BREAK - Nutmeg and Cinnamon were admiring me from their blanket beneath my chair. They are so loving and affectionate and love being near me.  They usually purr the whole time.
I had been really missing having a pet. I know pets are an added responsibility, but the love you get in return is priceless. Now back to our regular programming.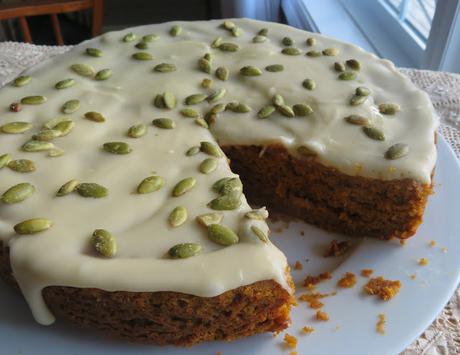 I had not really seen olive oil as having much of a citrus flavor, but when I thought about it I came to the conclusion that it really does. Its a bit subtle, but its there.
Citrus pairs beautifully with fruits and pumpkin, so there you have it.  This is a brilliant combination.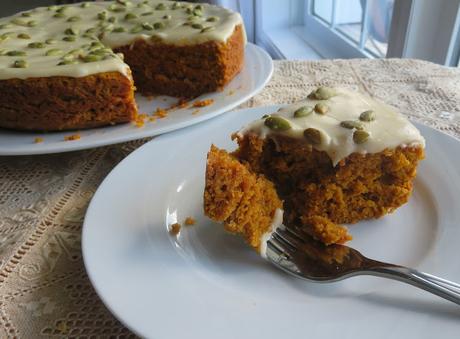 Although it was not stated in the recipe, I figured that this recipe required extra virgin olive oil and so that is what I used. 
There is only 1/2 cup (120ml) in the whole cake so its not overwhelming. There is also some in the lush maple glaze on top.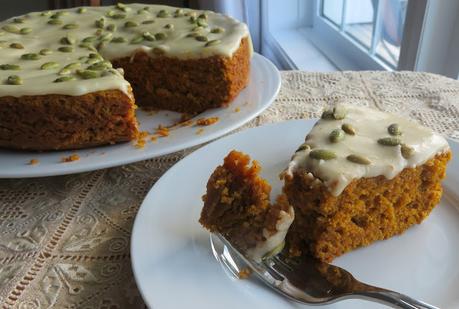 It is an incredibly moist cake, with a beautiful dense texture. Yossi says you can switch it up and add some chocolate chips, but I kept it plain.
There is plenty of spice going on in the cake.  Cinnamon, nutmeg, cardamom, allspice and a gentle nudge of black pepper.  Black pepper adds a lovely hint of warmth that is not at all out of place here!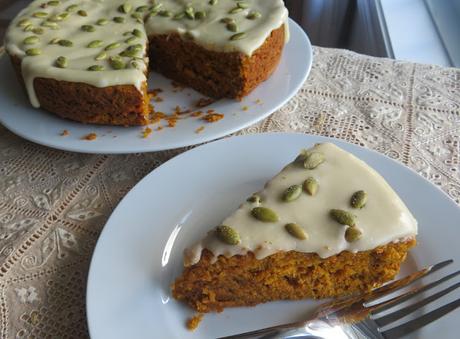 You can bake this cake in a 9 X 5 X 3 inch loaf tin, or an 8-inch square baking pan, or even a 9 by 13 inch pan for a sheet type of cake. (Double the ingredients for the larger cake.) 
Of course the bake times will need to be adjusted as well. For the loaf tin, 50 to 60 minutes.  For the square pan it will take the same amount of time as the round.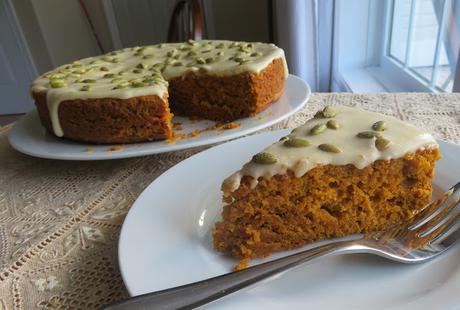 For the 9 by 13 you will need to double the ingredients for the cake, and bake it for 30 to 40 minutes. You will also need to double the ingredients for the glaze.  This would be the perfect cake for a gathering, or pot luck in that measure. 
I would think with the ingredients doubled you could also bake it in a Bundt cake tin, but am not sure how long it would take to bake.  I would start checking it at 40 to 45 minutes.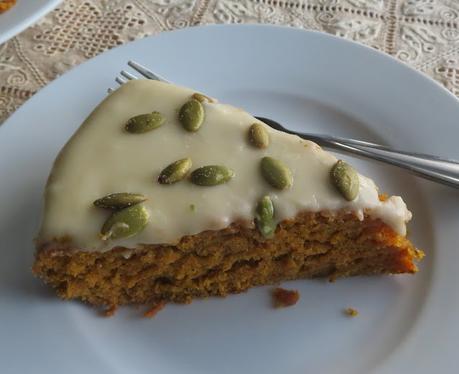 I think the roasted pumpkin seeds make a beautiful garnish on top and are quite fitting as it is a pumpkin cake after all. I used the salted ones.
She had suggested sprinkling sea salt flakes on top, but I figured if you use already salted roast pumpkin seeds, you don't need to use any sea salt flakes.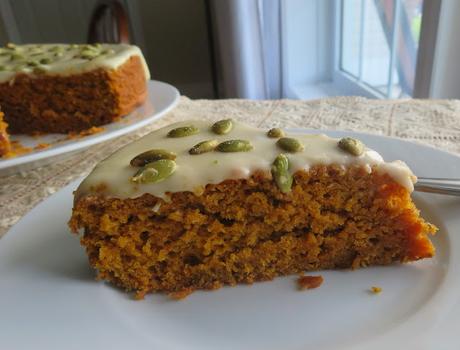 The cake itself is very easy to throw together.  Its a simple matter of beating the eggs and sugar together until foamy and then adding the other wet ingredients, along with the spices.
You will need to whisk everything together until everything is really well mixed together.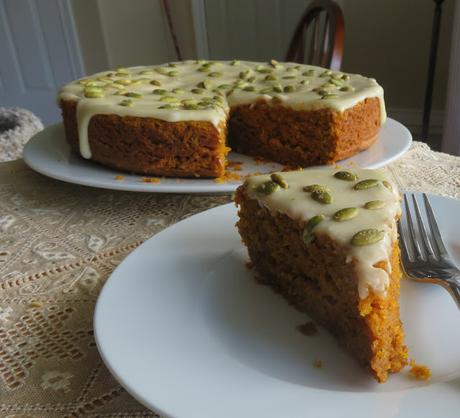 I always like to sift the flour, baking powder and soda together before I add them to cakes. This makes sure that the leavenings are evenly distributed in the cake batter.
There is nothing worse than getting a mouthful of baking soda because it has all ended up in one spot in a cake.  Sifting gets rid of the chance of that happening!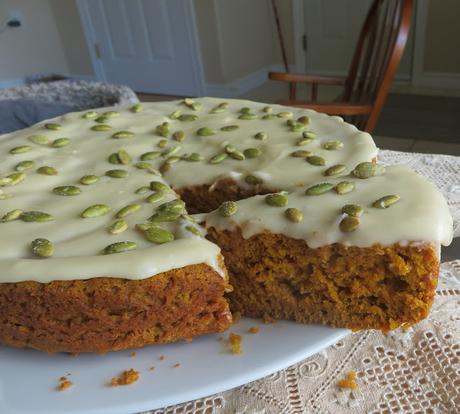 The glaze is very simple to make and adds a beautiful touch. Its nicely flavored with just a bit of maple syrup (use the real deal) and of course there is a bit of olive oil in the glaze also.
This gives is a velvety texture. Only add half of the hot water until you see how thick the glaze is actually going to be. You may not need the second amount.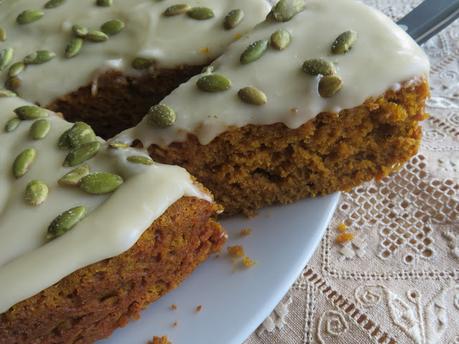 Altogether this was a brilliant cake!  With spicy flavors that complimented the pumpkin and the olive oil beautifully without going over the top.  It has a really warm autumn feel and taste to it.
This would be completely at home on the dessert table with a scoop of vanilla ice cream on top, or at the tea/break table for a delicious mid morning or afternoon treat!
I found the cake, with that glaze, to be completely and utterly moreish indeed! I highly recommend. 
If this isn't quite pushing your buttons, here are a few other pumpkin cakes you might enjoy:
Cinderella's Pumpkin Cake
- moist, dense and delicious
Pumpkin Streusel Cake
- a delicious Bundt cake with a ribbon of streusel running through it.
Pumpkin Spice Cake
- Another Bundt, but this one sports a caramel praline glaze 
Two Ingredient Pumpkin Cake with a Cider glaze
- Yes the cake itself needs only two ingredients. Unbelievable but true!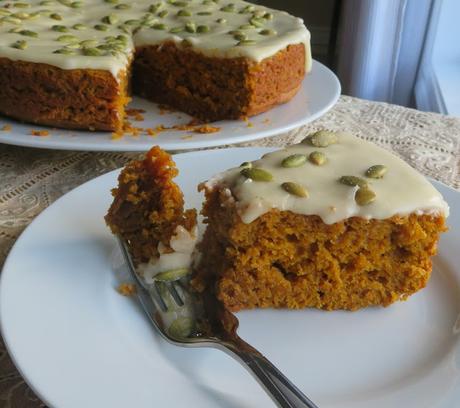 Pumpkin Olive Oil Cake
Yield:
Makes one 9-inch round cake
Author:
Marie Rayner
Prep time: 10 Min
Cook time: 35 Min
Total time: 45 Min
This spicy pumpkin cake sports a beautifully moist texture and a lush sweet maple flavored glaze. You are sure to love this!
Ingredients
For the cake:
1 cup (200g) soft light brown sugar, packed
2 large free range eggs
1 cup (230g) pumpkin puree (not pie filling)
1/2 cup (120ml) olive oil
1 tsp ground cinnamon
1/2 tsp ground cardamom
1/8 tsp ground allspice
1/8 tsp ground nutmeg
1/8 tsp black pepper
1/4 tsp salt
1 1/2 cups (210g) plain all-purpose flour
1 tsp baking powder
1/2 tsp baking soda
For the glaze:
1 cup (130g) icing sugar, sifted
2 TBS olive oil
2 TBS pure maple syrup
1 to 2 TBS hot water
salted roasted pumpkin seeds to garnish (optional)
Instructions
Preheat the oven to 350*C/180*F/ gas mark 4.  Butter a 9-inch round cake tin and line the bottom with some baking paper.  Set aside.
Sift together the flour, baking powder and baking soda. Set aside.
Whisk the brown sugar and eggs together until pale in color and foamy. (1 minute) Beat in the pumpkin, olive oil, baking spices, pepper and salt. Mix well together until smooth and totally amalgamated. Stir in the flour mixture until smooth.
Pour the batter into the prepared pan, smoothing over the top. Tap the pan gently on the counter top a few times to release any air bubbles. 
Bake for 25 to 35 minutes until risen and golden brown. A toothpick inserted into the center should come out clean.  Leave to cool in the pan on a wire rack for about 10 minutes before tipping out to cool completely. 
Place the cake onto a plate for serving.  Whisk together all of the glaze ingredients until smooth, only adding enough hot water to make a thick, but pourable glaze. 
Pour the glaze evenly over the cake and sprinkle with the pumpkin seeds.  Leave to set for 20 minutes before serving.
Store any leftover cake in a tightly covered container for up to three days. 
Notes:
If desired 1/2 cup (85g) of chocolate chips can be folded into the cake batter just prior to pouring the batter into the cake tin.
Did you make this recipe?
Tag @marierayner5530 on instagram and hashtag it #TheEnglishKitchen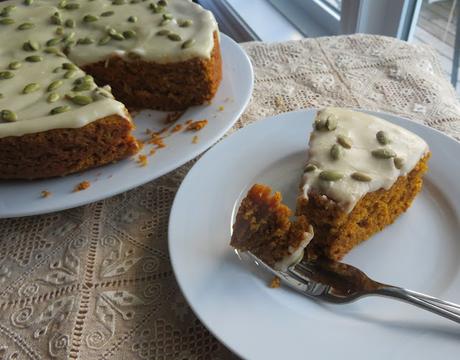 All of the content you see here on this page, both photography and written, are the sole property of The English Kitchen, Marie Rayner. Any reposting or misuse is not permitted. If you are reading this elsewhere, please know that it is stolen content and you may report it to me at mariealicejoan at aol dot com. 
Follow me on Bloglovin