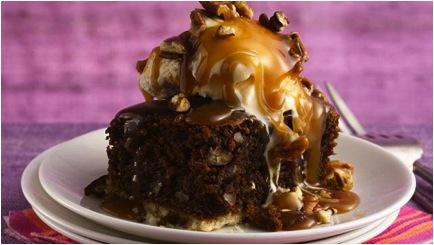 Source: Pillsbury
As the holidays near, my love affair with any type of pumpkin or gingerbread dessert intensifies. So, when I stumbled upon a baked goody that marries both pumpkin and gingerbread, my heart (and sweet tooth) skipped a beat. This pumpkin gingerbread says holiday time like no other. The creamy pumpkin, spicy gingerbread, and crunchy nuts make this trifecta a holiday winner. And if that triple combination isn't enough to make your dessert-loving heart go pitter-patter, the rich caramel sauce drizzled over this decadent treat will be (seriously, I could eat the sauce all by itself). This ranks up there in my top five favorite holiday desserts and draws many "oohs" and "ahhhs" every time I make it. Add this recipe to your holiday bake list…STAT.
Gingerbread
2 1/4 cups all-purpose flour
1/2 cup granulated sugar
2/3 cup butter or margarine
3/4 cup coarsely chopped pecans
1 1/2 teaspoons ground ginger
1 teaspoon baking soda
1/2 teaspoon ground cinnamon
1/4 teaspoon salt
1/4 teaspoon ground cloves
3/4 cup buttermilk
1/2 cup light molasses
1/2 cup canned pumpkin (not pumpkin pie mix)
1 egg
Sauce
1/2 cup butter or margarine
1 1/4 cups packed brown sugar
2 tablespoons light corn syrup
1/2 cup whipping cream
Topping
Ice cream, if desired
Chopped pecans, if desired
Heat oven to 350°F. In large bowl, mix flour and granulated sugar. With pastry blender or fork, cut in 2/3 cup butter until mixture resembles fine crumbs. Stir in pecans. Press 1 1/4 cups crumb mixture in bottom of ungreased 9-inch square pan.
To remaining crumb mixture, add all remaining gingerbread ingredients; mix well. Pour evenly over crumb crust in pan.
Bake 40 to 50 minutes or until toothpick inserted in center comes out clean.
In medium saucepan, melt 1/2 cup butter. Stir in brown sugar and corn syrup. Heat to boiling. Cook about 1 minute, stirring constantly, until sugar dissolves. Stir in whipping cream; return to boiling. Remove from heat. Serve warm sauce over warm gingerbread. Top with ice cream; sprinkle with chopped pecans.