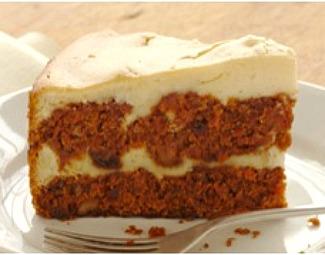 Source: Duncan Hines
Any dessert that has the word cake in it twice has to be worthy. This recipe gem combines carrot cake and cheesecake and for a fall season spin throws in some pumpkin! The spice of the carrot cake and creaminess of the cheesecake will undoubtedly make this one of your favorite autumn-inspired recipes. And it bakes up so gorgeously that each slice looks like a work-of-art. So, throw on your cutest cooking apron, conjure up your inner Picasso and get to baking your Pumpkin Carrot Cake Cheesecake masterpiece….
Ingredients
Carrot Cake:
1 box Duncan Hines Classic Carrot Decadent Cake Mix- reserve 1/2 cup of dry mix, set aside
1 cup hot tap water (for soaking carrots and raisins)
2 eggs
1/4 cup vegetable oil
1/2 cup chopped walnuts
16oz tub Duncan Hines Creamy Home-Style Cream Cheese Frosting
Cheese Cake Filling:
2 (8oz) packages cream cheese
3 Large eggs
1 14 oz can sweetened condensed milk
1/2 cup packed brown sugar
1 cup pumpkin puree
1/2 cup reserved Duncan Hines Classic Carrot Decadent Cake Dry Mix
Baking Instructions
Carrot Cake:
1.   Soak carrots and raisins in 1 cup HOT tap water, allow to stand for 5 mins. Drain and squeeze out excess water from carrots and raisins.
2.   In mixing bowl add dry mix (reserve 1/2 cup dry mix) , 2 eggs, 1/4 cup oil. Add well drained carrots and raisins, add nuts. Mix well by hand. Spread 2 cups of carrot cake on bottom of a greased 9-9 1/2 " springform pan. Reserve remaining carrot cake.
Cheesecake:
3.   In large bowl beat cream cheese, eggs and sweetened condensed milk until smooth. Add remaining ingredients (brown sugar, pumpkin, and remaining 1/2 cup of dry mix).
4.   Spread 1/2 of the cheesecake batter on top of the carrot cake. Spoon on remaining carrot cake and top with remaining cheese cake batter. Do not marble with knife.
5.   Bake in a 350° preheated oven for 50-60 mins or until cake is set and cooked through.
6.   Cool to room temperature. When cake is cooled, top with Duncan Hines Cream Cheese Frosting. Refrigerate for 3 hours and serve chilled.