These Pumpkin Apple Muffins are a healthy breakfast treat that's full of fall flavor. This easy recipe is gluten free, refined sugar free, and vegan. This post is sponsored by Truvia® through Socialstars #TruFanCommunity.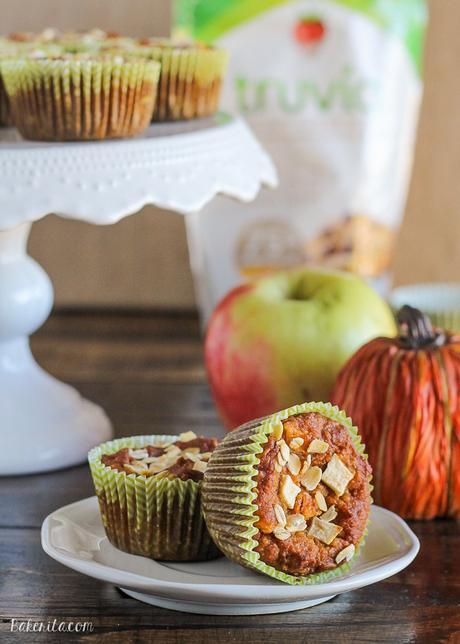 As soon as September hit in Seattle, the weather seemed to take notice. The temperature dropped, wind picked up, and the gentle breeze in the air turned into the crisp Seattle chill that makes everyone reach for their coffee. The leaves have been turning all shades of fiery red, burnt orange, and warm gold, leaving rainbows on the sidewalks as they dance towards the ground when the wind hits just the right way.
I left Seattle on Thursday for a trip home to visit family in San Diego, and in ever-sunny San Diego, cold weather is not the case. I landed at 9:15 am and headed to wait on the curb in my jeans and big fluffy sweater. The sweater was ripped off within a minute of heading into the 84 degree heat and humidity. Hello, San Diego – did you realize it was October??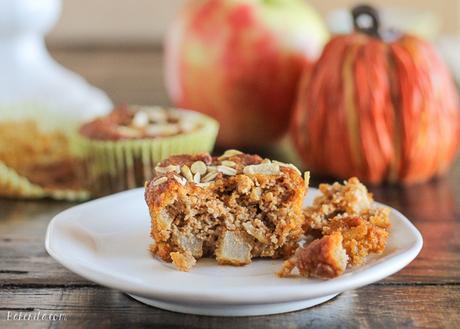 October calls for pumpkin, cinnamon, and apples, yet San Diego weather is still calling for ice cream and strawberries. Thankfully, we control the food, despite the weather, and even if it's still swelteringly hot where you live, you can enjoy the best of fall vicariously through warm fall spices and fruits.
These muffins have two of my fall favorites: pumpkin and apples. The pumpkin flavors the whole muffin, and the apples are diced small, adding delicious apple bites and tons of flavor. Cinnamon and nutmeg add the warmth and comfort of fall, and help make your house smell delicious while these muffins are baking.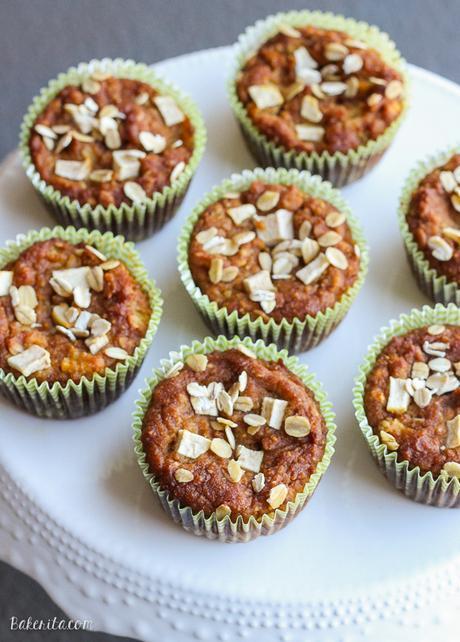 These muffins are super moist because of the pumpkin and the apples, so I used a mix of almond flour and coconut flour. The coconut flour is key here – it helps keep the muffins from being too wet because it's so absorbent. I also added oats to give the muffins some texture, and don't you just love the way the oats look sprinkled on top of the muffins?
To sweeten up the muffins, I added a bit of Truvia® Natural Sweetener. I used the Truvia® Brown Sugar Blend, which has half the calories of regular brown sugar, and I can always go for a few less calories. I also love thatTruvia® is a natural sweetener made from stevia. These muffins are not too sweet – they're just right to enjoy as a snack or as a healthy breakfast.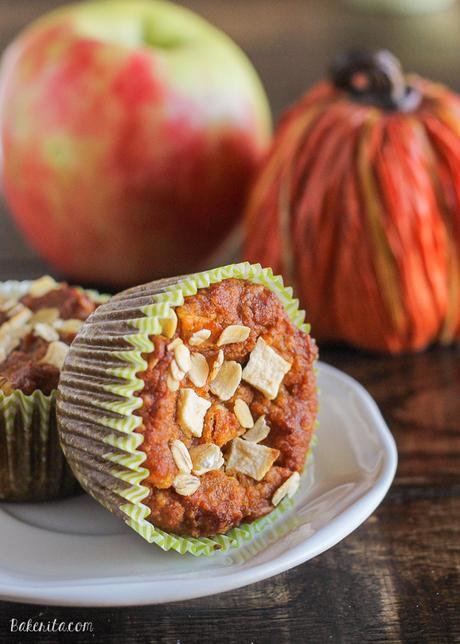 Grab a muffin, a cup of coffee, and enjoy the fall – no matter the weather!
Pumpkin Apple Muffins (GF + Vegan)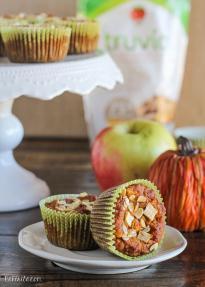 Save
Print
Prep time 10 mins Cook time 25 mins Total time 35 mins   Author:
Rachel Conners
Serves:
12 muffins
Ingredients
1 ¼ cup almond flour
3 tablespoons coconut flour
½ cup rolled oats
⅓ cup Truvia Brown Sugar Blend
½ teaspoon salt
2 teaspoons baking powder
½ teaspoon baking soda
1 teaspoon cinnamon
¼ teaspoon nutmeg
⅓ cup coconut oil, melted
⅓ cup pumpkin puree
⅓ cup almond milk (or other non-dairy milk)
1 cup peeled & chopped apple in ¼" cubes
Directions
Preheat oven to 350ºF. Grease muffin cups or line with muffin liners.
Stir together almond flour, coconut flour, oats, Truvia Brown Sugar Blend, salt, baking soda, and baking powder in a mixing bowl. Add in the pumpkin puree, coconut oil, and non-dairy milk. Stir until just moistened. Fold in chopped apple. Fill muffin cups ¾ full.
Bake for about 25-28 minutes in the preheated oven, or until a toothpick comes out clean.
Notes Use ⅔ cup light brown sugar in place of the Truvia if desired. 3.4.3177


Hungry for more? Check out some of my similar recipes!
Vegan Pumpkin Spice Latte Muffins
Apple Oatmeal Muffins (Vegan)
Apple Crisp
Mango Coconut Crumble Muffins (Vegan)
Caramel Apple Crumb Bars (GF, Refined SF + Vegan)
Banana Chocolate Chip Muffins (GF, Vegan)