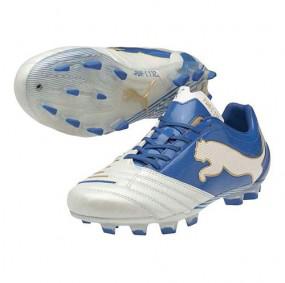 When I first slipped on my Puma Powercat 1.12 I knew it was going to be the beginning of a beautiful relationship. As was the case with previous versions of this boot, I was amazed at the combination of comfort and performance that it offered.
This boot accommodates everyone from the most highly competitive footballer to the most recreational of participants. Just seeing Cesc Fabregas and Giorgio Chiellini first lace up these shoes was reason enough to look forward to them as the elegance of the boot gave it a dose of subtly that was not there with previous versions of the shoe from a color scheme standpoint.
Originally, I was one of the old-school, all black-boot proponents. Yet I have been reformed and have gone back and forth on this issue. The 1.10 taught me how to fall in love with loud with the Kings brought me back to my roots. The Powercat 1.12 is the definite middle of the road in this topic. Although I never saw myself wearing white boots; this shoe made it hip to go in that direction. The color combination has been
Personal Quirks
I, for one, am a person that looks for comfort in a boot. Having a wide foot has been something that has haunted me every time I have gone out to look for a pair of boots. Having experienced everything from blisters to the inactivity that they cause in many severe cases I know that the first boot is not usually the best boot. Many cases have seen me just have to "man up" and take the tightness of the shoe because its design was made for "performance". This is why whenever I think happy thoughts, the term Puma Powerlast always seems to creep into my head.
For my wide-footed brethren, this term will be the reason for your comfort. This boot was designed to offer the user extra volume in the forefoot area as well as in the instep. It is advertised to follow the contour of the foot, molding to it. This feature offers the best of both worlds. Here you do have the snug fit that is paramount for feeling the ball. At the same time, the shoe molds to the foot… not the other way around.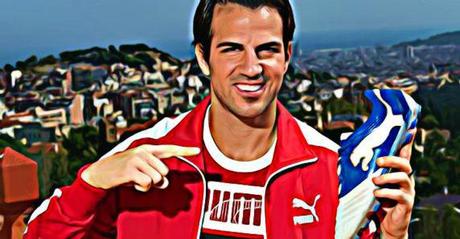 A Boot That Fits Like A Glove
At the beginning of the review, I said I "slipped on" my boots. No, I was not being figurative and hyperbolic when describing my original impression of the Powercat 1.12. My feet literally slipped in to the shoes and they had sneaker-like comfort.
Testing
Ok, I might be going off on the comfort aspect of the boot just a bit too much. Let's be honest, football boots are compared and every minute detail is dissected to see how performance can be maximized.
I like to take boots for a test drive. When I do I truly put them through the wringer. Cutting. Running. Dribbling. Backtracking. Kicking. Scrumming. Let's be honest. If you put brand new tires on a dump truck- it's still a dump truck. You can't expect it to all of a sudden fly through the Autobahn like a Lamborghini Countach. Well, that's me- a dump truck in the middle of the pitch. What the new tires can do is improve maneuverability- that is exactly what the 1.12 offered. I did not feel any slipping around both inside the shoe as well as in the grass. Mind you, I tested in areas where it had rained just days before. The Powercats have a bladed stud configuration in the middle of the foot that aid in stabilization. When stepping on the ground there was a much more even distribution. It helped when I moved back and forth. More importantly, it was vital to centering my gravity when I had to drive as I was being tackled.
Tackled? Yes. I didn't just try them when playing football. I also looked to see how they would work if I were to make the transition to a more contact-oriented sport such as rugby.
Despite all these features the one that I really was captivated by was the kicking area atop the foot the Powercat 1.12 has. I knew I was able to guide the ball a little better. To be able to feel the ball a bit better allows a player to strike it with more precision. I know I might sound mystical by saying this, but it makes sense if you really think about it. Feeling ball makes you capable of doing what you want to do with it a little more.
It was fundamental for me to have balance and to be able to cut immediately. I didn't just throw in scrumming a little while ago as a typo. I used it to drive and to generate power. The bladed cleats in the middle of the foot made this even a better proposition, especially if you are a back playing rugby.
Now mind you what I am saying are very minute, hair-splitting adjustments that come to play when you use footwear that is best for you. No, this boot is not going to make you a world-class goalscorer or anything near that, the shoe just aids in improving the game. My game was never the best, but I do feel just little adjustments that the shoe offers compared to what I have used before.
Verdict
I have always raved about Puma's footwear. It is dynamic and offers a great experience every time I have used it. This time, they really took it to the next level and for that I have no other choice but to highly recommend this boot. The best online sportsbooks could not predict a better fitting boot for the new year. It didn't make me a better player it aided in helping me play a little better and making pickup games a bit more fun as my footing improved a great deal.