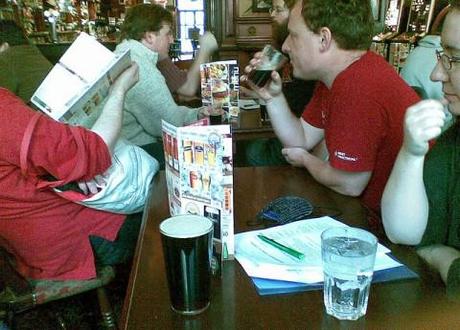 A thing of the past? Beer drinkers. Photocredit: rjw1 http://www.flickr.com/photos/rjw1/1632452813/sizes/m/in/photostream/
What's going on? Pulling a pint, or cracking open a tinny, was once Britain's favourite pasttime. But now, alarming news has reached us: sales of ales have plummeted in the last few years. Is it because cocaine is now as cheap as chips?
No more beer bellies. Beer sales have slumped, gasped Harry Wallop on The Daily Telegraph. There was a 9.8 percent drop in consumption of the nation's favourite tipple – the most considerable drop since 1997 when records began. Beer sellers claim that unfair tax rates are doing the damage.
Read the report of the European Monitoring Centre for Drugs and Drug Addiction on the United Kingdom's cocaine usage
Kiddie coke? Taxes? It's not taxes, pooh-poohed Jeff Neumann on Gawker.com. The fact of the matter is "cocaine has never been cheaper!" In the UK we've been honking up more cocaine than our American cousins. Whilst a pint of ale costs, on average, £3.05, a line of coke can cost £1. It's "child-friendly."

Lines of cocaine ready to be snorted. Photo credit: Zxc
Attack of the flesh-eating de-wormers. Be careful, though: there's a new form of cocaine on the market. Cut with a de-worming drug used for dogs, "the mixture causes flesh eating disease in humans," said News957.com.
Cracking down on the cartels. This news comes as gang cartel members are jailed, reported The Mirror, and according to the UK Border Agency, a man has been charged with smuggling £80,000 worth of the white stuff into Britain.
Sheila's woes. It's bad Down Under too: cocaine use in Australia soars, with usage of the drug by women in their twenties increasing by 60 per cent, cautioned Julie Robotham and Kate Hagan on The Age.
More on the demons!

Elderly boozers? Stop them!
Charlie Sheen!
Coke saga ends, folk hero minted