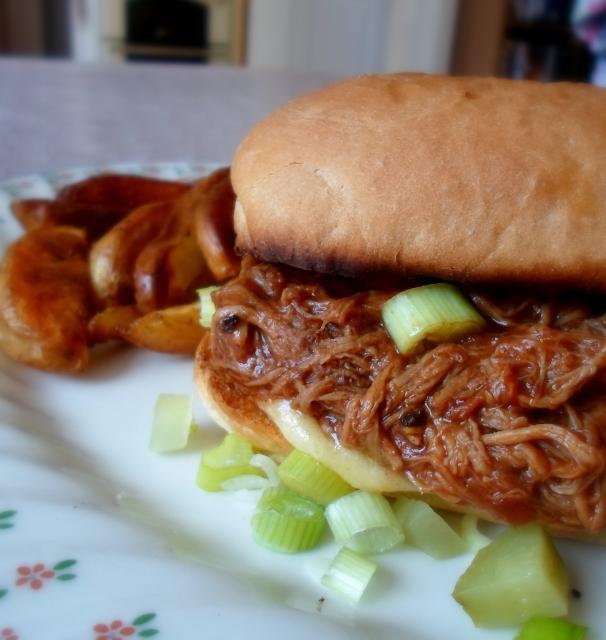 I think I am really rather late climbing onto the Pulled Pork band wagon.  I know it's been around for a while . . . but in all truth, until I tasted my son's fabulous sandwiches recently in Canada, I hadn't even been tempted to taste such a thing.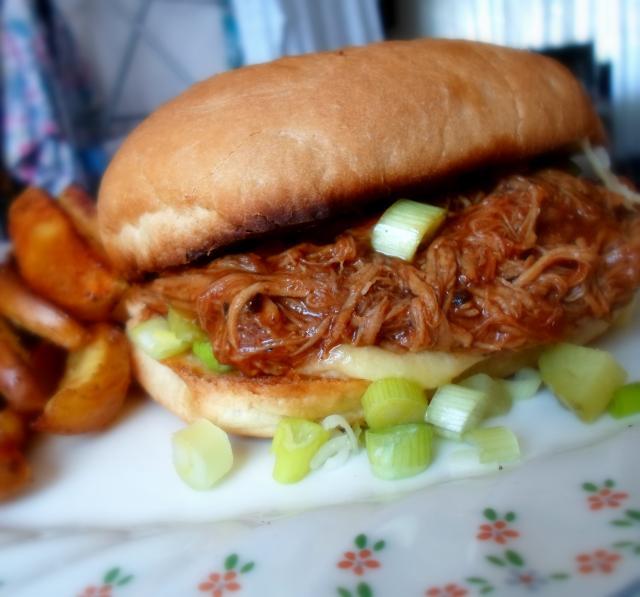 I think it was a consistency thing for me.  I am not overly fond of pork that's well done . . . I am not sure why.   When my son said he was making pulled pork sandwiches I thought to myself, here we go . . . and thought I would be polite and eat it anyways . . . but guess what?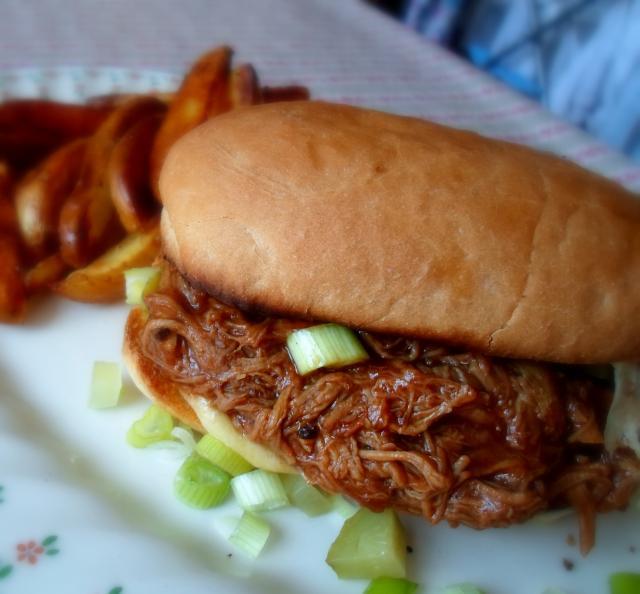 I fell in love.  Simples . . .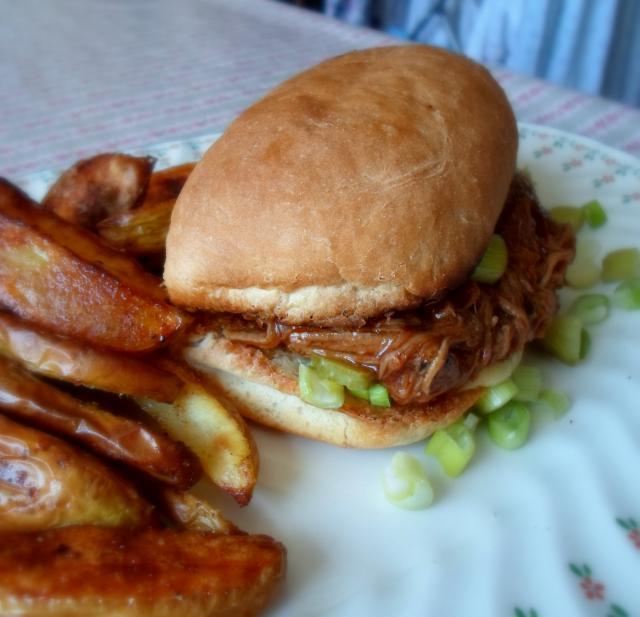 Totally and completely in love.   In fact I fell so completely and utterly in love I found myself wondering how I had managed to get this far in life without having tasted one!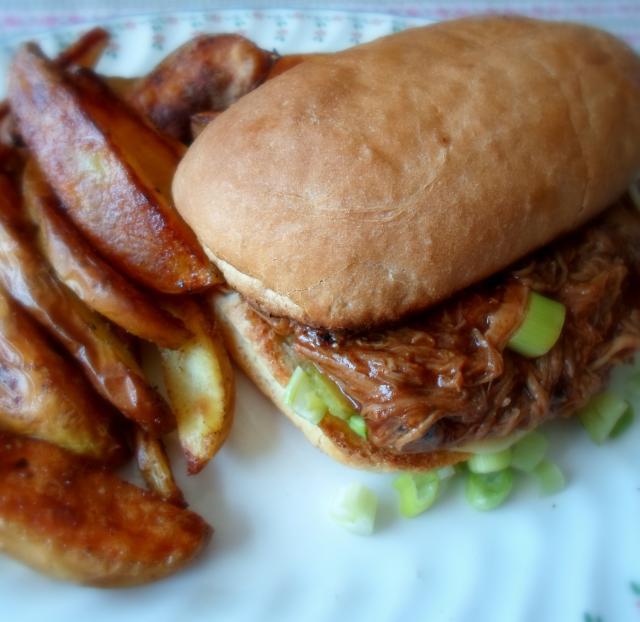 Of course I had to make them for Todd when I got home.  I knew he would love them.  Of course I had to put my own spin on them as well . . .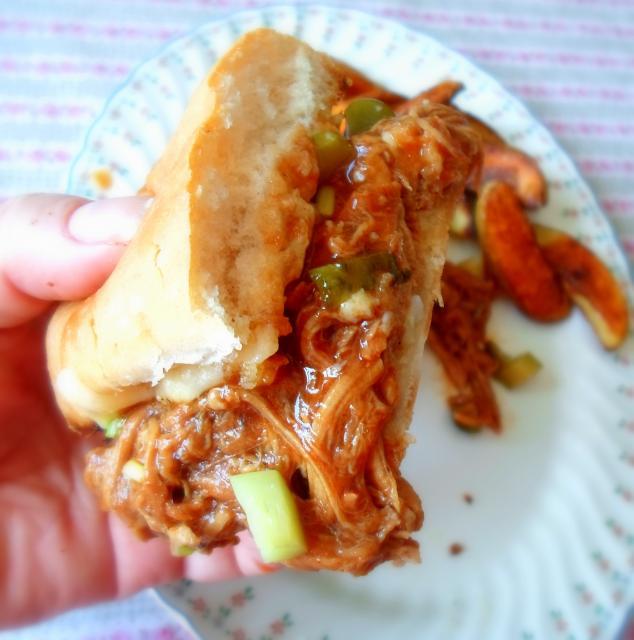 Homemade barbeque sauce . . . you know it's good.   Melted cheddar, chopped spring onions and chopped dill pickles . . . even better.  In fact I'd call these totally scrumdiddlyumptious!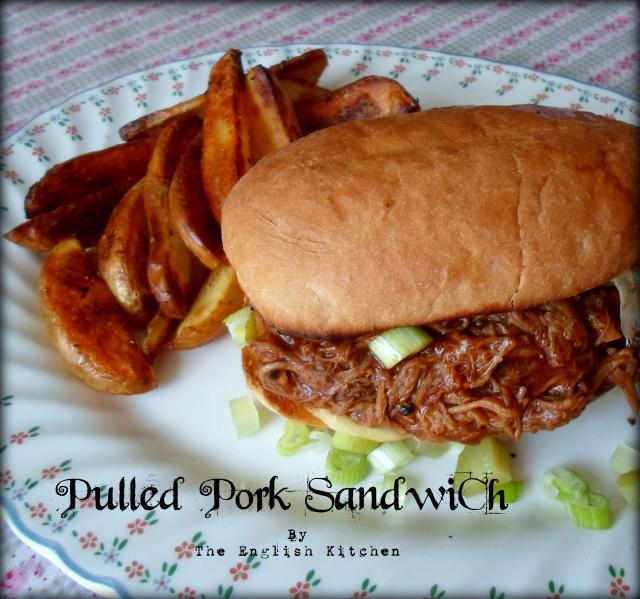 *Pulled Pork Sandwiches*Serves 4
Printable Recipe
 I had this at my sons and it was delicious.  So simple, and so easy.  He used bottled sauce, but I made my own.  I also added a rub and a few garnishes to create what I think is the perfect pulled pork sandwich!1 pork tenderloin1/2 tsp cumin seed1/2 tsp fennel seed1 tsp coriander seed2 tsp mild chili powder2 tsp onion powder2 tsp smoked sweet paprika2 tsp salt1/2 of a single serving can of Dr Pepper, Root Beer,
or Coca Cola
For the sauce:2 cups tomato ketchup1/3 cup soft dark brown sugar, packed1 small onion, peeled and grated finely2 TBS sunflower oil3 cloves of garlic peeled and crushed1 TBS cider vinegar1 TBS tomato puree (paste)1 TBS Worcestershire Sauce1 tsp dried mustard1 tsp smoked paprikafresh ground white pepper and salt to taste
To finish:toasted bunsbuttersliced strong cheddar cheesechopped dill pickleschopped spring onions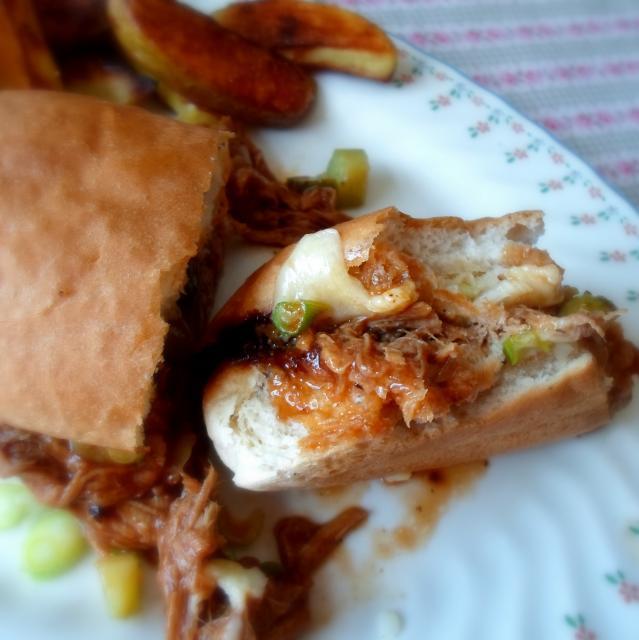 Put the spices for the pork into a mortar and pestle and grind them fine.  Rub this mixture all over the pork, rubbing it in well.  Put this into the bottom of a slow cooker.   Pour the Dr Pepper (Root Beer or Coca Cola) around the pork.  Pop the lid on and cook for 1 hour on high, then reduce to low and cook for 6 to 7 hours until the pork is fork tender.
While the pork is cooking make the sauce.  Combine all of the ingredients in a saucepan and bring to the boil.  Reduce to a simmer and simmer for 5 to 10 minutes until thick and the flavours have melded well.Once the pork has cooked until nice and tender, remove it from the crock pot.   Scrape off any fat and discard.  Using two forks, shred the pork to your desired consistency.  Return it to the crock pot along with prepared Barbeque Sauce to your taste, stirring it all together.
Butter and toast your buns under the grill.  Top with cheese, pickles and onions,   Pop back under to melt the cheese.  Divide the shredded pork amongst the buns, close up and enjoy!