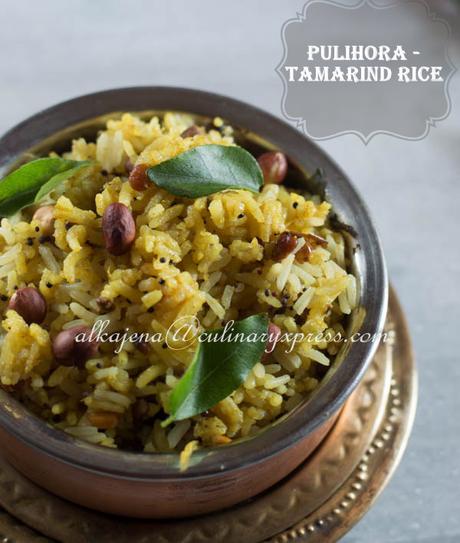 Pulihora or Andhra tamarind rice
is
o
ften prepared during festivals and is offered as naivedyam to the gods.

As Hindus consider turmeric powder a symbol of auspiciousness, this dish is cooked on almost all good occasions and festive days.

Pulihora is also referred to as sour rice as Puli means sour taste .Cooked rice is seasoned with tamarind paste and other basic ingredients like curry leaves, peanuts, chilies and turmeric.

  When this dish is made with t

amarind then it is called

PULIHORA

and is called

CHITRANNAM
if made with Lemon.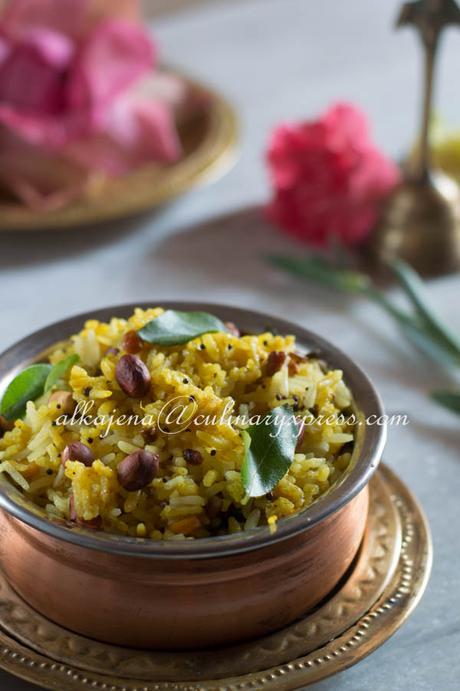 Pulihora stimulates the taste buds very nicely  with it's sour, spicy, and salty taste as it contains ingredients like 

Turmeric

, Green Chilies, Lemon, 

Asafoetida

, Curry leaves. Pulihora, simply put, is rice flavored with a sour ingredient, tempered with mild spices, roasted peanuts & lentils but the main flavor comes from the tamarind.  The meal would feel incomplete without one of them.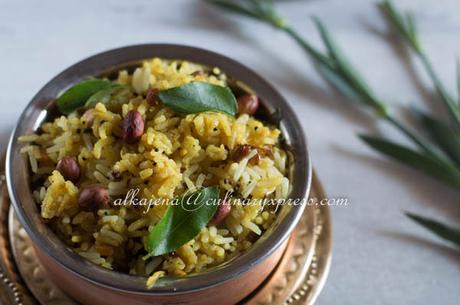 Cuisine: Andhra Pradesh
Prep Time: 30 minutes
Cooking Time: 20 minutes
Serves:2
Recipe Source: Here
Ingredients:
1 cup raw cooked rice 

1/2 tsp turmeric powder

10 - 15 fresh curry leaves

salt to taste

large lemon sized tamarind (soak in a cup of hot water and extract pulp)

1 tsp Jaggery

1 tbsp channa dal

1 tbsp urad dal

1 tsp teaspoon mustard seeds

1 tsp cumin seeds

3-4 medium dry red chilli

4-5 green chillis slit length wise

1 1/2 tsps finely chopped ginger

1/4 tsp asafoetida

1 1/2 tbsp roasted sesame seeds powder

A fistful roasted peanuts

3 tbsps oil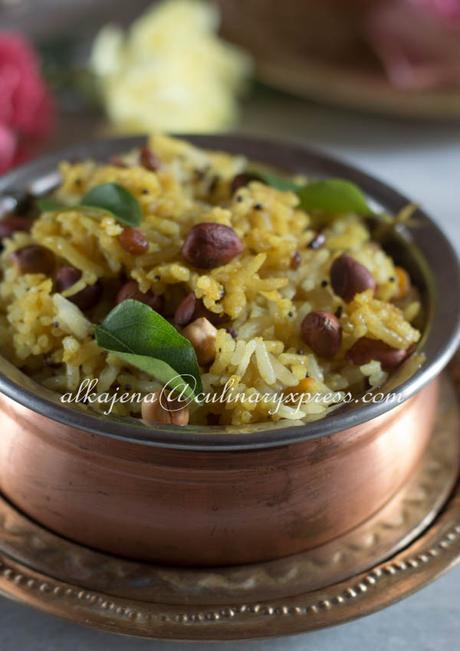 Let's learn how to make Pulihora:
Rinse and soak the rice for 30 minutes. Cook in such a way

 that each grain is separate and then  spread it to cool.
Sprinkle turmeric powder, salt, a tbsp of oil and few fresh curry leaves to the cooked and cooled rice and keep aside.
Heat the remaining oil in a cooking vessel, add the mustard seeds and let them splutter. Add dry red chillis, cumin seeds, channa dal, urad dal and fry for a minute till light brown. Next add the slit green chillies, ginger, asafoetida and few curry leaves and fry for a few seconds.
Add the tamarind extract and jaggery and cook till the raw smell of tamarind disappears for approx 5-7 mts. It will be a like a thick but flowing paste.Remove from heat.
Add the cooked tamarind mix and combine well such that it's spread all over the rice. Adjust salt. Finally sprinkle the roasted sesame seeds powder and roasted peanuts and combine well. Let it sit for at least 3-4 hours for the flavors to set in.
Serve with yogurt and papad.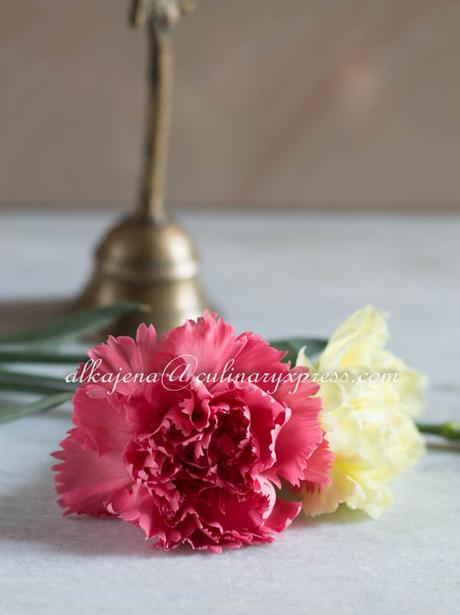 This recipe has been developed as part of the Ugadi celebration event hosted by Jayashree who has a beautiful blog Evergreendishes.