This post may contain affiliate links. Please read my disclosure.
This Puff Pastry Christmas Tree recipe is a festive holiday treat. Flaky puff pastry is filled with apples, blueberries, and jam that's lightly sweetened with brown sugar. Crispy on the outside, and warm and sweet on the inside, it's the easiest pastry recipe, perfect for Christmas day, that everyone is sure to enjoy!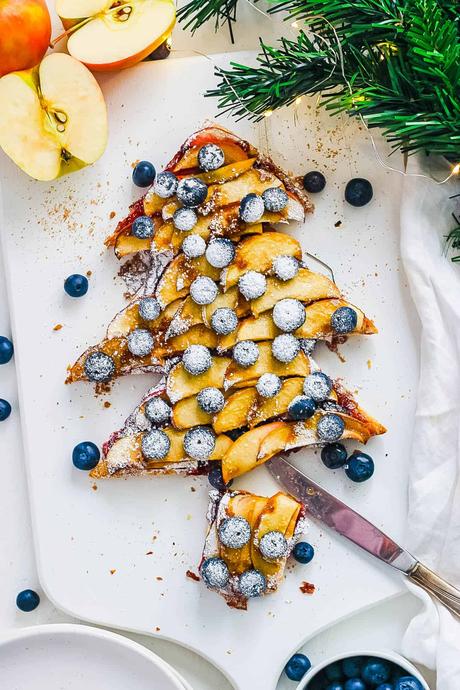 I absolutely love the holidays! It's a time to gather with those you love and create cherished memories.
Food is always at the forefront of any holiday celebration, and it truly wouldn't be Christmas without some buttery, flaky, sweet, pastry desserts - like this puff pastry Christmas tree!
Latest Recipe Video!
This year I decided to try something truly special. I made my own homemade version of puff pastry! Then shaped it into a Christmas tree and filled it with warm apples, blueberries, jam, and a touch of brown sugar.
The result was better than I could have imagined! A beautiful puff pastry tree. The rich buttery, flaky puff pastry paired with the naturally sweet fruit was the perfect match! Once you try it, you will quickly add this one to your list of favorite Christmas recipes!
The kids and I have so much fun getting messy in the kitchen. We usually emerge covered in flour, but always with big smiles. Creating these memories and traditions is truly what the holidays are all about!
👩🏽‍🍳 Why This Recipe Works
Festive Recipe for the Holiday Season
Pie in a Christmas Tree Shape!
Easy Recipe
Christmas Tree Shape
Sweet and Savory Option
Adorable Tree
Perfect for Christmas but delicious any time of year!
🥘 Ingredients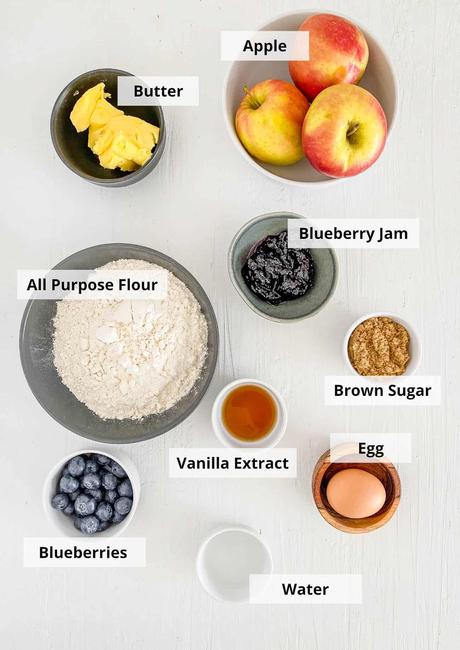 Pastry
All-Purpose Flour: White flour is lighter and creates a fluffier puff pastry. However, you can substitute all-purpose flour with white whole wheat flour for a more nutritious and high fiber option.
Butter: I wouldn't be puff pastry without butter! You'll need one stick of cold unsalted butter. Use organic if possible.
Egg: One fresh egg at room temperature is all you need.
Vanilla Extract: Enhances the flavors of the other ingredients, and gives the pastry a naturally sweet finish.
Water: Start with two tablespoons of water. You may need to add a tablespoon more.
Fruit Filling
Apples: Three thinly sliced apples of your choice. I prefer to use Granny Smith or Fuji, as they make for perfect baking apples and hold their form.
Blueberries: Fresh or frozen blueberries will work for this recipe.
Blueberry Jam: Use a low-sugar jam if possible.
Brown Sugar (optional): Used to sprinkle over the apples and blueberries for a bit of extra sweetness. Mix with a 1/2 teaspoon of cinnamon for a cinnamon sugar finish.
🍽 Equipment
📖 Variations
Puff Pastry Sheets: Instead of making your own dough, you can also use sheets of puff pastry from the frozen section of your grocery store.
Decorate the Tree: With a sharp knife slice your apples into star shapes. Place the little stars all over this Christmas tree pastry. Add a slice to the top of the tree for decoration.
Alternate Spreads: Instead of spreading blueberry jam on the pastry, you could try raspberry jam, strawberry jam, peanut butter, a chocolate spread or even cream cheese! You could also use different spreads for different parts of the tree. For example, you could use strawberry jam for the top of the pastry tree, blueberry jam for the sides of the tree, raspberry jam for the center of the tree, and chocolate or a chocolate-hazelnut spread for the base of the tree!
Savory Puff Pastry Christmas Tree Appetizer: Instead of making this a dessert you can prepare it as a delicious appetizer. Substitute the fruit for something more savory. Spread pesto sauce on the pastry, add some sauteed spinach, then top with feta cheese and parmesan cheese.
🔪 Instructions
Preheat the oven to 350 F. In a bowl, mix the flour and the butter with a fork.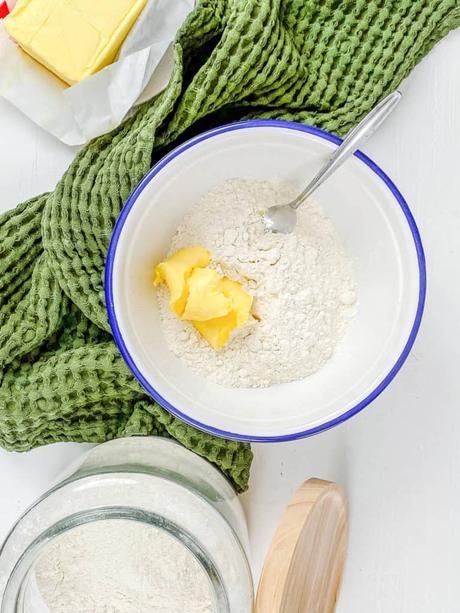 Add the egg and the vanilla and keep mixing. Add 2 tablespoons of water and keep mixing. If the dough is too dry, gradually add more.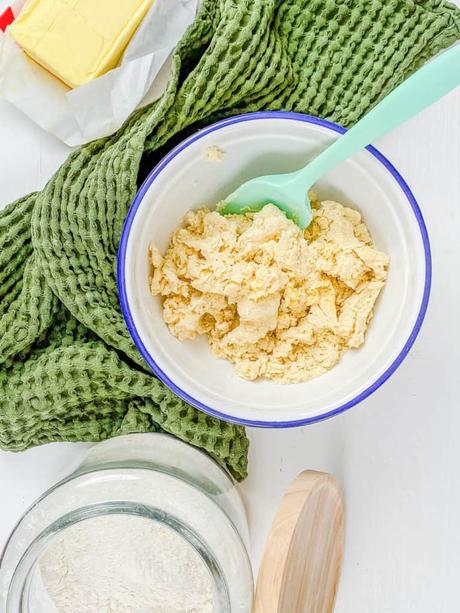 Form into a ball and allow the dough to rest in the refrigerator for 30 minutes.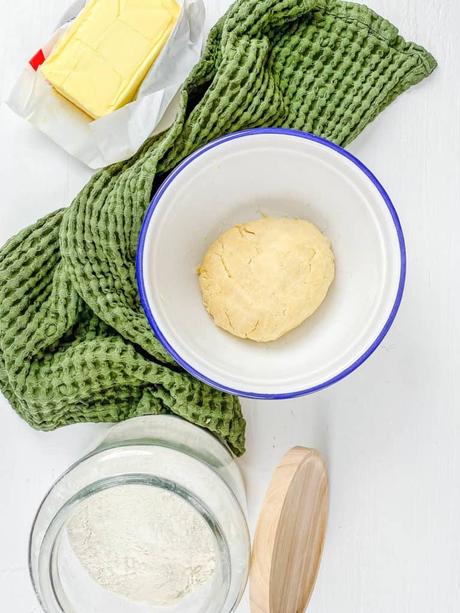 Roll the dough out with a rolling pin on a floured surface to be about 1/4 of an inch thick.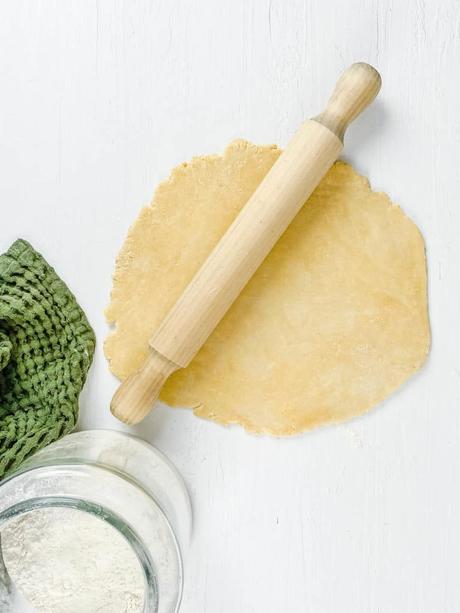 Place the dough on a baking tray lined with parchment paper. Optional: Brush with an egg wash. Bake for 15 minutes.
Note: If you choose to use store-bought puff pastry you only need one sheet of pastry. You can reserve the second sheet of puff pastry for another recipe, or make two pies!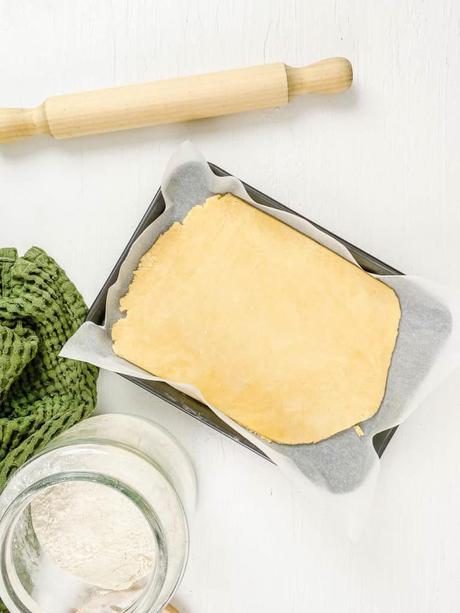 Remove the dough from the oven. With a sharp knife, cut the pastry into a shape of a Christmas tree. Discard the excess pastry.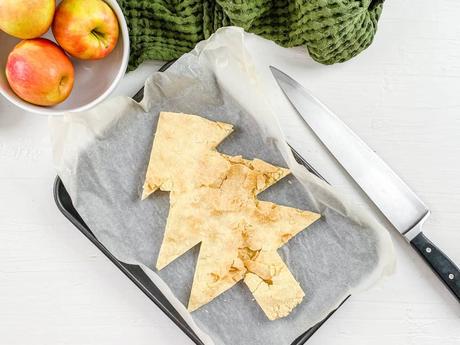 Spread the jam all over the tree, making sure to get into the sides of the triangle.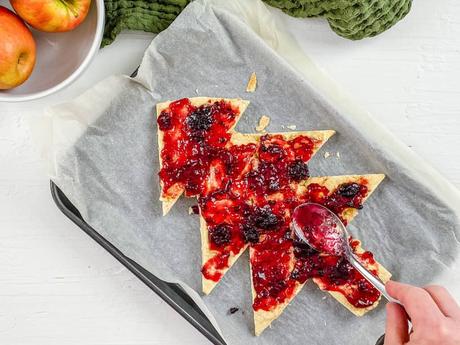 Place the apples from the edge of the tree to the center until completely covered up.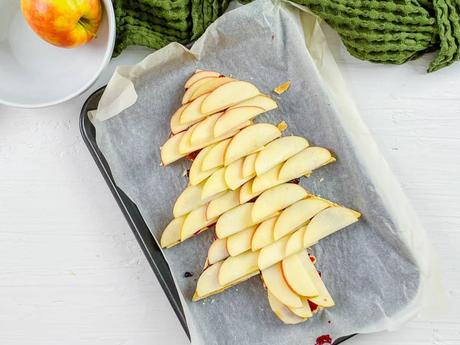 Sprinkle brown sugar all over the apples.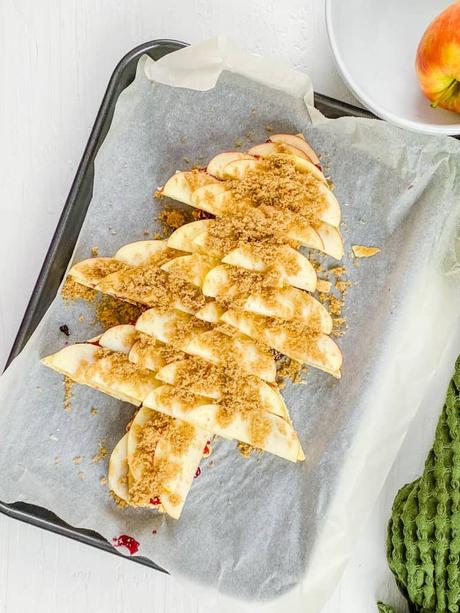 Bake for an additional 20 minutes or until golden brown.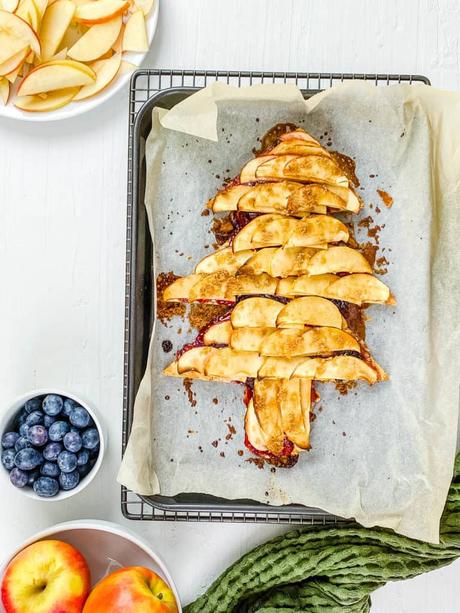 Decorate with blueberries and dust with powdered sugar.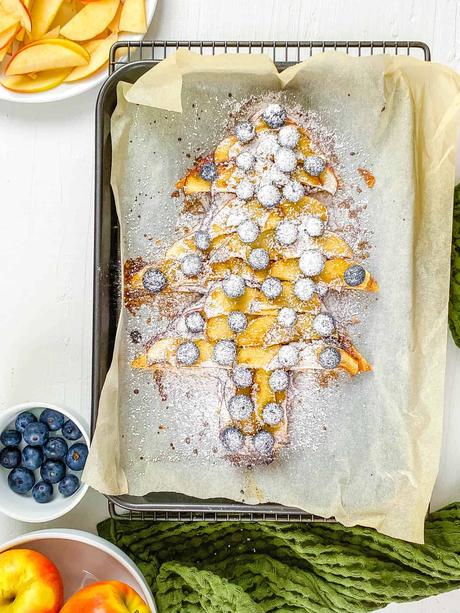 ❓Recipe FAQs
Is puff pastry healthy?
Unfortunately not, most pastries and other sweets aren't typically healthy. This puff pastry Christmas tree is a little healthier than typical pastries, but you should always eat sweets in moderation!

Here is why this recipe is healthier than most:
1) Less Added Sugar: This puff pastry has only about 6 grams of added sugar per slice (from the refined brown sugar + jam), which is much less than most other Christmas desserts! The rest of the sweetness comes from the fresh apples and blueberries. If you'd like to go with an unrefined sugar, I suggest using coconut sugar instead.
2) Fresh Fruit: This recipe calls for fresh apples and blueberries. Many pastry recipes use canned apple pie filling or blueberry pie filling which is full of added sugars, and other processed ingredients.
What can I use instead of brown sugar?
If you prefer using unrefined sugar, you could use coconut sugar, honey, maple syrup, or agave nectar. They are all great options but keep in mind that the flavor will be a little bit different than regular brown sugar.
Can puff pastry be made gluten-free?
Absolutely! You can swap the flour for your favorite gluten-free flour mixture. I recommend a 1:1 flour mix. If it doesn't have xanthan gum, you will need to add ¼ teaspoon of xantham gum per one cup of flour. So for this recipe, you would need ½ teaspoons of xantham gum to add to the 2 cups of your favorite gluten-free flour blend.
Will kids enjoy this easy puff pastry Christmas tree?
Oh yes! Not only is this recipe kid-friendly, but it's also a great opportunity to get your kids in the kitchen with you. While making the puff pastry itself is labor-intensive, the kids can help add the filling and sprinkle on the sugar. They will enjoy getting their hands a little dirty, and they will love eating this dessert even more.
❄️ How To Store
Store in the refrigerator: Allow the puff pastry to cool completely before storing. Place any leftovers in an airtight container or cover with plastic wrap. It will last in the fridge for 2-3 days. You can eat them cold or warm them in the microwave for a few seconds.
Store in the Freezer: Another option is to freeze the leftovers. Keep them in a storage container and don't let the pastries touch each other, or they will stick together. Store for up to one month, and you can defrost overnight before eating.
💭 Expert Tips
Use cold butter, so the pastry turns out properly. If the butter isn't cold, you won't get a flaky texture.
Be sure to let the dough rest in the fridge for 30 minutes. Otherwise, you may end up with a dense dough.
Make these into severan smaller Christmas trees by using a cookie cutter, or choose another holiday shape!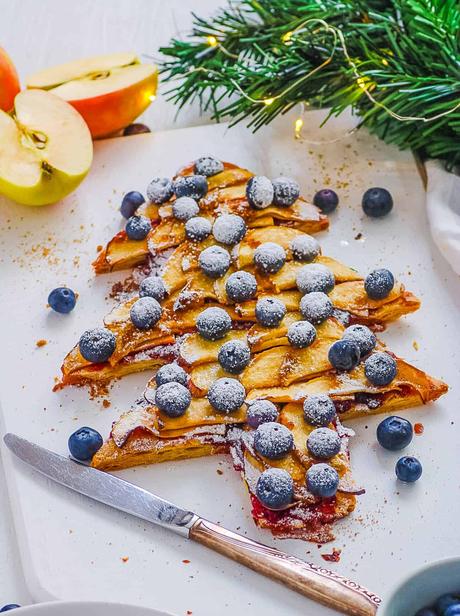 🎄More Christmas Dessert Recipes!
📋 Recipe Card
Puff Pastry Christmas Tree