This post may contain affiliate links. Please read my disclosure.
These Puff Pastry Apple Turnovers are the perfect fix for your sweet cravings. Flaky crust filled with a sweet and gooey apple filling that's juicy and packed with flavor. Every bite leaves you in food heaven!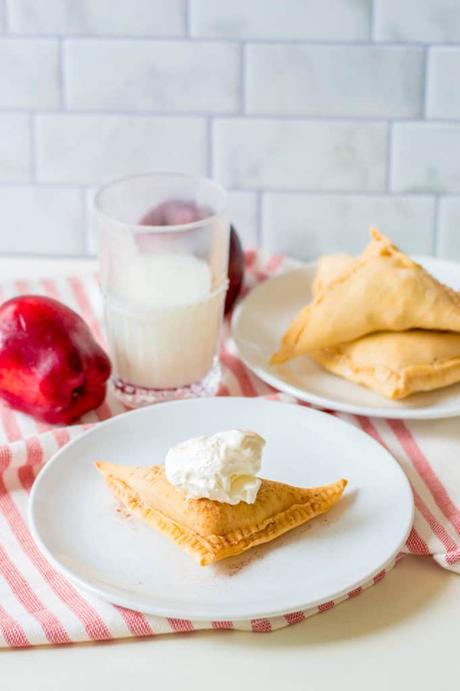 Apple pie is a classic dessert, and is total comfort food. But as much as I adore homemade apple pie, I don't adore the massive amounts of calories or refined sugar that come along with it!
I decided to make over this classic recipe, into perfectly sized, individually portioned puff pastry apple turnovers! With just a few secret swaps, you can enjoy this apple puff pastry for dessert or even brunch!
This recipe really makes the perfect mini apple pastry to enjoy at home! Apples, cinnamon, nutmeg, pumpkin pie spice and vanilla all come together to make these apple turnovers a staple in your kitchen. And the best part: they are much healthier for you than a regular slice of apple pie!
Tools and Equipment You'll Need
Recipe Ingredients & Notes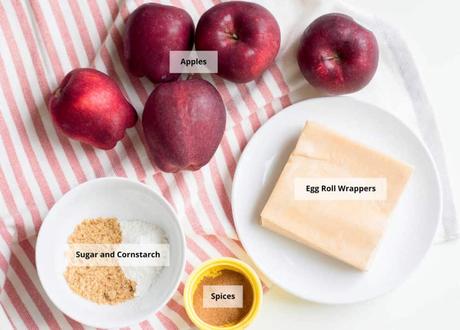 You just need a few simple ingredients to make this recipe! A few things to note:
Egg Roll Wrappers: A much healthier, lower fat option that acts just like puff pastry when baked in the oven! You can find them in the refrigerated section of the supermarket near the other Asian items.
Spices: Any of your favorite apple pie spices work well in this recipe! I chose cinnamon, nutmeg and pumpkin pie spice - but you can try all spice, cloves, ground ginger, or even cardamom!
Apples: Red Delicious or Fuji Apples both work great in this recipe - but any crisp and sweet apple would be perfect!
Step by Step Instructions
Step 1: Preheat oven to 350 degrees. In a medium nonstick pot on the stove, combine sugar, cornstarch, spices, vanilla extract, and salt with 1/2 cup cold water. Mix until ingredients dissolve.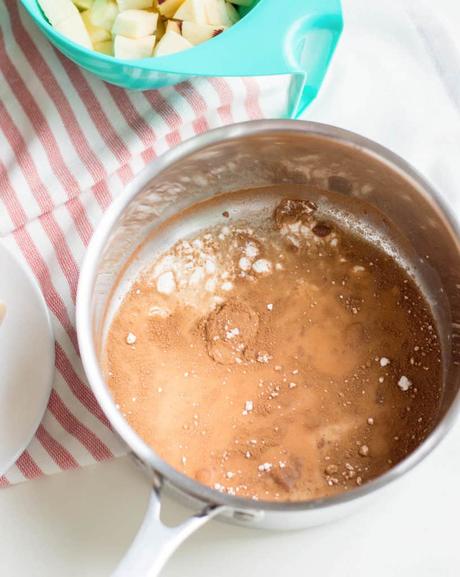 Step 2: Add apples and stir. Bring to medium-high heat and, stirring frequently, cook until apples have softened, 7 - 10 minutes. Reduce heat to low and, stirring often, cook until thick and gooey, 1 - 2 minutes. Transfer to a bowl and set aside to cool.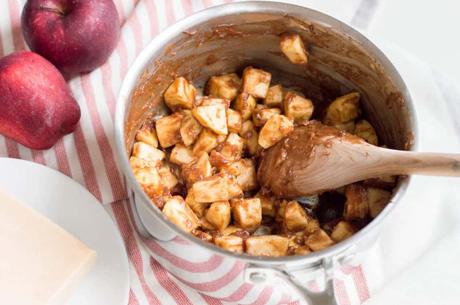 Step 3: Prepare a large baking sheet by lining it with foil and/or spraying it with nonstick spray. Set aside. Place two egg roll wrappers flat on a dry surface. Set out a small dish of water. Dip your finger into the water, and run it along all of the wrapper edges. (Repeat as needed while preparing your pockets, as it will help seal them.) Starting 1/2 inch from the bottom, place about 1/3 cup pie filling along the bottom half of each wrapper, leaving a 1/2-inch border on the sides.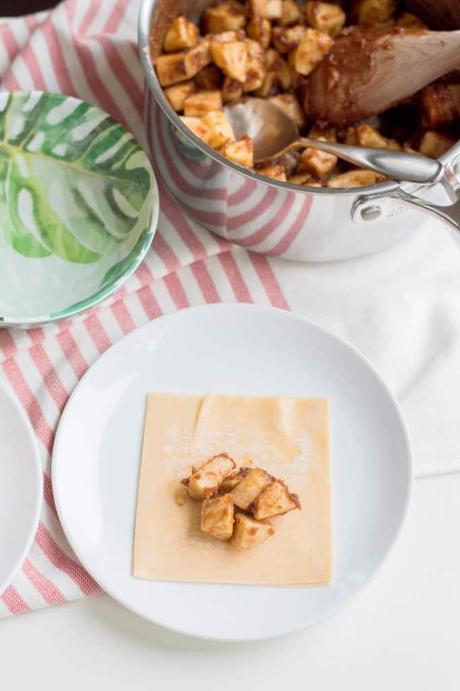 Step 4: Fold the top half of each wrapper over the filling, so that the top edge meets the bottom and the filling is encased with a border on three sides. Dab each border with water, and fold each inward about 1/4 inch to lightly seal. Press firmly along the borders with the prongs of a fork to seal completely.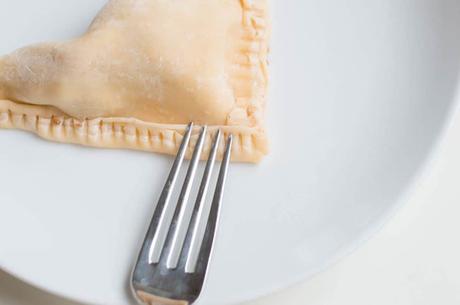 Step 5: Carefully transfer to the baking sheet. Repeat this process with remaining wrappers and filling, for a total of six apple turnovers. Spray the top of each pocket with olive oil cooking spray.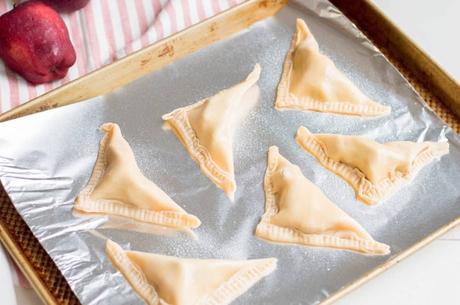 Step 6: Bake in the oven until edges begin to brown, 15 - 18 minutes.
Allow to cool for 5 minutes.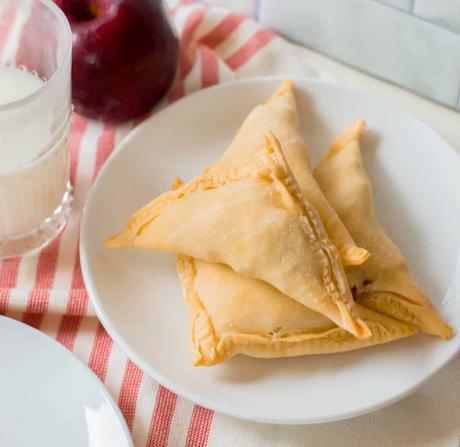 Step 7: Top with additional cinnamon and homemade whipped cream or a small scoop of vanilla ice cream for a more decadent dessert!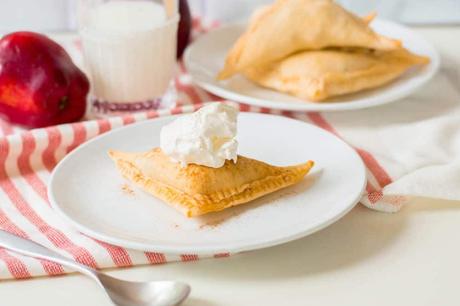 What Makes These Puff Pastry Apple Turnovers Healthy?
While this puff pastry with apples is still a dessert, there are a few secret swaps that makes it much healthier than traditional apple turnovers or apple pie.
Using egg roll wrappers instead of pastry dough. Now - to be fair, the egg roll wrappers don't taste exactly like puff pastry when you bake these turnovers. But it's close enough, and with some whipped cream or a dusting of cinnamon and powdered sugar, you won't be able to tell the difference!
Using olive oil spray instead of actual butter. Helps get that golden brown crust without all of the calories!
Using only 2 Tbsp of added sugar. Trust me, you don't need more than that. It's just enough sugar to make these apple turnovers perfectly sweet, while only adding 4 grams of added sugar to each turnover! (The rest of the sugar you see in the nutritional information is natural sugar, from the apples).
Will Kids Enjoy These Apple Pastries?
Unless your child doesn't like sweets, he or she is going to love these puff pastry apple turnovers. They are perfectly sized for a child, and they will love having their own treat that they don't have to share.
Kids will love helping to make this recipe, so it's a great excuse to get everyone involved in the kitchen! These apple puff pastries are also a great alternative when you would rather the kids eat a healthier dessert for any occasion.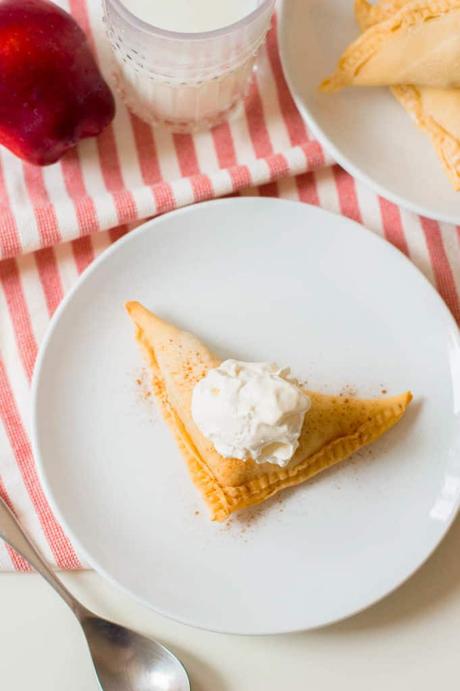 Recipe FAQs
What Kind of Apples Do I Need?
We almost always use Fuji apples because they offer the right amount of sweetness, and the texture is wonderful. However, you can swap them for another variety if you want to. Sweet or tart apples will work, you just want a crisp apple to get the right texture for this apple pastry recipe. My favorites include:
Fuji Apples
Red Delicious
Gala
Golden Delicious
Granny Smith
Can I Use Other Fruits instead of Apples?
Yes! You can easily swap the apples for other fruits. Peaches or pears would both be excellent options. They are sweet and delicious as well. You can try out other fruits, but just know that the results may vary some and that's to be expected. Leave me a note and let me know which fruit fillings work and which ones don't! 🙂
How Do You Store Leftover Apple Turnovers?
These puff pastry apple turnovers are best when refrigerated. You can keep them in a large ziplock bag or food storage container with an airtight lid. They will last 2-3 days in the fridge.
Additionally, if you wrap each apple pastry with foil or plastic wrap, and then place them into an airtight container, you can also put them in the freezer. They will last for 2-3 months in the freezer and can be thawed in the fridge, and then warmed in the oven for 5 minutes at 350 degrees before eating.
Top Tips For Making The Best Puff Pastry Apple Turnovers
It's important to cook the apples, so the filling resembles any other traditional apple pie. This will give you a soft and delicious pie filling.
Be sure to stir the apple pie filling regularly while it's cooking. That will ensure that it becomes thick and doesn't burn.
Be careful not to overfill the egg roll wrappers - that will cause them to break while baking and all of that delicious filling will ooze out.
Make sure you let the apple turnovers cool before serving and before topping them with whipped cream or ice cream.
Be sure to add your favorite toppings like ice cream, whipped cream, or even some spices like cinnamon or pumpkin pie spice!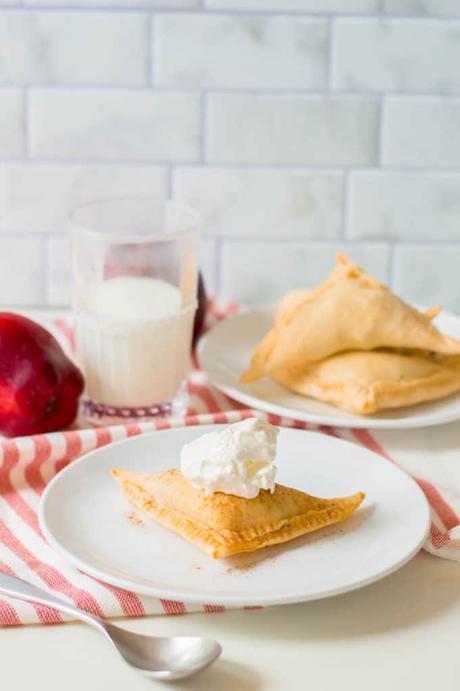 If you have tried these Puff Pastry Apple Turnovers or any other recipe on my blog, then please rate it and let me know how it turned out in the comments below! You can also FOLLOW ME on
FACEBOOK
,
TWITTER
, INSTAGRAM, and
PINTEREST
to see more delicious, healthy, family friendly food!
Check Out These Other Insanely Good Dessert Recipes!
Puff Pastry Apple Turnovers