Stir fried potatoes in tangy mint sauce
As Potatoes are everyone's favorite so there are end numbers of recipes to make potato dishes. Sweets, side dishes, stir fries, pudding, snacks we can make everything with potatoes.Children just love potato dishes.
Often people hesitate to eat potatoes as it have starch in it but if the potatoes are fried only then they become high in calories so deep frying should be  avoided but steaming ,boiling, baking, mashed, roasting are good options to consume potatoes.They are fat free, cholesterol and sodium free.A good source of potassium, vit B,C, Fibre and Iron. Potatoes are good for healthy nervous system and to reduce blood pressure.
I use potatoes to make different types of dishes, one of my favorite dessert is  
Potato halwa
which can also be used during fasting ,
P
otato mint  kachori

,t
he spicy and  popular
Mathura ke dubki waley aloo ki subzi
I love the flavor of mint and often use it to make chutney and raita .This pudina aloo is my favorite recipe which you can serve this as a starter, as a snack or can serve this as a side dish with any Indian bread. The mint flavor combine very beautifully with potatoes and givers a wonderful flavor to this recipe.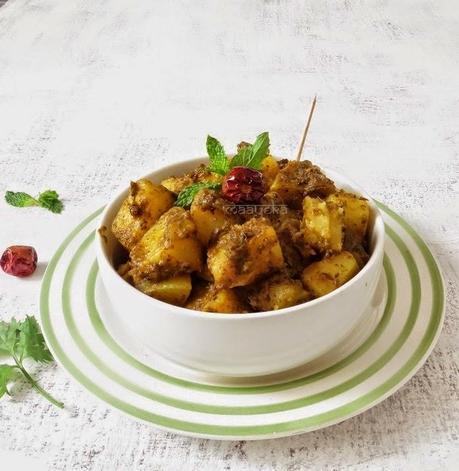 Prep time -10 min
Cooking time -10 min
Cuisine - North Indian
Difficulty level - Medium
Type - Side,snack
Spice level - Medium
Serve - 4
INGREDIENTS-
Potatoes,boiled - 5 (medium)
Mint leaves - 1/4 cup
Coriander leaves - 1/2 cup
Green chilies, chopped - 2
Mango powder - 1.5 tsp
Chili powder - 1tsp
Turmeric /haldi - 1/3 tsp
Salt /namak - to taste
Cumin /jeera - 1tsp
Cooking Oil - 5 tbsp
PROCEDURE-
Peel and chop boiled potatoes in medium size pieces.
Wash and grind mint and green chilies into a paste.
Heat oil in a heavy bottom pan.
Add cumin and when it start crackling add the mint paste.
Stir fry till it start giving a nice aroma.
Now add all the spices in it and stir.
Add chopped potatoes and gently mix.
Add 1/2 cup of water and simmer till potato absorb all the water.
Serve hot as a appetizers, snack or side dish.