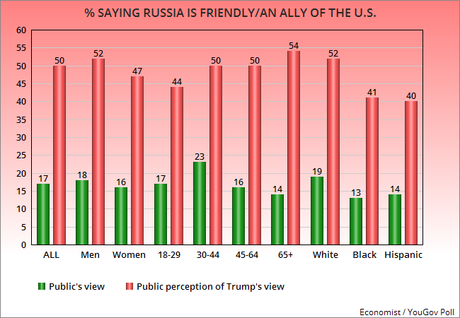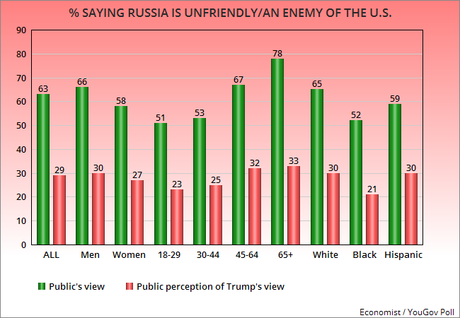 While on his Asian trip, Donald Trump made the statement that he believes Putin when he denies Russian interference in the 2016 (in spite of what all U.S. intelligence agencies have reported). The media acted shocked that Trump would take this position. But they shouldn't have, because Trump has been very friendly to Putin since declaring himself as a candidate for the presidency.
And the public knows that. A majority of Americans weren't shocked. They know that Trump doesn't share their views on Russia. While only 17% of Americans view Russia as a friend or ally of the United States, about 50% say Trump views Russia that way. And while 63% of the public views Russia as unfriendly or an enemy of the United States, only 29% think Trump views Russia that way.
In short, the public views Trump as being soft on Russia.
The charts are from a recent Economist / YouGov Poll -- done between November 12th and 14th of a random national sample of 1,500 adults (including 1,281 registered voters), with a 3 point margin of error.