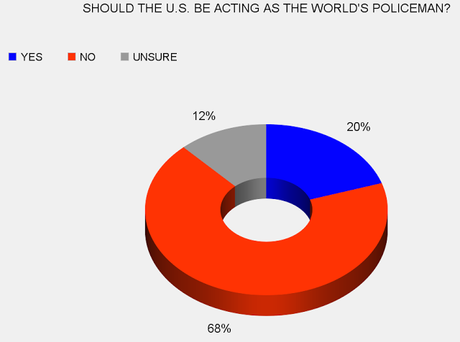 Most congressional Republicans, and far too many congressional Democrats, think this country is the world's "policeman" -- and they are quick to send U.S. military power to put things "right" when we don't like how things are working out in other parts of the world. But the American public disagrees. About 68% (nearly seven out of ten Americans) say the United States should not be using its military power in this way. They believe we should let other parts of the world work out their own problems.
I agree. We have engaged our military in two conflicts that we cannot win. We are trying to use our military to "nation-build" in Afghanistan -- and we have picked sides in a religious conflict in Syria/Iraq. We really don't have a dog in either of those fights, and by engaging in those conflicts we are just creating more enemies, and justifying terrorist attempts to attack this country. This is particularly true in Syria/Iraq, where both sides of that conflict hate us.
About 56% of the public says we have now overstretched our military, and another 51% says we send our military into harm's way far too often. It is time to stop this crazy policy of trying to solve all the world's problems with our military. It is time to disengage, and bring ALL of our soldiers back home.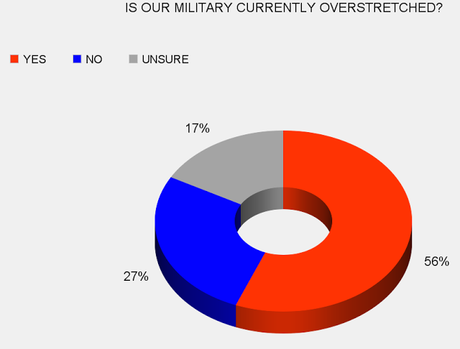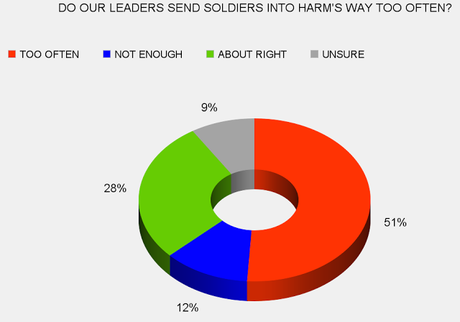 More of the public also now believes we are not winning the war on terrorism. I don't know if that's true, but I do believe we are trying to fight terrorism in the wrong way. We will never defeat terrorism by invading other countries or by choosing sides in religious conflicts. The way to fight terrorism is through good intelligence and law enforcement agencies -- not the military.
All of these charts were made from information in a new Rasmussen Poll -- done on May 13th and 14th of a random national sample of 1,000 likely voters, and has a margin of error of 3 points.