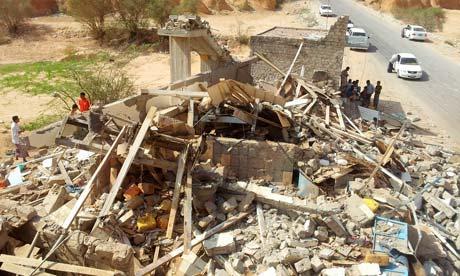 (This photo is from the British Newspaper The Guardian. It shows the aftermath of a U.S. drone attack in Yemen -- an attack that killed 13 innocent civilians.)
There is a new poll out, and that survey contains both good news and bad news. It is a CBS News/New York Times Poll (conducted between April 24th and 28th of 965 nationwide adults -- with a 3 point margin of error). The good news is that Americans don't want this country to get into any new foreign wars.
The United States has been at war for nearly 12 years now in Afghanistan, and there still seems to be no end in sight. President Obama has said he will withdraw from Afghanistan by the end of 2014 (another year and a half), but he's not talking about removing all troops. He wants to leave several thousand soldiers there for "training" and "terrorism" purposes, perhaps indefinitely.
I'm sure that's why the public is not ready for another, possibly endless, foreign entanglement. In light of the ongoing and bloody civil war (and possible use of chemical weapons) in Syria, and the threats recently made by North Korea (both to its Asian neighbors and the United States), the poll  asked respondents if the United States should intervene in these countries. Here are those numbers:
DOES THE U.S. HAVE A RESPONSIBILITY IN SYRIA?
yes...............24%
no...............62%
HOW GREAT A THREAT IS NORTH KOREA?
requires military action now...............15%
can be contained for now...............56%
not a threat at this time...............21%
That's the good news -- that neither the government nor the conservative neocons have been able to convince the American public that military action is necessary in Syria or in North Korea. But the poll also contained some bad news -- in the form of support for drone attacks in foreign countries (many of which we are not at war with). The respondents were asked if they supported or opposed drone attacks against terrorists in foreign countries.
DRONE ATTACKS AGAINST TERRORISTS IN FOREIGN COUNTRIES.
favor...............70%
oppose...............20%
And that support crosses all political lines:
REPUBLICANS
favor...............79%
oppose...............14%
DEMOCRATS
favor...............64%
oppose...............26%
INDEPENDENTS
favor...............70%
oppose...............21%
These are very disturbing numbers. Especially considering that many more innocent civilians are killed in these drone attacks that terrorists. We are killing hundreds of innocent men, women, and children to get a few terrorists. I would like to think that the poll's respondents would have answered differently if told that innocent civilians would also be killed in these attacks against terrorists, but there is no evidence of that. The sad truth is that far too many Americans just don't value the lives of innocent people in foreign countries.
They are just "collateral damage" -- an acceptable thing in the "war on terror" (even though those same people would scream bloody murder if a terrorist was targeted in the U.S. by a drone and innocent people were killed). Why does the fact of being born in a different country make these innocent lives worth less than American lives? Isn't the life of every innocent person equally sacred?