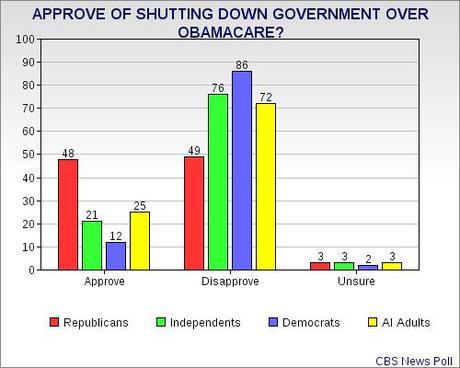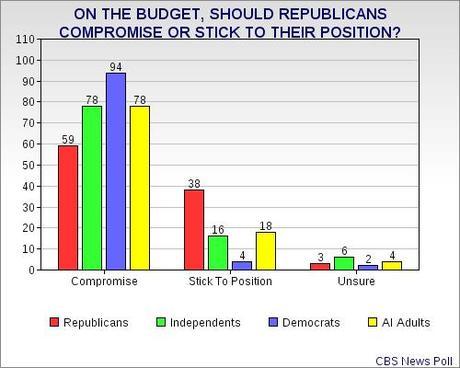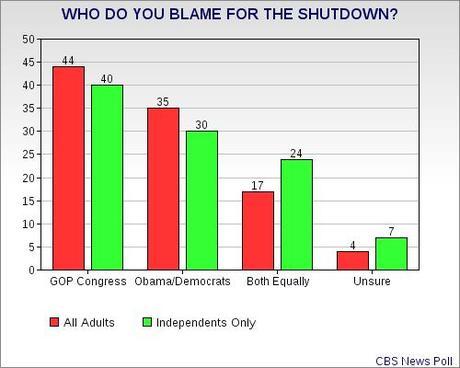 These numbers are from a new CBS News Poll conducted after the government shutdown (on October 1st and 2nd of 1,021 adults nationwide, with a 3 point margin of error). And they are numbers that should be worrying the congressional GOP. They show that the American people did not want the shutdown, with 72% saying the government should not have been shut down over Obamacare (including 49% of Republicans, 76% of Independents, and 86% of Democrats).
And as the second chart shows, the public doesn't want the Republicans to become entrenched and stick to their position regardless of what happens. Huge majorities want the Republicans to compromise (and that includes 59% of those in their own party).
Finally, the third chart shows that it's mostly the Republicans who are getting blamed for the shutdown. While most Republicans blame the Democrats (and vice versa), the general public and the Independents both believe the Republicans are to blame. And as the shutdown grows longer, I expect those numbers will probably just grow.
The Republicans have made a major blunder in forcing a government shutdown, and now they don't know how to get out of this mess without it looking like they surrendered (which would anger their teabagger base). They may have made the teabaggers happy by shutting down the government, but they sure haven't made any new friends in the rest of the population -- and it could hurt the party in the next election, especially if the shutdown is an extended one.