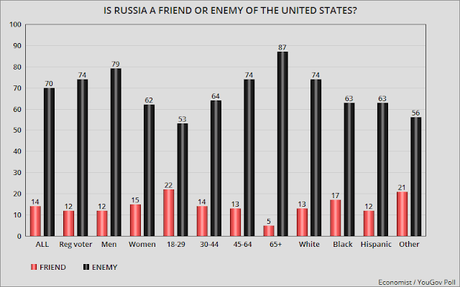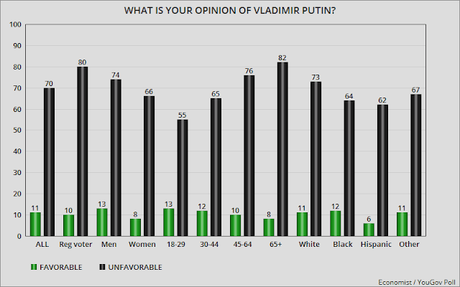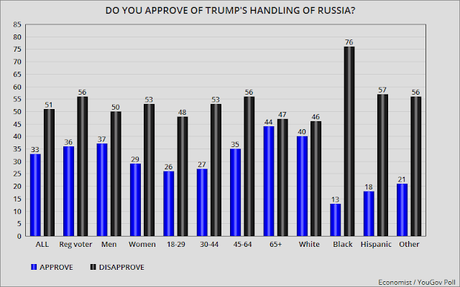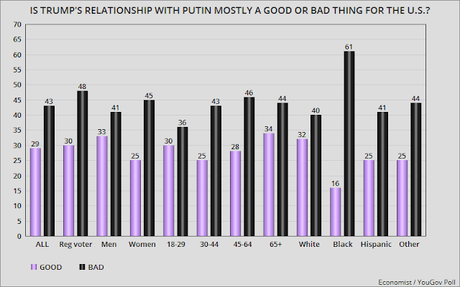 It has recently come to light that Trump has known (maybe for as long as a year) that Russia is paying the Taliban a bounty for killing U.S. and Coalition soldiers in Afghanistan. And he has done nothing to punish Russia for purchasing the murder of U.S. soldiers.
It brings to mind the chummy relationship between Vladimir Putin and Donald Trump. Trump has refused to accept that the Russians interfered in our 2016 election -- preferring to take Putin's word over that of all our intelligence agencies. He also tried to remove sanctions imposed on Russia for seizing the Crimea -- but that was stopped by Congress. He has also insisted that our allies once again include Russia in the G7 (making it the G8), but has been unable to convince other G7 members.
Trump seems to think Russia is our friend -- not a dangerous enemy.
But the American public disagrees with Trump about that. They consider Russia our enemy and have a very unfavorable opinion of Putin. And they are troubled by how Trump has wealth with Russia, especially his relationship with Putin.
The charts above reflect the results of the new Economist / YouGov Poll -- done between June 28th and 30th of a national sample of 1,500 adults (including 1,198 registered voters). The margin of error for adults is 3.3 points, and for registered voters is 3.4 points.