OUR NEW SERIES! Our round-up of our favorite London pubs on or near the routes of our London Walks. We'll be posting reviews, giving recommendations and directions and from time-to-time delving into the stories behind the pubs and pub names. As always, we want to hear your suggestions, too. Send your Best Pub In London suggestions to the usual address or leave a comment below.
Here's Richard IV, LW's resident Sherlock Holmes expert…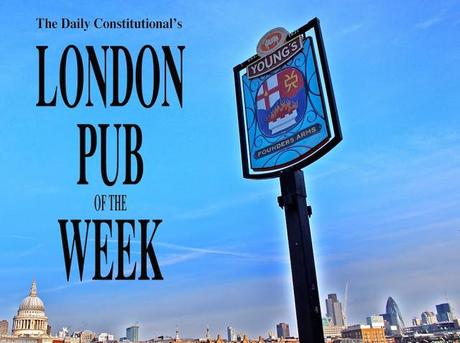 It has to be the Sherlock Holmes on Northumberland Street.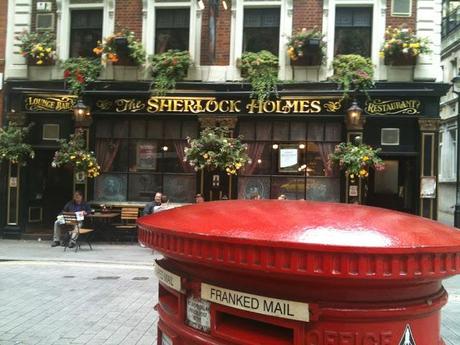 A pub and a museum rolled into one since 1957.  Originally opened in 1881 as the Northumberland Arms / Northumberland Hotel (and thus a great candidate for Sir Henry Baskerville's hotel which was certainly near here), it's round the corner from Craven Street where the villainous Stapleton stayed, across Craven Passage from the site of Neville's Turkish Baths, patronized by Holmes and Watson, and just across the way from Great Scotland Yard.  A treasure trove of exhibits: from playbills and stills, through a fascinating array of things in glass cases (including the phosphorus-daubed head of the famous Hound itself)  to the images of our heroes and their creator in the pub windows.  All this, and the recreation of the sitting room of 221b upstairs, currently co-curated by two experts from the Sherlock Holmes Society of London.  I'm always noticing something new, or spotting something I'd forgotten was there!  It also just happens to be the final port of call on the regular 'Footsteps of Sherlock Holmes' walk (Fridays, 2pm, Embankment) and also on the otherwise completely different Repertory walk 'Sherlock Holmes Saves the Nation!' (August 25, 2-30, Green Park).
Richard IV Richard IV is an actor, swordsman and an expert on early detective fiction. Here's a little taster from his Sherlock Holmes walk. Velvety voiced and perfect timing, he makes for some awfully handsome listening! No surprise to learn that he's narrated numerous documentaries and audiobooks.
A London Walk costs £9 – £7 concession. To join a London Walk, simply meet your guide at the designated tube station at the appointed time. Details of all London Walks can be found at www.walks.com.