Found these random pieces in an old handbag, all from my childhood, most from my
mother's dresser
. Almost all of them are from the
80's
though a few might be/ definitely are from the early
90's
. My all time favorite, I have to admit are are disco dangler metallic earrings, shaped to resemble a grape vine. Some people call it the
pseudo vintage era
. Not sure, how that term/ what that term really means, my best guess would be, since 80's is right behind us, not that old,
so not that vintage?
Any which way, I was born in the 80's, so have a deep seated appreciation and love for all things disco, all things loud and metallic... yeah, kind of! So here they are...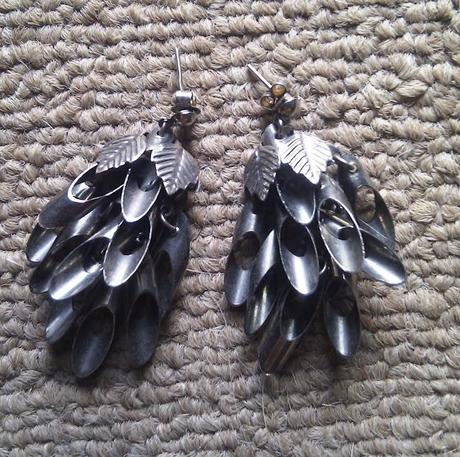 MY ALL TIME FAVORITE. Belonged to my Mum in her 20's, now of course
in my dresser, haven't worn it in ages, definitely did in school, whenever I got a
chance: these were way too much in trend in the late 80's too
( or maybe just at my primary school! then again we were wannabe
rock stars, all of us at school)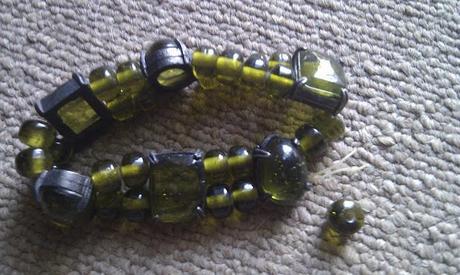 ANOTHER PRETTY PIECE: it wasn't so much my Mum's, as I think was mine,
don't really remember. Faintly though, I do recollect, one of my friend's Aunt had
this bracelet I guess, and I of course got it as a gift/ reward for being a good girl
during my teens. You have to understand, this kind of junk glass beads, jewelry
was super in and everyone had them. As you can see the thread broke and the
 beads are coming out, still too precious to part with.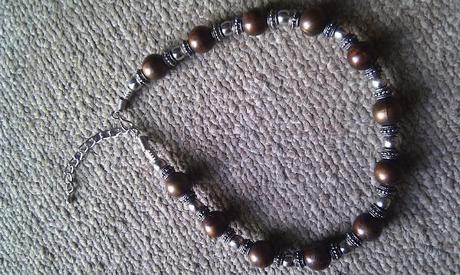 WOODEN BEADS AND METAL CHOKER: this was bought by my Mum for me
to wear in some fancy dress/ dress up themed party, way back in the 80's or early
90's. It is a classic design seen in many forms, from choker necklaces, to bracelets,
even earrings. And although, it hurt my neck every time I wore it, it did look pretty
awesome to me. I think I can still mix it up with some thing in my wardrobe and
wear it, I do think though that I am way past the necklace phase and everything ends
up around my ankle.. yeah, I am in the anklet phase of my life!!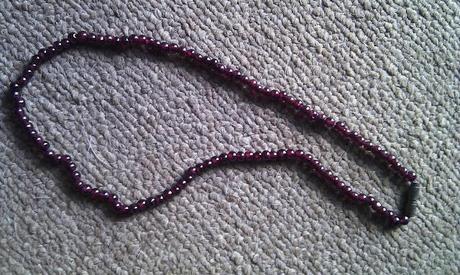 GEM STONE NECKLACE:  Originally, my Mum's, of course thrifted by me at
some point in my life, not sure exactly, but its either a deep, almost burgundy
red coral or rich dark colored amethyst. Too confused on that front.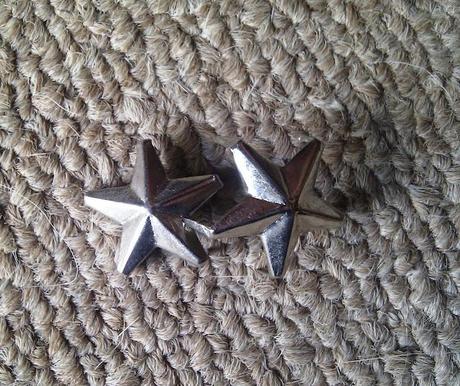 THE STARS: Oh! I have to tell you about these little babies. My friend in college used
to work for this company, where they made jeans and jackets and these little shiny metal
 star studs were actually a big hit on the denim jeans pockets, the waistband or the back
pockets. I obviously, being the god girlfriend that I always am ;-), got these from her as
a gift, quite a few of them. Used to wear them on my denim jeans, at the outer bottom
hem, 3 on each side (Good times). Still have four of these left. Should definitely do
something with these rocking pieces, I strongly believe though that it would be some
handbag or whatever but not my jeans this time :)