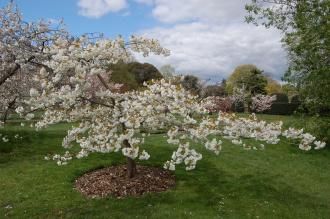 Prunus serrulata (23/04/2016, Kew Gardens, London)
Position: Full sun to partial shade
Soil: Moist, well drained
Flowering period: Late spring
Eventual Height: 8m
Eventual Spread: 8m
Hardiness: 6a, 6b, 7a, 7b, 8a, 8b, 9a
Family: Rosaceae
Prunus serrulata is a deciduous tree with a spreading habit. Its dark green leaves are ovate with serrate margins, up to 9cm long and 5cm across. Its leaves turn yellow/ orange/ red in autumn before they fall. Its grey/ brown bark is smooth with horizontal lenticels. Its white fragrant flowers appear in racemose clusters of up to 5 at the same time as its leaves. Its dark purple/ black fruit is a globose drupe and up to 10mm  across.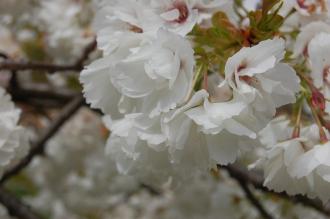 Prunus serrulata Flower (23/04/2016, Kew Gardens, London)
Prunus serrulata,  commonly know as the Japanese Cherry, Japanese Flowering Cherry, Hill Cherry or Oriental Cherry, is native to Japan, Korea and China. The plant features heavily in the traditions of Japan, with its blossoms symbolising the ephemerality of life. In its native habitat it grows in mixed forests on mountain slopes. Prunus serrulata is synonymous with Cerasus serrulata.
The etymological root of the binomial name Prunus is from the classical Latin name of the plum tree. Serrulata being derived from the Latin meaning small toothed, referring to the leaf margins in this plant.
The landscape architect may find Prunus serrulata useful as an attractive and fragrant spring flowering tree,suitable for planting as a specimen, in groups or as an avenue.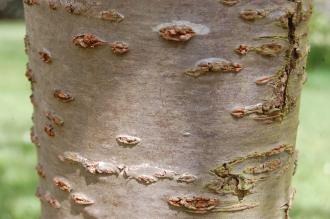 Prunus serrulata Bark (23/04/2016, Kew Gardens, London)
Ecologically, Prunus  serrulata flowers are attractive to pollinating insects, including as bees. All parts of this plant are mildly toxic to humans.
Prunus serrulata  prefers moist, fertile, well-drained soils. It tolerates most pH of soil, although it prefers an alkali soil.
Prunus serrulata requires little maintenance once established. Pruning should be carried out after flowering, from April to July to minimise the risk of Silver leaf infection. If planted in a lawn, the grass should be strimmed under the tree rather than mown as the mower may damage the roots causing the plant to send up new shoots.


Landscape Architecture