Proxy-N-VPN is another great dedicated proxies provider! They offer dedicated static IP Proxies for high anonymity, SEO tools, and social media marketing.
Provide Private HTTP/HTTPS Proxies for marketing
Datacenters Located in 27 US Cities
Virgin Dedicated Craigslist IPs for Posting Ads
Now 15% OFF! (Coupon is at the end of this review!!)
Our Rating
9.5
---
Proxy-N-VPN offers HTTP/HTTPS proxies running on high end, dedicated proxy servers. Their IPs are non sequential. They provide both private proxies and shared proxies. Dedicated proxies are good for Craigslist, Instagram and Ticketmaster.
Founded in 2012, Proxy-N-VPN swears by their ambition to protect their users' online privacy and security. They're a leading company in providing online privacy for whatever your needs may be, whether that's just surfing the web with peace of mind, or if you need highly anonymous proxy services for your business. They're a green company, operating on a state of the art facility that keeps energy emissions down while also saving money for their customers.

Their high speed, anonymous private proxies are optimized for SEO Tools Like Scrapebox, SEnuke, TweetAdder, BookmarkWiz, Ingerslike, Tweet Demon. Their proxies are known to be especially great with Instagram and Facebook. They cost a little more than some other providers, but they're definitely worth the price. Also, their proxies are good for social media, web scraping and work on all classified ads site. They give you the ability to do webmailing but not SMTP mailing, so keep that in mind when considering this provider.
---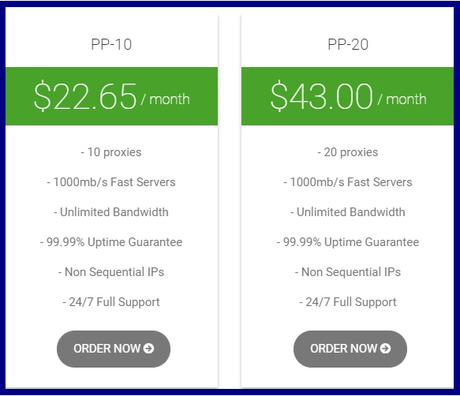 10 private proxies cost $22.65
Expert Review & Guides
---
Proxies Pricing & Packages
Their prices are pretty standard fare compared to most other top end proxy providers. They also offer a wide range of proxy servers for just about any needs, so you shouldn't have too much of an issue finding a package that best suits you. You can purchase proxies from Proxy-N-VPN through PayPal, Skrill, 2Checkout, Payza, and CoinGate. They do not accept credit card payments, but luckily their other options are relatively popular methods or paying. They also offer a 3 day refund policy. However, there are a lot of strings attached to this policy, so make sure you look it over before counting on being able to use it.
Proxies Packages and Plan
Price/Month
Good for
10 private proxies  $22.63 SEO Tools / Amazon
10 shared proxies  $11.50 Automation softwares
10 Instagram Proxies $22.65 Instagram/snapchat
10 Craigslist Proxies  $86 Classified Ads websites
10 Caming Proxies  $169 PokemonGo
100 TICKETMASTER Proxies  $249 TICKET websites
250 SHOPPING proxies $328 Footsites
Network Performance
The Proxy-N-VPN service provides anonymous private proxies on reliable X3430 dedicated servers with CentOS, and more than 10,000+ dedicated IP addresses on sales. Their servers have 99% uptime, as well as unlimited bandwidth. There's never any down time with their servers. And there's no set up fees! So you don't have any reason to worry about the speed and quality of their servers; these truly are some of the best, and you should never encounter any issues. And if you do, their 24/7, year round support will make sure that your problem is handled properly.

Server Locations
Proxy-N-VPN mainly provides USA based IPs, with locations in 27 US Cities. You can easily get GEO location specific IP addresses for posting ads on Craigslist and other classified ads sites. This is a pretty small map for the time being, so hopefully they expand on it. They do offer a decent amount of locations though, and for the most part you should be well set with what they have to offer. Just make sure that these locations work for you before making any purchases.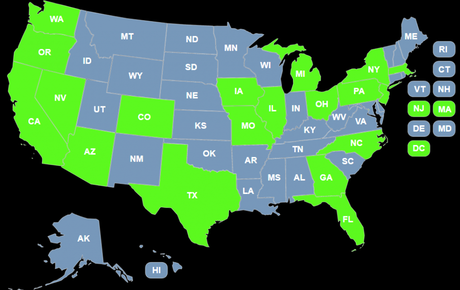 They also offer UK proxies and France proxies, should your needs be outside of the US. Again, hopefully they will further expand their locations and offer more international areas.
Monticello IA USA
Atlanta GA USA
Boston MA USA
Buffalo NY USA
Charlotte NC USA
Chicago IL USA
Cleveland OH USA
Dallas TX USA
Denver CO USA
Detroit MI USA
Kansas MO USA
Las Vegas NV USA
Los Angeles CA USA
Miami FL USA
New York NY USA
Philadelphia PA USA
Phoenix AZ USA
Piscataway NJ USA
Portland OR USA
Raleigh NC USA
Rochester NY USA
Roseburg OR USA
Salt Lake NV USA
San Diego CA USA
San Jose CA USA
Seattle WA USA
Washington DC USA
London London United Kingdom
Milton Keynes Buckinghamshire United Kingdom
France Île-de-France France
Authentication & Add-On
You can easily use their proxies via:
Username/Password authorization 
IP Authentication
You are able to download your proxies from your billing control panel. Your proxies are typically available very fast, so you can quickly get to work with using your proxies not long after buying them.
Add-On
Not only do they offer proxies, Proxy-N-VPN also provides private VPN and shared VPN services for anonymously browsing the internet and bypassing/unblocking content filters. Their private VPNs are just $6.50 per month. So if a VPN is what you're in the market for, these are a great option.
Website
While the Proxy-N-VPN website is a little repetitive at times, it is full of helpful information and very easy to navigate. Choosing and purchasing a proxy or VPN package is very simple, and they make all of the options very clear. It is also very easy to find and access the customer support section of the site. They have a blog that has a few helpful articles for those new to the world of proxies and VPNs, however, it doesn't seem like they've updated or added to it in a while, so I wouldn't consider it much of a resource. There is also a Frequently Asked Questions section on the site, with lots of helpful info about the terms and restrictions on their proxies, as well as simpler questions that explain how proxies work and what they can be used for. Their dashboard for managing your proxies or VPNs is also very simple and easy to use. All around, it's a great and simple website, though it could do with a little updating.
Customer Support
Proxy-N-VPN has an email and ticket based customer support, similar to other proxy providers. They offer 24/7 service, so you can reach them at any time. However, they are a little slower to answer the ticket compared to HighProxies, MyPrivateProxy, and a few others. I think this is an area where they could improve, and I expect that with time they will.
If you are already a Proxy-N-VPN customer, feel free to share your review in the comments below!
Cheers!
For a 15% recurring discount, use Promo Code: 15OFF
Private Proxies Plan
Price
multiple cities/Subnets
1 Proxy  $2.35 No
5 Proxies  $11.50 YES (US)
10 Proxies $22.65 YES (US/EU)
50 Proxies  $86 YES (US/EU)
100 Proxies  $169 YES (US/EU)
150 Proxies  $249 YES (US/EU)
200 Proxies $328 YES (US/EU)
500 Proxies  $750 YES (US/EU)
1000 Proxies  $1390 YES (US/EU)

15% OFF

You can get 15% recurring discount,Use Promo Code: 15OFF.

Claim Now
Our Verdict
9.5

Total Score

Editor's Review on proxy-n-VPN

Proxy-n-VPN provides anonymous private proxies for marketing purpose and Achieve rapid development in recent years.

Price & Value

9.4

Network Perform

9.5

Proxy Features

9.6

Customer Support

9.4 Add your review

 | 

Read reviews and comments
Proxy-n-vpn Features
Support Proxies Protocol: HTTP/HTTPS
Proxies Update Frequency: Fresh IPs Monthly 
Multiple Cities, Multiple Subnets
Unlimited Bandwidth
24/7 Support
Setup Time (5 Mins to 2 Hours max)
Good for Social media marketing Such as Craigslist, Instagram, Ticketmaster, Twitter, Facebook, and Youtube
 Supported:  Scrapebox, Bookmarkwiz, Senuke, Sick submitter, Tweet Demon, Tweet Adder, Zennoposter and so on
Not Allow: Spamming, Illegal Activities, Fraud, Hacking, Phishing
For More Information Check More details on Proxy-n-vpn.com
Back to Featured Articles on

About the author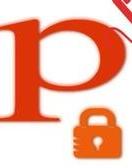 Chris Prosser View profile
View Blog
THE %(site_name)s COMMUNITY