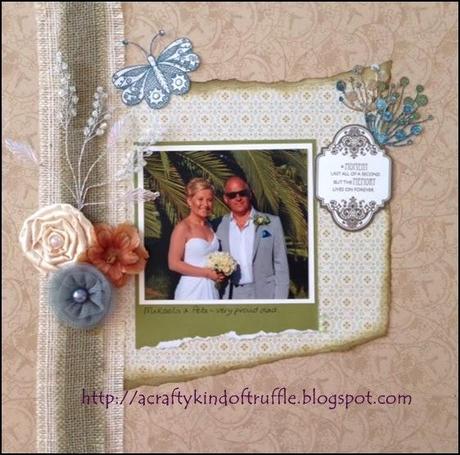 Materials:
Kaiser Craft 12 x 12 paper 'History P801' from 'These Days' collection , Kaiser Craft 12 x 12 paper 'Newsprint [email protected] from 'Timeless' collection, 12 x 12 craft card, Woodware olive green, plain chocolate and lincoln ink pads, toffee crunch Momento ink pad, Darcy PaperArtsy stamp set Eclectica 3 EDY02, Kaiser Craft collections sentiment, Stix2 sticky pads, aged green and aged teal Stampendous Frantage, Versamark embossing pad, natural and taupe Craft Decor burlap, Marianne Creatables Leaves LR0192, Green Tara flowers and leaves, Kaiser Craft basic pearls, Cosmic Shimmer pearl PVA, Stix2 double sided tape, smooth white Bazzill, olive card, Crafty Notions glue.
Tools:
Acrylic block, craft knife, Sizzix big shot, scissors, paper trimmer, Ranger Ink Essentials Blending Tool, heat gun, heat mat, A4 paper, sticky notes.
Instructions:
1. On the Craft card use the toffee crunch Momento ink pad and one of the heart stamps to create a subtle background design, use post it notes to mask images already stamped to prevent over stamping of images.
2. Trim photograph to size using paper trimmer and mount onto smooth Bazzill. Then mount onto olive card, trim three sides using a trimmer and tear the bottom edge leaving enough room to journal on.
3. Take the 'History' paper and tear to suit the mounted photograph, using a blending tool ink the egdes with an olive green ink pad. Position onto the craft card and secure in place.
4. Stamp the butterfly image onto the 'Newsprint' paper using Versamark and cover with aged teal Stampendous Frantage melt using a heat gun (use heat mat and paper to protect the work surface and collect spare embossing powder), cut out and add cosmic shimmer pearl PVA to decorate butterfly wings, leave to dry.
5. Cut out of white Bazzill (using the Big Shot and Marianne die) three leaves, cover with Versamark and Stampendous Frantage, melt the embossing powder and put to one side.
6. Take 2 pieces of burlap, measure and trim to 12", leave the natural piece full width and trim and fray the taupe piece. Stick the taupe onto the natural allowing the natural to be seen both sides.
7. Position the photograph, leaves, butterfly and burlap and attach to background. Add sticky pads to the back of the Kaiser Craft sentiment and stick in place covering the stems of the leaves. Add the three pearl gems to the edge of the mounted photograph.
8. Finally add the Green Tara flowers and leaves to finish off.
The requirements of the competition included colour, composition, techniques and overall look. I decided to use wedding photos for all three layouts to show that although the color theme of the wedding photos were the same it was possible to use a variety of colour/styles of products and overall look for each layout.
The other other consistency was the use of stamps by Darcy of Art and Sole
I found this helped bring the layouts together despite using different stamps for each layout.