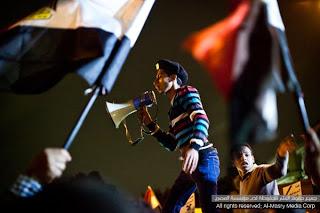 Protest in front of Presidential Palace, February15, 2013
This week protests continued in Egypt. February 11
th
marked the second anniversary of the  end of the Egyptian Revolution, the 18-day uprising that overthrew Mubarak. Since protests started again in late January, 2013 dozens have been killed and hundreds injured. There have been accusations of police brutality and other abuses by security forces in Egypt. While avoiding direct criticism of Morsy, representatives from the United States expressed concern about the climate and stated that people's economic and political concerns should be addressed. Further, the US Embassy suggested  that the Egyptian Government needs to reach out widely to opposition to find a common ground. Reflecting the fear of backlash, it was reported this week that dozens of police officers have rallied outside the local security administration headquarters demanding to stop being used as a tool for political oppression in the country's ongoing turmoil.
Many in Egypt are frustrated with Morsy and the Muslim Brotherhood.  The Muslim Brotherhood is increasingly accused of monopolizing power. The economy has deteriorated, conservative Islamists are obstructing progress in the country, there are troubling concerns with the new constitution, and security forces continue to be heavy handed. "Of course I feel disappointed. Every day is getting worse," said a citizen. Morsi and his supporters have dismissed the opposition's claims that he is the same as Mubarak and accused them of trying to "topple a democratically elected president." Bouts of protests and uprising started in December when Egyptians perceived some of Morsy's actions, as power grabbing. Since December, Morsy's approval ratings have continuously declined and are currently the lowest it has been since he's been in office. 
~WMB
Thanks to my wonderful GA, Jillian Underwood!