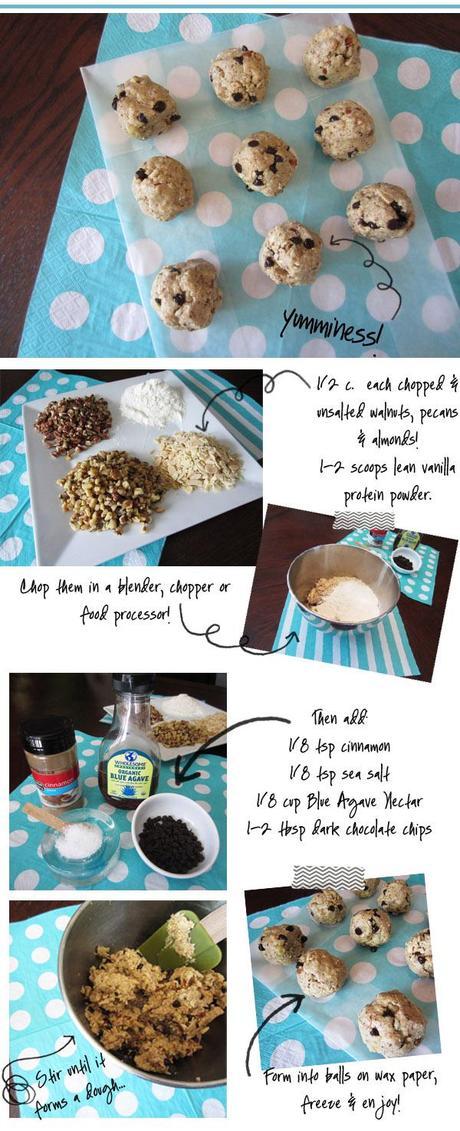 When I'm not dreaming about clothing I'm probably either cooking or eating. Recently I've seen a lot of fabulous recipes for protein or energy bites (I was inspired by this and this), so I was inspired to kind of combine the two ideas and create my own recipe that skips the peanut butter, honey, vanilla extract and oats and instead creates a healthier snack using Blue Agave Nectar and lean vanilla protein powder. I was impressed with the recipes I had tried—but my mind was absolutely blown when I added the vanilla protein powder and the bite-size little snacks tasted exactly like my Mom's oatmeal cookie dough (<—heaven).
The Protein Bites are insanely easy to make, but sinfully delicious once they've spent an hour or two in the freezer! The visual should give you a pretty good idea of how to whip up a batch, but here's a bit more detail.
1. In a food chopper processor or blender chop up 3/4 cup walnuts, 3/4 almonds and 3/4 pecans. You want them to be toasted and unsalted. I prefer to buy the raw version from the bulk section. (on a side-note, any type of nut will work, pick your 3 favorites).
2. Once the chopped nuts are all in a bowl, add the lean vanilla protein powder. GNC offers this Lean Vanilla Bean Powder, but I was recently introduced to this Vanilla Protein Powder available through Slimgenics, and prefer that (it has 100 calories and 15 g of protein so it is nicely balanced).
3. Top these dry ingredients with 1/8 tsp cinnamon, 1/8 tsp sea salt and 1/8 cup Blue Agave Nectar (they sell a couple of versions at Target, but my favorite is from Trader Joe's). Agave Nectar is naturally fat free and makes a great substitute for any type of sweetener.
4. Add the chocolate chips (my favorite are Enjoy Life Mini Chips which are dairy, soy and gluten free–available at Target), and then stir until the mixture turns into dough!
5. Shape them into balls—this should yield roughly 9-12 Protein Bites depending on your sizes. Store them in the freezer & enjoy!
If you're interested in seeing nutrition facts you can find them below (via MyFitnessPal.com):