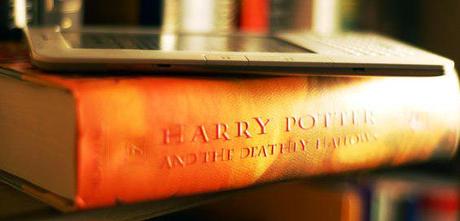 Just in case the title doesn't say it already—Nerd Alert!
What you are about to read contains frequent references to Harry Potter. Okay, you've been warned.
Yesterday, nerds and bookworms lost another battle, when the Harry Potter series was released in e-book format. Now, all seven novels are available through J.K. Rowling's Pottermore Web site.
True, we'll each always have our own personal 200-lb collections, but there was something comforting about knowing that we were all in this together (with the exception of the audio book people). At least one of our treasured paper-bound page-turners would remain untouched.
Of course, deep down (much like Harry) we all knew this was a losing battle. Given the literal heft of the series, it was only a matter of time before they were converted to travel size. We live in a world of convenience (unlike Harry, who was inconvenienced quite often). Why shouldn't our wizards and witches be convenient too?
_____________________________________
More on the Story: Washington Post
…just for fun: