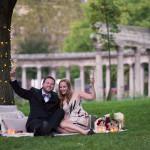 With careful preparations and a very competent and skilled photographer, our groom pulled off a proposal that just seemed impossible in retrospect. Imagine planning something thousands of miles away and only by email. You'd think the end product would be something mediocre but no, with Ben's plans and Lindsey's help, they created such an awesome album of that special day. The garden where they shot everything looked so magical with all the fairy lights brought in by the photographer's team. It was such a perfect execution of a surprise proposal turned engagement session. Congratulation Dana and Ben!
Photographer
Why did you choose the location?
The Paris park is quiet and unknown to tourists, and has beautiful roman columns in the background.
How did you tell the couple to feel at ease with all the posed shootings?
I work with a lot of couples and I believe that just being friendly and understanding while giving simple suggestions on how to pose following the surprise proposal, results in the best results.
Groom
"I am so lucky to have found Lindsey of Pictours Paris & Justin of Picncis in Paris, to organize a picnic and photograph such a special occasion. I was planning a surprise proposal in Paris for my girlfriend from the comfort of my home in Los Angeles, CA. After some initial research, I came across the Pictours Paris website and sent an inquiry. I immediately received a reply from Lindsey and the planning began from there. We exchanged dozens of emails over the course of the next couple of months planning the big day. She was very helpful in suggesting some new ideas while still being mindful to execute the plan that I had in mind. She was very patient with all of my questions and was even open to shooting in a location that I had chosen (Parc Monceau). When it came time for the day of the proposal, Lindsey and her husband, Justin, arrived to the park early to set up lights, a picnic blanket, flowers, etc. in advance of my arrival with my girlfriend. Lindsey was very well prepared and captured the moment perfectly. Following the proposal, she took extra time to do a mini-shoot and made my fiancé and I feel very comfortable throughout the entire process. Lindsey suggested a few different poses so that we had some varied shots. We received all of the photos within a day or two and they turned out great! I would highly recommend Lindsey for anyone looking for a photographer while they are in Paris. Because of Lindsey's great work, my fiancé and I will always have spectacular photos of our engagement. Thank you very much, Lindsey for all of your great work!"
Vendor
Photographer: Pictours Paris