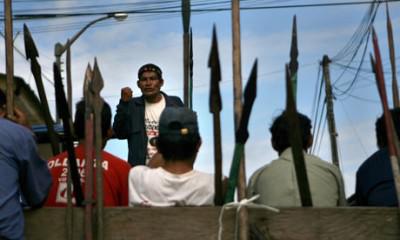 Indigenous people of Bagua (Photo: Ernesto Benavides/AFP)
Indigenous people in Latin America have often been in conflict with multinational companies – and their own governments – over various industrial development projects that threatened their environment and the way of life. As Hernando de Soto pointed out in his 
work with indigenous communities in Peruvian Amazon
, the root source of such disagreements lies in the fact that property rights of those communities are not formally recognized, and therefore not legally protected. Not surprisingly, in confrontation over land use with large companies or governments hungry for natural resources they frequently lose.
That may finally be changing in Peru. A new law recognizing land ownership rights of the country's native population is an important step in the right direction. On September 6, Peru's President Ollanta Humala signed into law a measure that requires consultation with the indigenous people prior to undertaking any mining, timber or petroleum projects on their traditional lands.
The law sets a regional precedent in that matter and hopefully can prevent violent strife that in June 2009 gripped Bagua in the Peruvian Amazon, where more than 30 people were killed after months of protest over the sale of rainforest for oil and mining use. Quite fittingly, the new bill was signed in the town of Imacita in Bagua province.
Dismissing arguments that the law will discourage foreign investment, President Humala stated that the new law should in fact strengthen investment by reducing the risk of instability and social conflict that investors fear. The law for sure is not a cure-all and the indigenous people and the government may find themselves at odds again in cases where the consultative process doesn't lead to a compromise. But at least it provides a formal channel for a democratic dialogue, making the indigenous communities stakeholders in the country's development process.
Going forward, as Hernando de Soto suggests, the protection of the rights of indigenous people must go beyond case-by-case consultations on given project: "It is time for the indigenous peoples of the Amazon to consider the possibility of adopting property and business rights in order to exchange signals with each other and the outside world, to combine their resources productively and create diversity and wealth, thereby protecting themselves from the dangers of globalization and benefitting from its advantages."