With time ticking and dress hunting, we know PROM is in full swing! And, of course, it would be silly for us to not join in on all the high school fun.
To celebrate the occasion, we think it's perfect for us to announce a contest for PROM! So tell your daughters, granddaughters, and all your friends for a chance to win a FREE set of 1928 jewelry of YOUR choice! How awesome is that?
We want to hear how you got asked to Prom! The more details, the better! Ladies, tell us what your man did for you. And boys, if you caught it on camera, let us know so we can send your date some FREE 1928 Jewelry!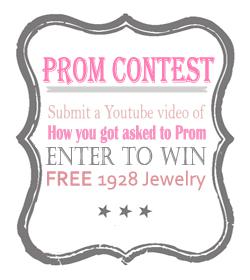 PROM CONTEST INFO & RULES:
Submit a Youtube video clip of "How you got asked to Prom?"  Include the following in the video, "1928 Jewelry Prom Contest," whether it be verbal or written. Simply copy and paste the URL and send it to sarahy@1928.com.
Contestants must be ages 15-20. Contestants under the age of 18 must have a written permission from parent or legal guardian (submit this with the link).
Employees and family members of employees of 1928 jewelry are not eligible to win.
Contest ends Friday, May 11, 2012. Winner will win a set of jewelry choosing 2 among the 4 options: earrings, necklace, bracelet, or ring. Winning excludes T.R.U collection and cannot exceed the Retail Value of $100.
Winner will be chosen by the highest number of views. So get all your friends to see your video to increase your chances of winning!
Winner will be notified through email. Winner has 24 hours to respond to the announcement of the contest. If winner does not respond, the next best Prom story winner will be chosen.
Contest winner will be announced on Tuesday, May 15, 2012, on this blog.
No purchase necessary.
Good luck! We're excited to hear your story!
Isn't this the cutest way to ask a girl to Prom? Reminds me of how I got asked by my best friend.