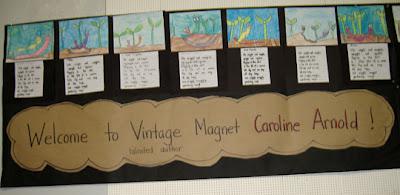 Welcome poster with Wiggle and Waggle drawings
Recently, I did an author visit at Vintage Magnet School in Los Angeles.  When I walked into the auditorium to set up for my presentation, I found the walls covered with all sorts of posters and projects the students had made to prepare for my visit.  Younger children had read my book
Wiggle and Waggle
and had learned the Wiggle and Waggle song, which they had listened to on YouTube.  Some made their own illustrations and others colored Wiggle and Waggle pictures downloaded from my website.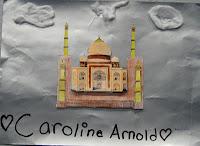 Older children had created 3-D posters of the
Taj Mahal
, mounted on silver paper.  And, there were all kinds of pictures of animals–from zebras and killer whales, to bobcats and koalas–inspired by my many animal books.  One classroom reproduced the cover of my book
A Penguin's World
with pieces of torn paper.  Every child contributed!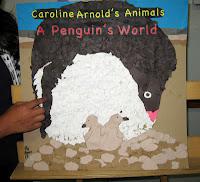 When the children came to my presentation, they were excited and eager to hear more about the books.  I can always tell when students have been prepared for my visit, because they respond with such enthusiasm.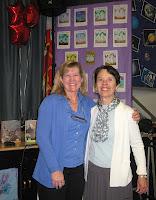 My day at Vintage was organized by librarian Karla Forbes, who did a superb job getting the kids ready for my visit.  Librarians like Karla are the key to helping children make the connection between the books they are reading and authors like me.  Perhaps, someday, some of them will grow up to be authors or illustrators too!