Project Life...so far, so good.
I'm actually caught up.
Well, not really...I mean..I still have weeks 38-52 to do in 2013...but for THIS year...I'm caught up.
I think it's really helping that I'm keeping things ultra-simple. I'm really trying to focus on the stories from our week instead of packing my album with embellishments. The new smaller size (6x8) is really helping, too...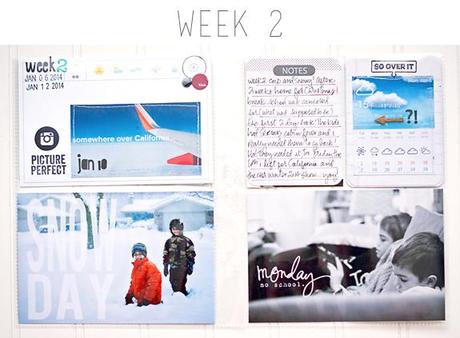 Our winter months are so slow and uneventful...so just a few photos and some journaling are all I needed for this week.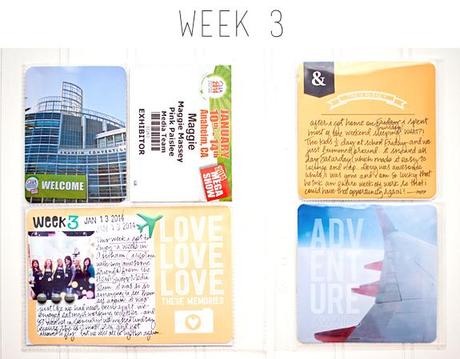 For most of week 3 I was in California for CHA. I added a few photos of my trip and a few notes about how the kids did this week. Because I had a square photo I wanted to use, I cut down a 12x12 page protector that had 9 4x4 square openings on it. This smaller page is just right for spread...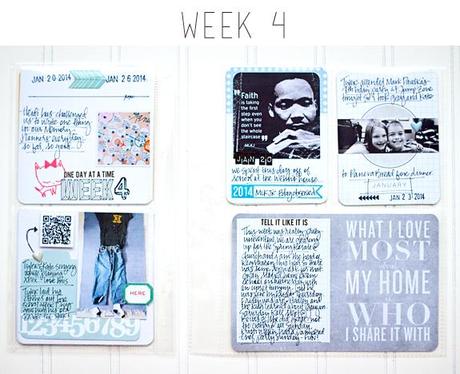 For this week I had a few more photos...but I decided to make them little mini photos so that I could fit in all the journaling I wanted to include. I seriously love the way this looks...
A couple tips...
*Got a great video from the week? Upload it to YouTube, create a QR code, print it out and add it to your spread so that you can see it anytime you like.
*Print out inspirational quotes and photos from your IG feed to add to your spread. I loved the Martin Luther King, Jr. quote above...and I'm so glad I included it. 
Products Used: