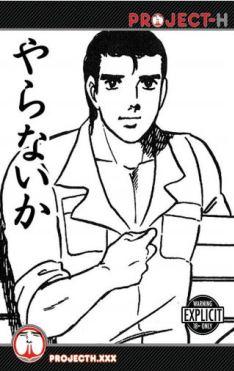 Needless to say, after you Google it, you'll wonder what Project-H was thinking in bringing this title over here.
PROJECT-H PARTNERS WITH IKDINTERNATIONAL TO BRING JUNICHI YAMAKAWA'S MANGA TO NORTH AMERICAN SHORES 
Tuesday [April 1st, 2014]
Gardena, CA, April 01, 2014 – Project-H is excited to announce our partnership with IKDInternational to bring the manga of beloved artist Junichi Yamakawa to North American shores.
Best known worldwide for "Kuso Miso Technique", Junichi Yamakawa's popularity experienced a resurgence of popularity after his work resurfaced on the internet in 2003. Kuso Miso technique tells the story of a typical student, Masaki Michishita, as he meets Takakazu Abe, a man who will change his perception of love, lust and the world.
Kuso Miso Technique brings in a different flavor compared to any of Project-H's past works including, but not limited to: homoerotica, scatology and urination.
More information regarding Kuso Miso Technique can be found here: Wikipedia (NSFW)
Project-H's President, Hikaru Sasahara commented:
"I am excited at the possibilities this collaboration brings to Project-H. Our goal is to bring new wholesome titles that appeal to everyone and I am pretty sure I've made a few people very happy."
New and Current Project-H fans can look forward to a faithful adaptation of all of Junichi Yamakawa's short stories on May, 2015.
Project-H, LLC. 
Established in 2011 under Digital Manga Inc.'s hentai imprint, "Project-H Books" was born. After a short while, Project-H Books became its own separate entity, now called Project-H, LLC. With a dedicated fan base exceeding high count numbers every day, Project-H continues to bridge the gap between Japan and the West by boldly licensing, localizing, and distributing Japanese hentai manga in English to audiences everywhere.
http://projecth.xxx/
IKDInternational 
Since May 2013, IKDInternational has held the rights to Yamakawa Junichi's "Kuso Miso Technique." IKDInternational has endeavored to spread awareness of Yamakawa Junichi's manga through various goods and often sold-out events. IKDInternational continues to encourage both new and old fans to continue spreading Yamajun fever worldwide.
http://ikdi.jp/
If you'd like more information about this topic or if you are an established news outlet and would like to receive press releases, please inquire by e-mail to [email protected]