Below are three movies I've seen, approve of, and are King Arthur related. Some more than others.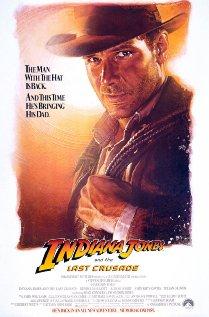 Director: Steven SpielbergActors: Harrison Ford, Sean Connery, and Alison DoodyRelease Year: 1989Rating: PG-13Length: 127 minutes
Fedora and whip at the ready, Indiana Jones sets off on his third cinematic outing accompanied by none other than his father, Henry, to explore the cradle of civilization on a perilous hunt for the Holy Grail -- which the Nazis are also after.
~synopsis from
Netflix
  It's Indiana Jones! There isn't a whole lot of King Arthur myth going on during his "Last Crusade," but a bit. Okay, the only Kind Arthur thing is the fact that Indy, his father, and the Nazis are all looking for the Holy Grail - something Arthur and his knights did.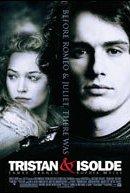 Director: Kevin ReylondsActors: James Franco, Sophia Myles, and Rufus Sewell
Release Year: 2006
Rating: PG-13
Length: 125 minutes
When gallant English knight Tristan (James Franco) wins the love of beautiful Isolde (Sophia Myles) -- the daughter of the Irish king -- soon after the fall of the Roman Empire, their liaison threatens to destroy the uneasy truce between their respective nations. Rufus Sewell co-stars as the English warlord Lord Marke in director Kevin Reynolds's timeless medieval tale of star-crossed lovers who are doomed by the forces of imperial politics.
~synopsis from
Netflix
I am going to be completely honest. I have no idea what Tristan and Isolde have to do with King Arthur. I do know, however, that throughout my "research" their names would pop up. Sir Thomas Mallory also dedicates a chapter of them in his book. So... that's something. It's a cute movie and I liked it. The best way I can put it is it's
Romeo and Juliet
with adults and a lot more believable. Were talking a few months (perhaps years) instead of three days.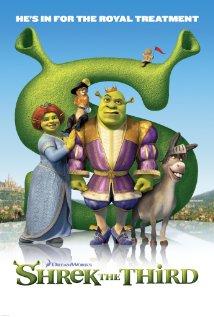 Director: Chris Miller, Raman Hui
Actors: Mike Myers, Cameron Diaz, and Eddie Murphy
Release Year: 2007
Rating: PG
Length: 93 minutes
When his new father-in-law, King Harold falls ill, Shrek is looked at as the heir to the land of Far, Far Away. Not one to give up his beloved swamp, Shrek recruits his friends Donkey and Puss in Boots to install the rebellious Artie as the new king. Princess Fiona, however, rallies a band of royal girlfriends to fend off a coup d'etat by the jilted Prince Charming.
~synopsis from
IMDB
Of the three, this one is probably more King Arthur-ish. And that's only because (a version of) King Arthur is actually in there. It's not the best movie of the Shrek franchise, but it's cute and has it's kid/adult humor much like the first, too. I also like that the Princesses take a bit of a bigger role in this movie, too. There's even an "evil" step-sister thrown in the mix.