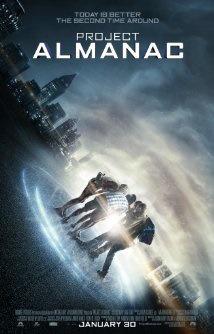 Director: Dean Israelite
Writer: Andrew Stark, Jason Pagan (Screenplay)
Starring: Jonny Weston, Sofia Black-D'Elia, Sam Lerner, Allen Evangelista, Virginia Gardner, Amy Landecker, Gary Weeks
Plot: A group of teens discover secret plans of a time machine, and construct one. However, things start to get out of control.
There may be spoilers the rest of the review
Verdict: Did We Need the Found Footage Angle?
Story: Project Almanac starts with David Raskin (Weston) applying to M.I.T. and along with his engineers Adam Le (Evangelista) and Quinn (Lerner) with a video of their creation. David gets into M.I.T. but funding puts his dreams on hold. Learning that his mother has put the family house up for sale to pay for his studies, but searching the attic for a new way to pay David finds a video camera of his 7th birthday and the shocking revelation that David was at his own 7th birthday as his high school age.
David and his friends try to investigate what happened using basic tricks but soon discover what David's father had been working on Project Almanac a time travel experiment. David, Quinn, Adam and David's sister Christina (Gardner) who is also filming everything decide to build the time machine because theoretically they already have. Cue the building montage of the success and failures while building the machine.
When they finally get the time machine working the friends try to figure out a way to use it they try to make it controllable and powerful enough to make it possible to send people through. The friends decide to send themselves through time and send themselves back one day. After successfully creating the machine the friends have to figure out what to do with it and how to keep things safe. The friends use the machine to correct their most recent failings and get revenge on bullies from the previous few weeks. It isn't long before the friends use the machine to become rich and take everything they want.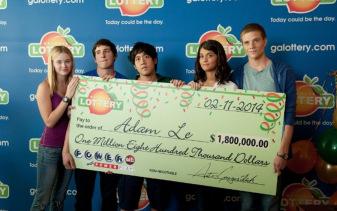 After they have had their fun they start to realize there have been consequences for the time travels. The friends have to decide whether to go back and change things but when David doesn't want to change his new life he tries to change things on his own breaking the rules he set himself.
Project Almanac is actually a very solid story, it has your typical teenagers behavior because what else would you expect them to use a time machine for, to have fun, to make up for silly high school mistakes, to get rich and to not worry about the consequences until too late. My big problem is the found footage angle, that seemed completely unneeded even though it does help with the twist ending, for the most part of the film it's like they didn't want a cameraman and just got a cast member to hold the camera and make us annoyed. I do understand that the characters felt they needed to record everything but did we have to watch through the recordings as they are being film or could we just have enjoyed a smart film. With the rant over I feel the idea of the story really was good and original. (8/10)
Actor Review
Jonny Weston: David Raskin who gets into M.I.T. but can't afford to go but after he discovers that he has time travel, he ends up building the machine with his friends. David ends up wanting to change things himself but ends up causing more trouble leading him to make the decision. Jonny gives a solid performance and makes you believe in what he is doing. (6/10)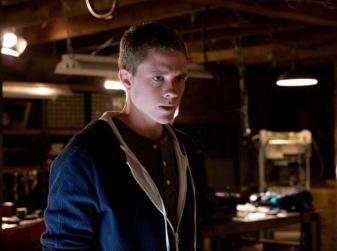 Sofia Black-D'Elia: Jessie Pierce the high school hottie that David does have a crush on and his friends keep pushing him to try and ask her out. She ends up being part of the time travel. Sofia does a solid job but never really shines. (6/10)
Sam Lerner: Quinn Goldberg one of the engineer friends who helps with the time travel machine. Quinn uses the machine to pass a test he failed but makes himself struggle through the test by being over confident. Sam's character annoyed me because he was the one that kept making things known. (6/10)
Allen Evangelista: Adam Le the other engineer friend who helps with the machine. Allen really didn't make any impact on the film and his character barely does anything outside the box. (5/10)
Virginia Gardner: Christina Raskin sister to David who is filming most of the film giving us the found footage idea but she really doesn't know too much of the scientific side and asks the questions the audience might. Virginia did a good job because she asked the questions we would be asking when it got to scientific. (7/10)
Support Cast: Project Almanac has a supporting cast of people who were affected by the action of the time machine, they don't make much impact in the final outcome though.
Director Review: Dean Israelite – Dean does a solid job directing but I wasn't a fan of using the found footage idea. (6/10)
Sci-Fi: Project Almanac can be put into the time travel films of recent years as one of the better ones. (9/10)
Thriller: Project Almanac keeps you wondering about the consequences because you don't see any until later in the film but you know they are coming. (7/10)
Settings: Project Almanac puts us in a high school which works well for the film. (9/10)
Special Effects: Project Almanac tries to stay away from too many effects but the few it does use look very good. (9/10)
Suggestion: Project Almanac is one to give a go to because I think it is one of the better sci-fi films of recent years and could be enjoyed by all. (Give It a Go)
Best Part: It is what teens would do with a time machine.
Worst Part: Found footage angle.
Improve Ideas: Lose the found footage and we have a solid film here.
Favourite Quote: Jessica 'If I was as smart as you David I would use the time machine to go back to meet you earlier'.
Believability: No (0/10)
Chances of Tears: No (0/10)
Chances of Sequel: Could have one.
Post Credits Scene: No
Similar Too: It's a mix of Jumper, Chronicle with time travel.
Oscar Chances: No
Box Office: $20 Million to date.
Budget: $12 Million
Runtime: 1 Hour 46 Minutes
Tagline: To fix the past, would you risk your future?
Trivia: There has been 3 different titles for this movie: Welcome to Yesterday, Almanac, and Project Almanac.
Overall: I personally enjoyed this film once I got past the found footage angle, I think this will go down as one of the better sci-fi this year but never reaches the levels of similar styled films like Chronicle.
Rating