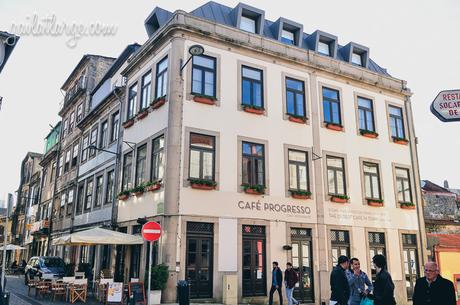 If you are a coffee lover, you might find yourself stopping every fifty paces (or less) for a café in some parts of Porto. If you asked me how many cafés there are around the city, I couldn't begin to guess a number. However, I can tell you which one is the oldest: Café Progresso opened in 1899, which makes it 117 years old this year, even older than the bookstore Livraria Lello & Irmão around the corner which just celebrated its 110th birthday. You know you're living in the right place where merchants of coffee and literature have such longevity.
http://www.cafeprogresso.net/
Café Progresso on Facebook
While Café Progresso is the oldest café in town, don't go with expectations of uniformed waiters, antique furniture, and Belle Epoque mirrors à la Majestic or Guarany. Progresso renovated extensively in 2005, and it's modern and casual. Their specialties, I'm told, are Café de Saco (filtered coffee) and crêpes. In a city dominated by espresso machines, I was surprised to hear that anyone served filtered coffee. I've not tried the crêpes yet but I did try the café de saco and I think I still prefer the regular espresso-style that's served (I take it with milk, a meia de leite, and no sugar). I'll order both styles next time and do a taste comparison, but my theory is that since I drink filtered coffee at home I prefer the stronger stuff when I'm out.
The other feature that Progresso is known for is their event space upstairs, which is booked for poetry readings and live music and such. I'll file away this space for future reference in case I need to organize something, as Progresso is in a prime location near Clérigos Tower (and my bus stop). If the walls could talk, I'm sure they could tell some stories from the past 117 years.
February 3, 2016
Album: Portugal [Winter 2015/2016]
Possibly related posts:
Porto's Café Majestic If you follow the tourist guidebooks, most — if not all — point to Café Majestic as a place not to miss while in Porto. Whether or not you will...
Sadko The Portuguese Water Dog I introduced you to Sadko Jiro da Ilha Farus the other day, but now I get to show you more of his pictures from Tuesday afternoon. Photographing shaggy black dogs requires lots...
Peacock Of Parque Da Cidade Peacocks are exceptionally beautiful creatures, it's a shame they're such snobs! I spent some time this morning in Parque da Cidade (remember the gorgeous wisteria last month?), and spotted this peacock taunting us from the...
Soundwich @ Parque Da Cidade, Porto I had to get up early for a family shoot this morning in Parque da Cidade, and by the time we finished all I could think about was how well...
(Even More) Festival Internacional de Teatro Cómico da Maia 2015 If I'd known we'd be attending this many shows at Festival Internacional de Teatro Cómico da Maia 2015, I would've a) bought a pass, and b) been more imaginative in...