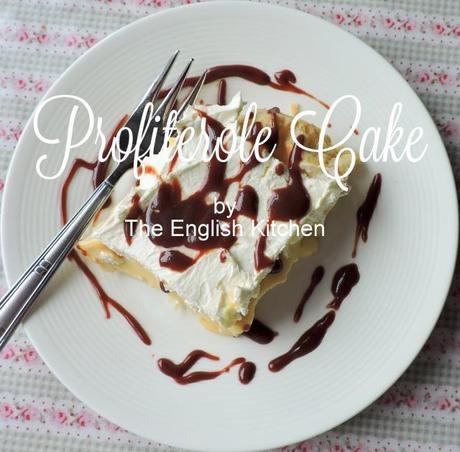 We had the Missionary Elders for tea last night and I wanted to make them a special dessert to enjoy.  This chilled dessert always goes down a real treat with everyone I serve it to.   I call it Profiterole Cake but I have also seen it called Eclair Cake.  It's basically a choux pastry base filled with a vanilla  and cream cheese filling, topped with whipped cream and then drizzled with a chocolate sauce!  It.  Is.  To.  Die.  For.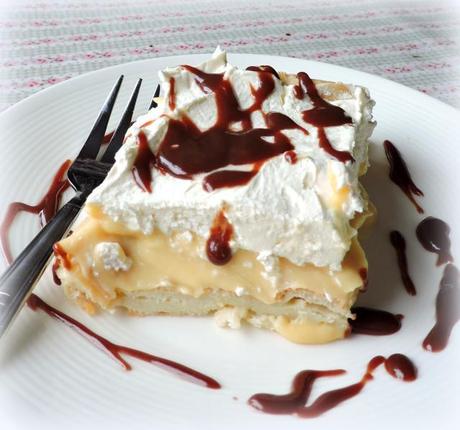 I have never had anyone turn their noses up at this . . .  in fact most people want seconds and the Elders were no different.  When I offered seconds they jumped at the chance!  It just so happened that Eclairs was our Alaskan Missionaries favorite dessert, so he really enjoyed this!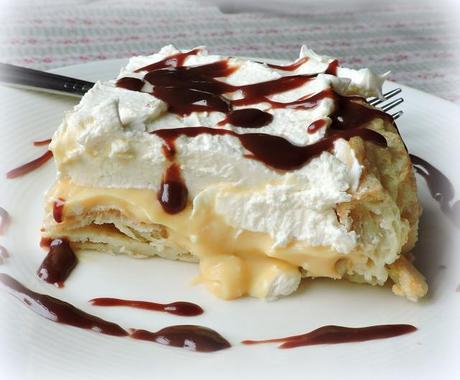 It is a North American Recipe that I had to adapt to English ingredients when I moved over here fourteen and a half years ago, as some of the original ingredients were not readily available here and still aren't.   I have listed the original North American Ingredients in the recipe.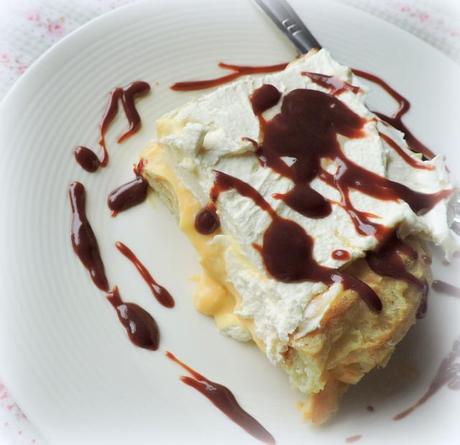 It's such a simple dessert to make and yet it is a show stopper!  You might be a bit afraid of making choux pastry, but if you make sure your boiled mixture is cooled to lukewarm and you persevere when beating in the eggs, you have every chance for success.   Adding eggs to a boiling hot flour mixture is a sure recipe for disaster.  Been there, done that when I was thirteen.  A mistake I never made twice.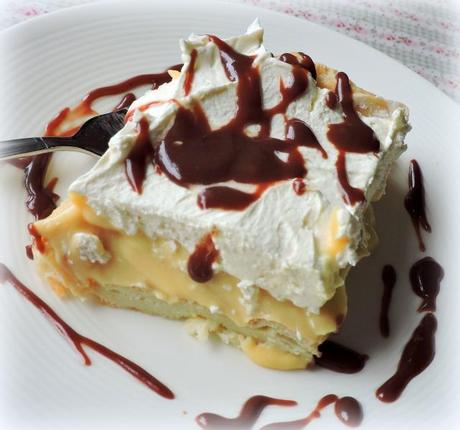 That rich custardy filling is deliciously creamy and just sweet enough without going over the top . . .  a nice layer of lightly sweetned whipped cream is layerd over the whole cake and then a delicious chocolate sauce is drizzled over all.   Again, let the sauce cook before you drizzle it on.  You don't want  it to melt the whipped cream.   Altogether this simple dessert is a real delight both to make and to indulge in!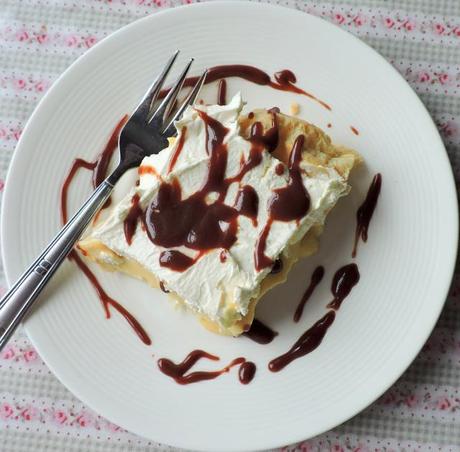 *Profiterole Cake*Serves 6Printable Recipe 

I have heard this called Eclair Cake as well.  It's an oldie but a goodie.  I have adapted the recipe to what is available for me to use here in the UK, but will put the American ingredients in brackets.  It's delicious!  Make this several hours prior to serving it so that it has ample time to set up. 
125ml of water (1/2 cup)2 ounces butter (1/4 cup)70g of plain flour (1/2 cup)2 large free range eggs 
Filling:115g of cream cheese (4 ounces)300g instant vanilla dessert mix such as angel delight (1 (3 1/2 ounce) package of instant vanilla pudding)355ml of whole milk (1 1/2 cups) 
To top:335ml of double cream (1 1/2 cups)1 tsp vanilla1 TBS caster sugar 
Chocolate Sauce:30g of sifted cocoa powder (1/4 cup)200g caster sugar (1 cup)180ml of evaporated milk (not sweetened condensed) (3/4 cup)2 ounces butter (1/4 cup)pinch salt1/4 tsp vanilla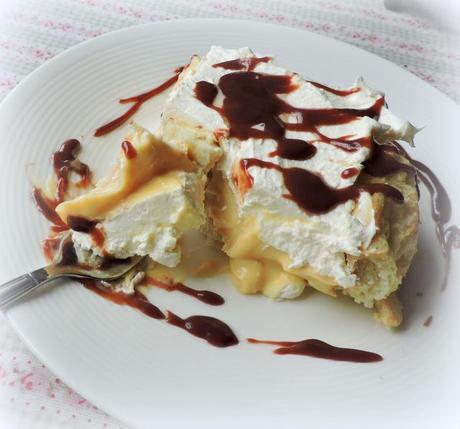 First make the base.  Preheat the oven to 200*C/400*F/ gas mark 6.   Butter a 9 inch square glass baking dish.   Set in the fridge to chill. 
Place the butter and water into a saucepan.  Place over medium high heat and bring to the boil, stirring to melt the butter.   Remove from the heat.  Add the flour and beat it in all at once.   Beat in one of the eggs.  It will seem at first that it won't combine, and will look a bit slimy, but persevere, if you keep beating all of a sudden it comes together.  Beat in the other egg in the same way.   Spread the dough into the chilled baking dish, spreading it evenly and at least 1/2 inch up the sides.  Place it into the oven and bake it for 25 minutes.  It should be well puffed and golden brown.  Remove from the oven and allow to cool completely before proceeding.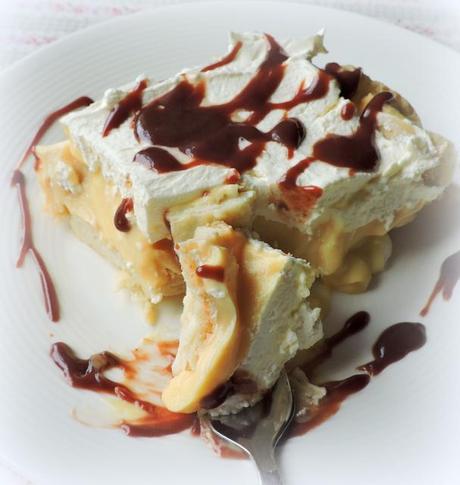 Whip the vanilla dessert mix and milk together until the mixture thickens.  Beat this into the cream cheese a bit at a time until it is completely amalgamated.   Spread this mixture over the cooled base.  Whip the cream together with the vanilla and caster sugar just until soft peaks form.  Spread this over top of the vanilla mixture.  Place into the refrigerator to chill.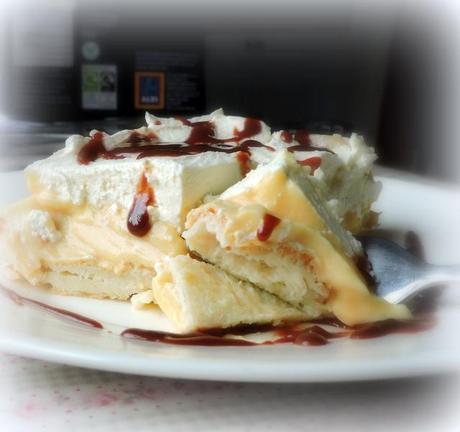 To make the sauce whisk the sugar and cocoa powder together in a saucepan.   Whisk in the milk.   Drop in the butter.   Cook over medium heat, stirring to melt the butter.  Bring to the boil, whisking constantly.  Boil for two minutes then remove from the heat.  Whisk continuously during this time.  Whisk in the salt and vanilla.  Cool to room temperature.   Drizzle the chocolate sauce decoratively over top of the chilled cake. Chill the cake until ready to serve.  You will have plenty of sauce, so put the remainder into a pouring jug.  Pass any additional sauce at the table.