Whenever I see a cool new thing on internet, I can't stop to give it a try. And every time I like what I try, I can't wait to share it here. And it is for this reason that I have a long list of posts waiting for completion in my draft folder. All those should have become published posts soon, but what to do, laziness comes in way.
Anyway, at least this time, I'm sharing my new discovery here without much delay.
A couple of days ago I received an email with a very professional looking email signature in it. The signature contained small icons to websites and social networks etc where the sender of the mail could be contacted. Those icons at once tempted me to try and get myself a similar signature too.
Of course, all email services have the option to create signatures. However, I think you can create only one email signature for one email account, and those aren't very customizable either.
The service that I discovered however gives more.  The service is called WiseStamp, and here's what I liked about it:
My WiseStamp email signature. The social icons are not visible, they disappeared in the screen capture.
1. Two signatures for free: It allows users to create two different email signatures for free. This way, users can have different signatures (with one click access) for professional and personal use.
2. Not Just Text: The signatures are highly customizable and can include text, links and even linked or unlinked images. So users can easily add links, images, company logos etc to their email signatures.
3. Email Apps: The signature can also include various email apps. These are apps using which users can share their latest tweets, latest blog posts, random quotes etc by way of their email signature. That is, if you use the Twitter app, your latest tweet would be added at the end of your outgoing emails. I haven't tried, but I think these apps can be installed directly from WiseStamp and can be used even without creating a signature. The apps will display content automatically at the bottom of the emails.
4. Social Icons: Users can add Social Icons linking to various major social networking sites like Facebook, Google Plus, LinkedIn, Goodreads etc. These icons make the signature look really impressive and professional looking.
5. IM Icons: In addition to social networking, users can also add icons linking to the Instant Messenger that they use. They can add links to Google Talk, Yahoo Messenger, MSN Messenger, Skype etc, making it easier for the recipients of their emails to contact them.
6. Customization: WiseStamp allows users to customize their signature in various ways. They can adjust the font's size and color and make it bold, italicized or underlined. They can add various symbols like a tiny telephone icon, a copyright icon etc. They can add links and pictures and adjust the allignment of the text and divide the whole signature in various columns.
7. Templates: Creating a customized signature using WiseStamp is quite easy. However, if someone wants even a quicker and easier options, then some pre-designed templates are also avilable.
8. Multi Use: One of the most interesting things about WiseStamp signatures is that they can be used across different email accounts. This is possible because the signature is created by way of browser extensions. Once I installed this extension in my browser, I found that I could use the same signature in my two gmail accounts, as well as in Yahoo account. However, the signature did not appear in my Windows Live account (now on outlook.com) Even though the help section on the WiseStamp says that it is available on Outlook.com. Maybe I need to tweak some setting.
Anyway, Wisestamp signatures are available for Firefox, Chrome, Safari, Internet Explorer, Thunderbird and Flock. WiseStamp supports all big webmails – Gmail, Yahoo! mail, Hotmail , AOL mail and Outlook.com. Just visit WiseStamp and download the extension for your browser. Just click on the big green download button, and the extension compatible with your browser would be automatically downloaded.
9. Backup and Sync: The signatures created using WiseStamp aren't just available across different email accounts. They can also be made available across different computers by way of simple backup and sync procedure.
10. Add to Blogs: The signatures made with WiseStamp aren't just available for emails. As you can see below, I have added a signature to this blog post as well. However, the signature in this blog post didn't get added by default as in emails. Instead, the WiseApp extension on my Fiirefox gave me the option to insert it by right clicking in the text field and then choosing the signature I wanted to use – a simple two clicks procedure, and the signature was added to the blog post with all its text, links and image. And if you hover your mouse over the image, you'll see even it is linked.
So these were the reasons why I'm feeling totally delighted with WiseStamp. Why don't you give it a try too? Just visit WiseStamp and create for yourself a cool and professional looking email signature.
Jyoti Arora
Author of Dream's Sake, Samsung Mobiler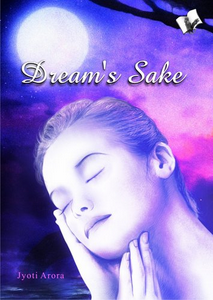 DREAM'S SAKE