I was recently contacted to see if I would like to trial the Weatherstaff Planting Planner.  I had to think about this for a while because, and you only need to look at my garden to know this, I am not much of a planting planner.  Apart from the Prairie Borders and the Knot Garden I have never sat down and drawn a plan.  The purpose of the planner is to the an aid to all level of gardeners and particularly to the novice the gardener.  The gardeners who do not know where to start but know that they want to do something.  I think many of us can identify with this feeling so I agreed to trial this product.
I was sent the product key and made some time to sit down and look at it properly.  There is an extremely useful ten minute introductory video and I found this invaluable.  I am quite capable of reading instructions, but they are much easier to read if you have seen what it is meant to be doing.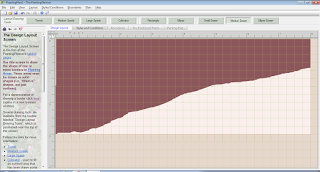 I am not going to talk you through screen by screen, but this is my first attempt at drawing a border.  It is worth taking a bit of time with this and you can see that my straight lines are a little shaky.  If you look at the straight lines in my garden they are also a little shaky.  The programme does let you draw with preformed shapes so you can have very straight lines if you want them.  After choosing the size and making the shape of your border you have various choices you can make.  You can determine what the boundary is (hedge, fence).  You choose the general conditions your garden has - climate, soil, sheltered etc.  The video explains that the product is based on UK conditions but can be extrapolated out to similar conditions elsewhere.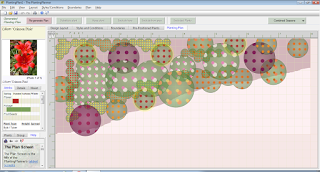 So I made my choices and a plan was generated.  If you look at the side bar you will see a picture of a plant, as you run the cursor over the plan the plant represented is shown in the side bar and general information about that plant.  You choose what type of planting you want: wildlife friendly, cottage, children friendly etc.  You also choose the period of the year you want the border to peak and have a secondary time of interest.  You can design borders separately so you can design different peaks and troughs throughout the year.  I really like that you can choose some existing plants to put into the plan so you can account for plants you already have and want to keep.  You can also use this feature to put in plants to a plan you know you want to use and let the planner fill in around them.
I then decided to do something with more than one border.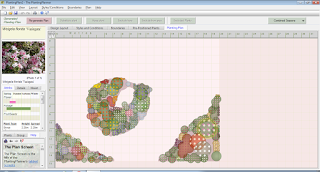 I chose three different planting types, Wildlife friendly, Cottage and Woodland.  I let the programme choose the color scheme and plants completely.  I was really interested to see what it came up with and it made some choices I would never have thought of and now I will try out.
My verdict is that I liked this programme.  I found it gave me some interesting planting combinations and I quickly picked up how to use it.  I think it would work well for someone who is interested in creating a garden but does not know where to start.  I also think it would work well for someone who is very interested in gardening and knows what they are doing but has a new area to design and would like some inspiration.   I particularly liked that it made suggestions I would not have thought of and are really good suggestions.  The programme is very much about prompting thoughts and working through ideas.   The programme retails at around £35 (depending on whether you download it or have a CD).
http://www.plantingplanner.com/