There are those things that take me right back to being a child and rocking chairs are one of those things and I have always wanted one. This is a long winded way of saying that when the nice James from Hansford Furniture asked me if I wanted to review one of their Hansford Coil Spring Chairs I could not say yes fast enough.
I need to be clear that I have not paid for this chair and I have not been paid to write this review; my words and opinions are as ever my own.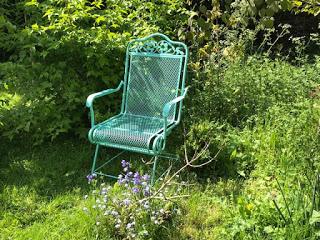 The chair is made from powder coated wrought iron and is available in three finishes: Black, May Green or the one I chose, Duck Egg Blue. I am a big fan of duck egg blue and I find it is a colour that works well in my garden.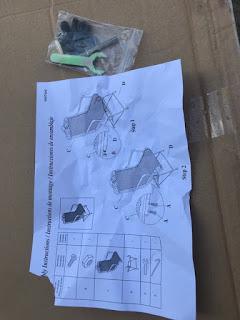 The chair arrives in two pieces and a kit including everything you need to put it together including the spanner and allen key. I should have taken a photograph to show you the two pieces but I confess my excitement to put it together meant I just got straight on with construction. I timed how long it took me to assemble, it took a mere five minutes. It was so fast to do I had to keep checking the instructions as I thought I had missed something.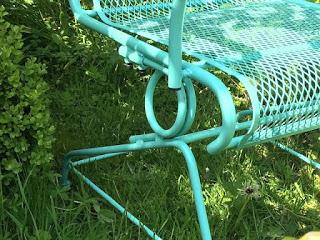 This wrought iron chair is not very heavy. It is solidly made and feels robust but I can pick it up and move it around the garden easily.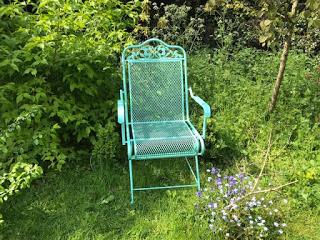 It is currently placed in a quiet corner of the garden where I have not previously had a seat. I like how it looks here....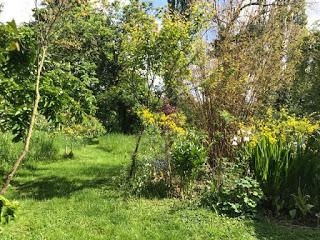 ....and placing it here means I have a view of the garden I would not usually sit and enjoy.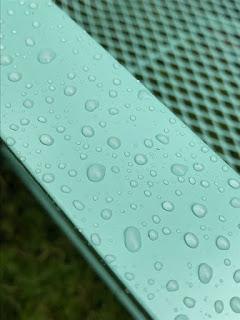 The chair is weather-proof and able to be left outside in all weathers. It can be used indoors equally happily, it would look equally at home on a patio or in a conservatory. The powder coating means that the chair is also really quick to dry with a cloth if it has been rained on and the mesh seating should be cool to sit on in the summer. If you wanted to add a cushion you could but I found it very comfortable without.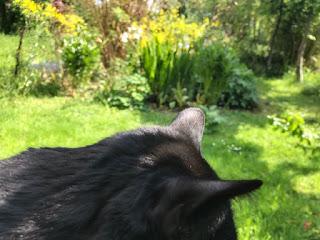 You can adjust the rocking action so that it is as you like it, you do not have to have it very bouncy if you do not want to. Trevor can confirm that the rocking action is very pleasing to cats if they want to sit on your knee whilst you are trying to take a photo from the chair.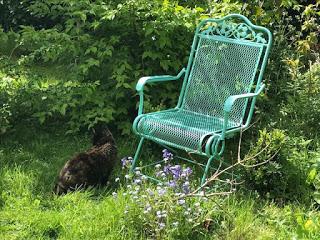 I wanted to get a cute picture of a cat sitting on it, cats though refuse to perform to demand so this was the best I managed.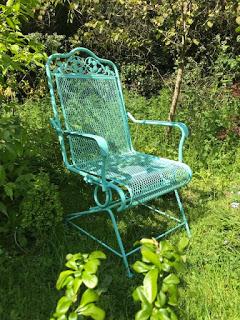 The Hansford Coil Spring Chair currently retails for £135. The nice people at Hansford have provided me with a promo code to enable the first twenty people * receive a 20% discount off the retail price. Please use this link: Blackberry Garden Discount Code if you want to take up this offer.
The Hansford Coil Spring Chair is also going to be displayed at Gardeners World Live at the NEC 13-16 June 2019.
*this offer is being run by Hansford Furniture, the Blackberry Garden is not organising or administering this offer and any queries about it should be directed to Hansford Furniture directly.