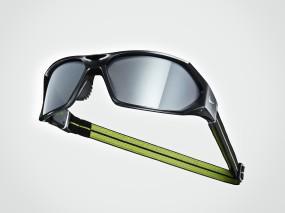 The Nike Vapor Strobe puts the level of training to another level (Nike)
We all know that in the past 20 years the way that athletes train changed immensely.  With the implementation of technology, athlete performance is now reaching levels that no one thought would be reached.  World records are being broken at a consistent rate.  Players are setting new marks in team sports.   Different disciplines have become faster.
Football is not the exception to the rule. Never has the game been as fast as it is now. Fans and media have always talked about a player's vision in a  magical or mystical context.   We are in awe of how players are able to react and see where friend and foe alike are on the pitch regardless of where they are looking.   While we are looking for an extra pair of eyes or an uncanny gift, we rarely ever hear about individuals actually training their eyes and fine tuning their vision just as much as each and every muscle in their body.
This is where the Nike Vapor Strobe comes into play.  These LCD technology glasses are used by several elite level athletes to be able to train their muscles to work in coordination with their vision.  This is why I decided to take it for a test spin alongside many people. The strobotropic techonology that was studied by L. Gregory Applebaum in an effort to see how this could improve short-term memory storage.
The Nike Vapor Strobe glasses apply this to vision as well as body movement.  The use these glasses help stimulate the short-term memory in an effort to help the athlete be able to react at a quicker rate
Nike SPARQ Vapor Strobe / commercial from Max Lopatin on Vimeo.
Depth perception
One of the things that make vision so compelling is how important depth perception is to the way we see things within our field of vision.  Testing out the Nike Vapor Strobes with their special feature which allows an athlete to see a ball coming at them with only one eye.   What this helps in is to accustom the eye to adjust to vision of a moving object and have the brain compensate as quickly as possible. To make things simpler, this mode of the Vapor Strobe helps improve monocular vision as well as binocular vision and hand-eye coordination with tools such as Nike's  Sensory Tech Training Station.
 Personal Experience In various activities, I saw that subconsciously my attention span was sky high.  I strongly believe it was the fact that the flashing at first was something I had to get accustomed to while looking to collect, turn and distribute.  I felt that I was capable of being able to compartmentalize my movements a little better.
I happened to test this out on my daughter, who currently is playing beach volleyball, and she had some good reaction with it.
My daughter tried out the glasses and she felt "a bit confused" when first adjusting to them. After a while her ability to adapt and be able to find the ball with relative quickness.   Of course, as a kid, she enjoy the flashing feature that the lenses have.  Overall, there was a slight improvement on the fundamentals based on the control she showed.  Although there would be a need to see how that improvement curve would be should she undergo multiple sessions with the Nike Vapor Strobe.
Am I  saying that it is a tool to make individuals great? Not at all.  It is a tool that can improve their overall motor skills and overall recognition of his or her surroundings.  It can help "slow down" the came just a bit and take one's abilities to a higher level.  For youngsters, it could be a fundamental tool to help them master some of the fundamentals that are vital for them to make the leap to the next stage in their competitive lives.
For many parents or athletes looking into the any possible epileptic issues, do not worry.  The frequency is nowhere close to the one that could start an epileptic seizure.
Would be interested to see how this type of equipment would be when it comes to gathering information in a more didactic setting.  Studies could be interesting.
I will continue to do reviews of these glasses with different athletes as well as "weekend warriors" to have them give their opinions on the Nike Vapor Strobe.  So for this video, please check out my You Tube page.
IF YOU HAVE USED THE NIKE VAPOR STROBE GLASSES, PLEASE LET US KNOW WHAT YOU THOUGHT ABOUT THEM IN ORDER TO GIVE THE BEST POSSIBLE REVIEW ABOUT THIS PRODUCT.