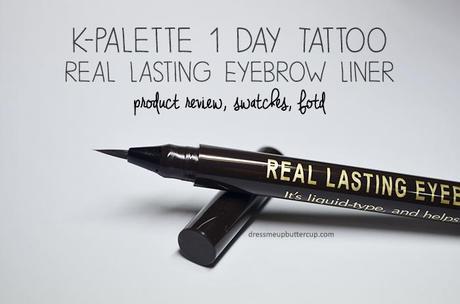 The K-Palette liners are quite popular among beauty bloggers and makeup enthusiasts, at least locally. I was even more tempted to buy it after Cosmo Beauty Awards hailed it as the Best Brow Definer for 2013. So one day I finally gave in and headed to Beauty Bar to get myself one. I initially thought of buying the 1 Day Tattoo Lasting 2Way Eyebrow Liner but then I found its cheaper sister, the equally talked about K-Palette 1 Day Tattoo Real Lasting Eyebrow Liner. The only difference is that this is not "2Way", meaning the other end doesn't have powder and applicator attached. I really don't mind cos I still have an eyebrow powder from my previous eyebrow kit. Anyway, so did I like it? Find out in my product review!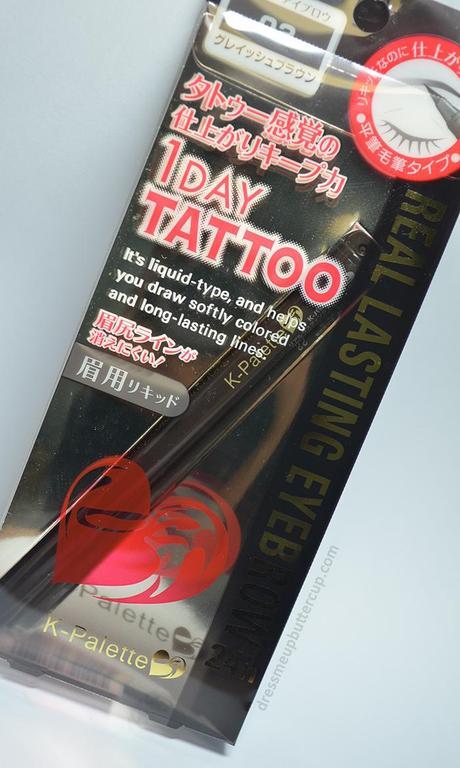 The large "1 Day Tattoo" printed on the packaging actually scared me at first. For some reason, the word tattoo automatically means permanent in my head. But the SA assured me that I would only need water and soap to remove the eyebrow liner. I got shade #2 (Grayish Brown) which is recommended for tanned skin. I'm not really tanned but they ran out of other shades and the SA told me this would still match my skin tone and hair color.
Anyway, at the back of the packaging, it says:
This revolutionary liquid eyebrow liner defines your eyebrows naturally through its remarkable "dual" flat point tip. You can choose to simultaneously shade, mark and tint your eyebrows in an amazing long lasting way with its smudge and water-resistant polymers. This eyebrow liner is made of just the right amount of translucence such that the color is deep enough to conceal sparse areas of your eyebrow but not too dark that it gives a severe, unforgiving tone. If you want a darker tone, just go over the same area twice or more. Suitable for everyone, from beginners to professionals! 

Hooray to perfect eyebrows the whole day!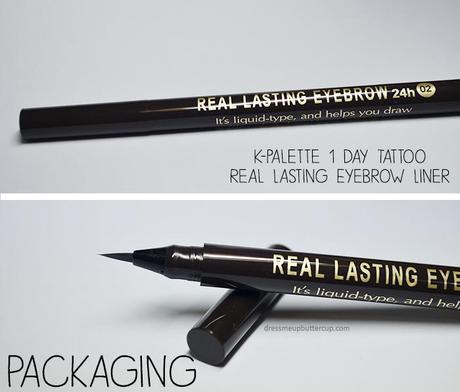 This is a liquid type eyebrow pen which draws softly colored and long lasting lines. What I like about this is the super thin flat point tip! You can draw thin lines and your eyebrows would still look natural. Unlike when you do it with an eyebrow pencil which sometimes gives the illusion of fake eyebrows.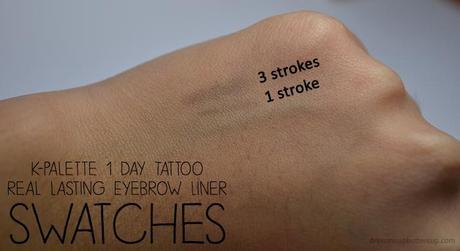 The shade I got is almost invisible to the eyes and it's already the grayish brown! I wonder how much lighter shade #1 is! Just look at the swatches above. This is actually okay so you can build it up if you want it lighter or darker.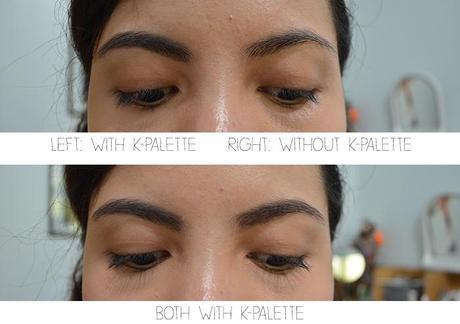 My eyebrows are not really sparse to begin with but I still want to achieve that thick eyebrow look which is said to make a person look much younger. As you can see, the lines I drew above still look natural.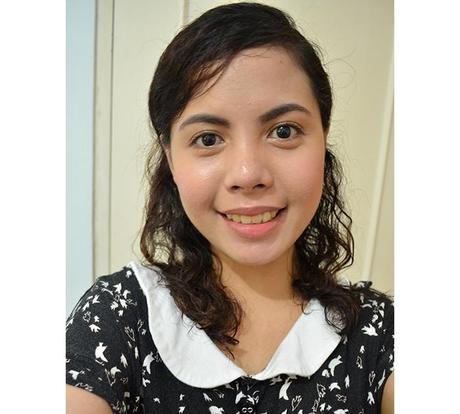 FOTD: Avon Ideal White Liquid Foundation, MAC Studio Finish Concealer, Benefit blush in Dandelion, Benefit They're Real Mascara, and Hurraw! Black Cherry tinted lip balm.
I feel like I'm not wearing any eyebrow liner at all! Actually after you apply it you can just forget about it. You need not feel conscious or worry whether it will smudge or melt throughout the day because it won't. I even workout in the gym and sweat my fats away and the eyebrow liner will still be there. 
Overall, I think this is a good buy! I would definitely repurchase when I ran out of this. With my daily use I might finish a pen in just 3 or 4 months! Also, I'm thinking of buying a K-Palette eyeliner next time! Ohmy. Somebody stop me.
PRICE - Php895.00
WHERE TO BUY - Beauty Bar
K-Palette Philippines
Facebook: https://www.facebook.com/kpalettephilippines
Twitter: https://twitter.com/Kpalette_PH

Up next on my product review list is this Benefit They're Real Mascara! Stay tuned! Follow me on Twitter or like my Facebook page to get updates! Till my next post, girls! :)