I was approached the other day to see if I would like to review the Gtech HT05-Plus cordless hedge trimmer.  I agreed and the hedge trimmer duly arrived.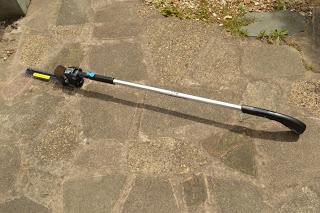 I took one look at it and thought 'light saber', this made me smile.  The hedge trimmers take about three hours to charge, you have to plug the charger into the handle of the trimmer which means you do need to find somewhere you can leave this long appliance.  I left mine on the kitchen table and this worked out well.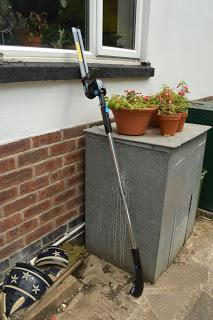 The handle is telescopic and the trimming head can be angled either straight or at 90 degrees so you can cut across the top of hedges.  The battery promises around 45 minutes, so with this in mind I set out to find things to trim.  This is not a good time for trimming hedges as birds can still be nesting, I was very aware of this so knew I had to choose carefully.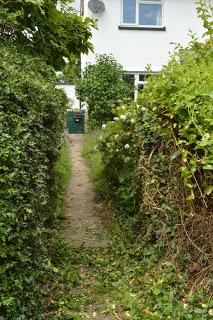 One job I knew I needed to do was to cut back the entrance to the house, the holly hedge on one side and the mixed hedge on the other had grown to make the entrance really quite small.  Some trimming later and the trimmer had made short work of this task.  I was very pleased.
I then moved into the garden itself.  A thought had struck me whilst I was thinking about jobs I needed to do.....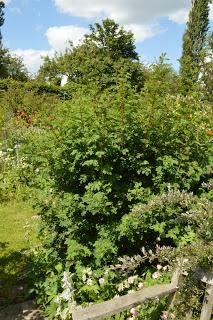 .....the Manx Rose has grown hugely already this year and it needed cutting back.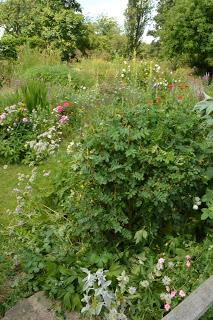 It is now much smaller and neater,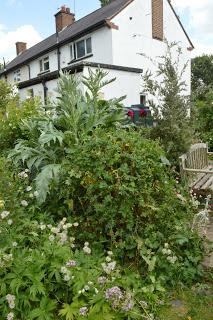 The trimmer worked through its quick thick stems with no problems at all.  I have no qualms about using trimmers on this type of rose, it does them no harm at all and it will grow back well.  The main downside is that if it does not re-flower I will miss out on its wonderful black rose hips this year, a shame but not the end of the world.
I then thought that I had not tried the angled head option.  I stood there for a moment or two wondering what I could trim.  I looked down the garden, pondering pondering, and then my eyes fell upon the pleached hornbeams.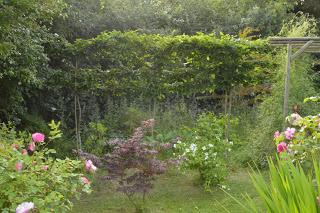 Five minutes later the top growth had been trimmed.  The telescopic handle and angled head meant I did not have to resort to a ladder as usual.  This is a great benefit for me as for one thing it saves quite a bit of time and faffing about.  Also, I am not hugely good with ladders, I wobble.  I only have to be a step or two up and I start to wobble, so a wobble-free task is a good task.
I was probably trimming for about thirty minutes all told and the battery was holding up well, there was no diminution in power.  I can happily recommend these trimmers, they did what they said they would and they did it well.....
.... and it reminds me of a light saber, who would not want to trim hedges with a light saber?
The trimmer can be purchased from  www.gtech.co.uk  and retails at £1

19.95 including free delivery and a 30 day money back guarantee.