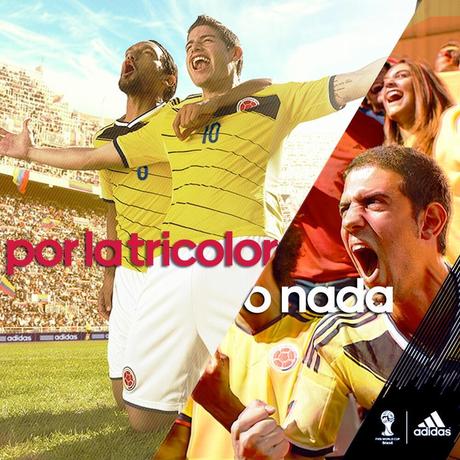 When I first saw Colombia's official jersey for the World Cup, it seemed simple and underwhelmed many. As time passed and many started to obtain them, those opinions began to change. It seemed simple and it didn't have the same elegance as the the previous version that was a solid yellow color.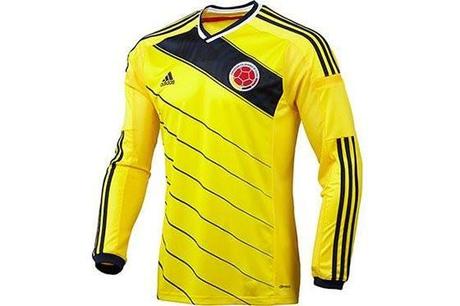 The jersey that Adidas have released was one of those that in time helped people to truly appreciate it. It was different in its elegance When they were able to wear it, the jersey became very popular in various circles. Once you open the package and you get this jersey you see the elegance and it is one of the most comfortable shirts to wear out there.  I am not saying this about the Colombia kit, I am saying this for the line of Adidas kits that have come out prior to the World Cup.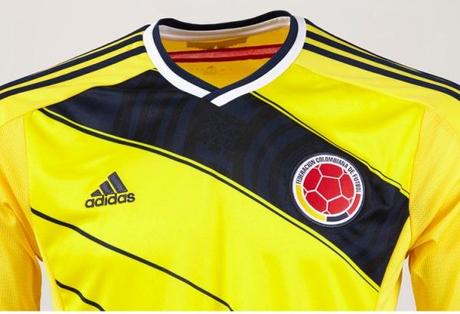 The colors on the jersey are extremely sharp with the yellow being bright enough to contrast the navy blue and complement the red on the crest as well as the white on the collar.
The Adidas trademark Adizero technology there is a makes this jersey a tremendous find. Weighing 250 grams which helps players keep cool as well as comfortable.
The new match kit becomes one of the lightest football kits in history, this all  combines different technologies to offer the lightest football kit, allowing players to remain fast, cool and comfortable on the pitch.
The new shirt is marked by three elements of major importance as symbols for Colombians, bringing a message of unity and pride for the country:
The 'Vueltiao' Hat: One of the most important national symbols of Colombian culture is printed on a blue strip in the upper front side of the jersey.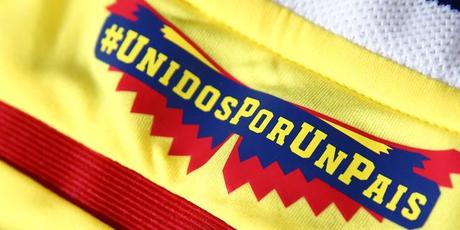 • The Andean Condor: The wings of this national bird of Colombia, a symbol of strength and hope, are in the back with the colors of the flag, linked to the phrase #UNIDOSPORUNPAIS (which translates to 'united for one country'). This message reflects the national sentiment that unites all Colombians under their national team.
Overall, the jersey will be a major attraction to several individuals that look to root for Los Cafeteros in Brazil come next summer.  Just as big of an attraction as the national team as they look to face off against the best in the world once again when they return to the biggest stage in the world for the first time in 16 years.
YOU CAN FIND THIS JERSEY AND MANY MORE OVER AT SOCCERPRO.COM