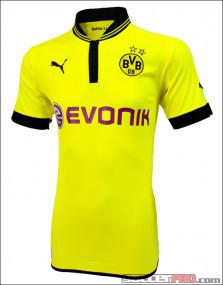 Borussia Dortmund home jersey (SoccerPro)
Puma obtaining the two-time defending Bundesliga champs was one of the biggest acquisitions of the summer when it came to the world of sportswear and football retail is concerned.
Their first jerseys that the German outfitter released had some mixed reviews, but overall the first jersey looks rather sharp and the simple design made it just as elegant.
The solid bright yellow with the black trim give it an extroverted elegance and at the same time there is a great deal of craftsmanship that make it unique, yet something that would be expected from a company like Puma to design.
The collar I really liked as well as the jersey is still an awesome one to play with but also a great one to wear casually to a party or a social gathering.
The shirt is 100% microfiber, circular knitted polyester. The microfiber feel is very comfortable. I, for one like to use a shirt underneath the jersey, but the feel makes it more comfortable to use without one.  What is also important is that it's flexible enough to wear and it will withstand a great deal of abuse when you are playing in an intense pickup match with friends.
Puma have also taken advantage of the BIDI codes in order to have people visit their website.  The publicity that this tool offers is great access for anyone interested in obtaining the jersey to do so with the scan of the code located at the bottom portion of the jersey.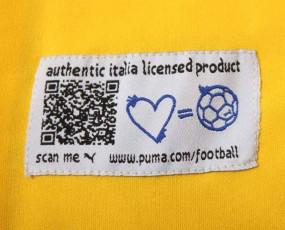 Puma using BIDI coding to advertise on jersey (Puma Football)
The Puma logo prominent on the left arm and the right breast while the BVB crest stands proudly on the left breast with the golden star above it. The inner neck has the team motto "Echte Liebe" (True Love) heat-transferred onto it.
What I did notice is that the jersey is one that does turn heads.  Of course the colors do it for many.  Overall, a great jersey to have for many Die Borussen faithful to show their pride and Echte Liebe to the entire football world.