Quick Reminder before I begin – Only 3 days left to enter my April giveaway!  Click here for details and to enter.
* * * * * * * * * * * * * * * * * *
Yes, I'm still a procrastinator.  I'm working on it, and I'm getting better with some things.  But I know me.  I will most likely always put off some things until the last possible moment.  That's human nature, and I'm definitely human.
Yesterday, I posted about my yeast failure due to my procrastination followed by my over confident rushing through my bread recipe (click here to read it).  My yeast didn't completely fail, but it underperformed.  See?

All these loaves were about the same size when they were put in the loaf pans. The shorter loaves didn't rise nearly enough for my children to eat them without complaining.
I hate throwing away perfectly good food, and I had just made a boatload of breadcrumbs, so I made that "more dense than I'd like" bread into yummy garlic, Caesar salad croutons.  I found the recipe here and adapted it just a bit for the ingredients I had on hand and to my taste (sorry, family, but my tastes reign supreme and I don't love spicy-hot).  Here's my version of the recipe.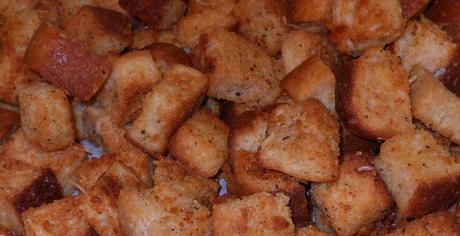 Garlic Croutons
Garlic Croutons
Adapted from a recipe found on about.com
2 loaves Easy, Peasy Bread (recipe here) or your bread of choice, cut into cubes (Stale bread is perfect for these!)
1/2 cup olive oil
4 cloves garlic, put through a garlic press (you can mince it if you don't have a garlic press)
1/2 cup fresh, grated Parmesan blend
1 teaspoon dried Italian seasoning
1 teaspoon paprika
1 teaspoon salt
1 teaspoon ground black pepper
Combine garlic and olive oil in a small bowl, and let sit at room temperature for four or more hours.  This allows the garlic flavor to infuse into the olive oil.
When garlic infused olive oil is ready, preheat your oven to 300 degrees Fahrenheit.  Cut the bread into a rough cube shape (about 1 inch wide).  Add the cubes to a large mixing bowl.  Add half of the cheese, Italian seasoning, paprika, salt, and pepper to the bread crumbs.  Stir to combine.  Strain the garlic infused olive oil and drizzle oil (minus garlic pieces) over the bread cubes.  Stir gently to ensure all bread cubes are evenly coated.
Transfer the bread cubes to a parchment or foil coated cookie sheet (parchment and foil are optional, but they make clean up easier).  Cook in preheated oven for 15 minutes.  Remove, stir bread cubes, and return to oven.  Cook for 15 minutes longer.  Remove from oven again and stir.  Sprinkle the remaining cheese on top of the croutons, and return the pan to the oven for another 10-15 minutes.  Cook until the croutons are brown and crunchy.  Allow them to cool completely before storing in an airtight container.
Here's my photo step-by-step for your viewing pleasure.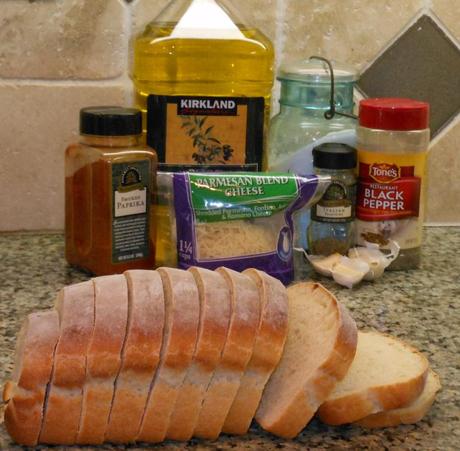 First, I assembled my ingredients.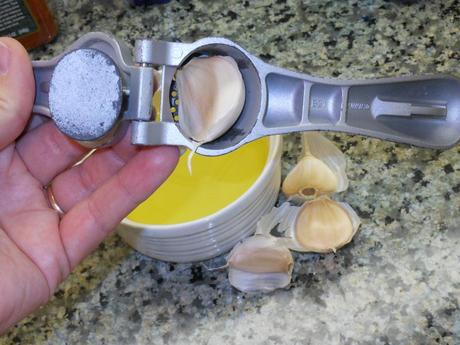 Then, I prepared garlic infused olive oil. I started by putting the olive oil in a small bowl.  Then, I used my handy dandy Pampered Chef Garlic Press for my garlic. I hate mincing garlic, and this makes it so easy!  Simply put the entire clove of garlic, unpeeled, into the press.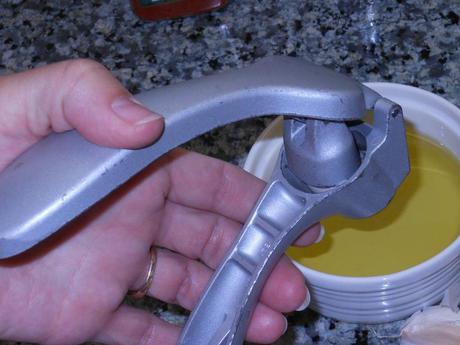 Then, you pull the handles together.  If it's a large clove, it's a bit harder, so, if you have a hard time squeezing, stick with small garlic cloves.  The ones I used for this recipe were quite large.  I've used other garlic presses, and they were not anywhere near as good!  Early in our marriage, we bought one from the kitchen department in a pricy department store.  It wasn't cheap, but I HATED it!  It was so difficult to use, and I had to peel the cloves first.  I ended up giving it away within a few years.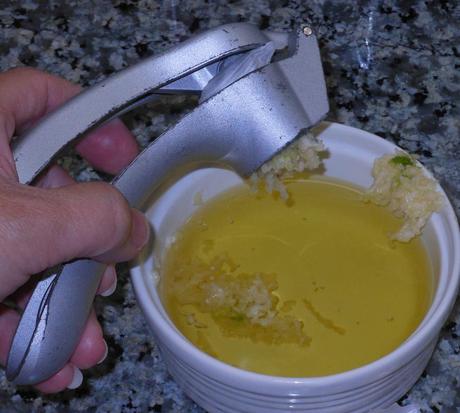 See? The garlic comes out beautifully! I scraped it off on the side of the bowl containing my olive oil.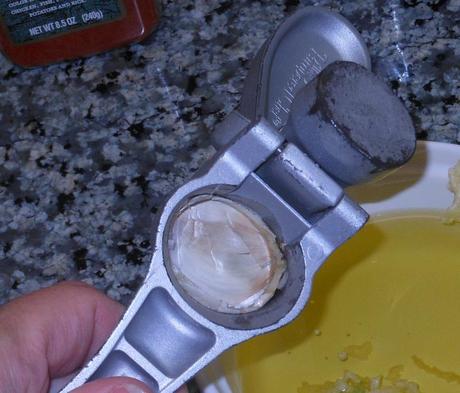 Then I opened up the press and pull out the garlic clove peel. Easy, Peasy! I use my garlic press at least 4 days a week every week (unless it's crazy, and I'm not cooking as much). I've had it for over 5 years, and it's still going strong. It works as well as the first day I got it. I LOVE IT! (If you want a good garlic press, check out my friend's Pampered Chef website here.)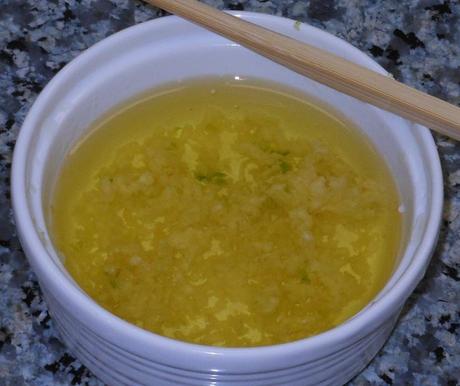 Next, I stirred the garlic into the oil, and let it sit for about 6 hours.  You don't have to let it sit that long.  Four hours is plenty of time.  Or you can let it go longer than 6 hours.  Make it in the morning before you go to work, and it's ready to use when you get home.  It's your choice.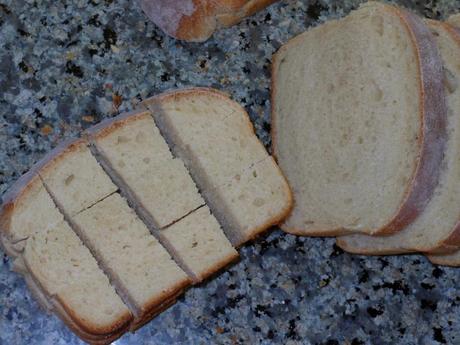 After the garlic olive oil sat for about 6 hours, I continued preparing the croutons. I cut the bread into thick slices and then cut them into 1-inch cubes.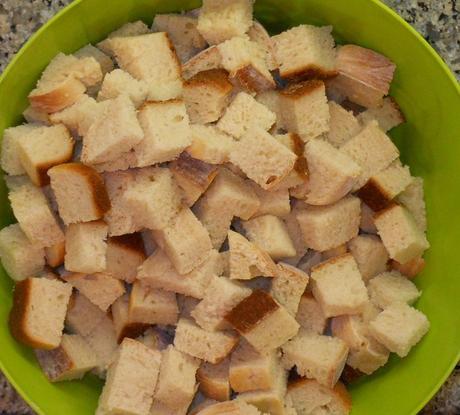 Here are my cubes of bread.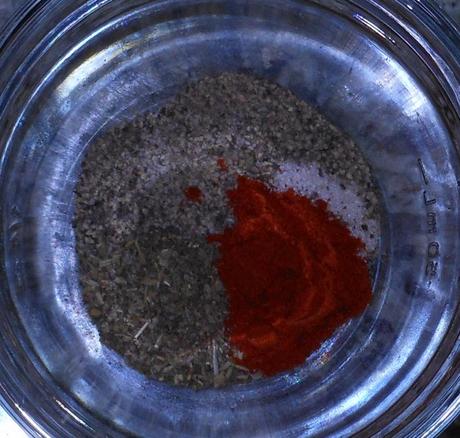 I measured out my spices.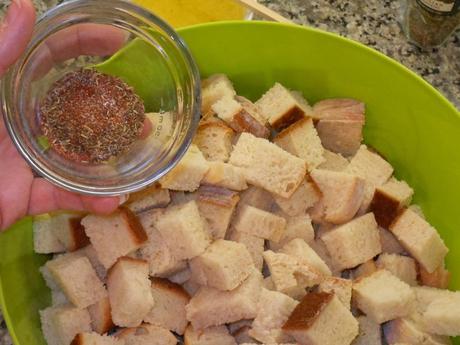 I sprinkled the spices over the bread.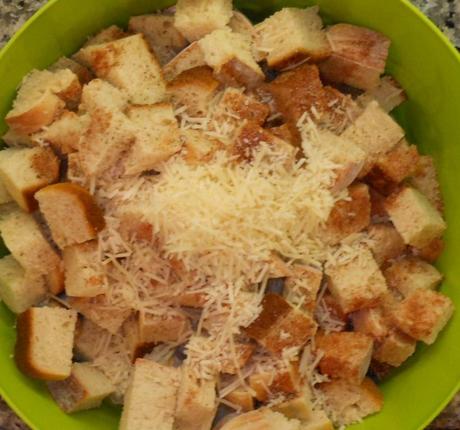 And added the Parmesan. Then, I stirred the bread, spice, Parmesan mixture until everything was well combined.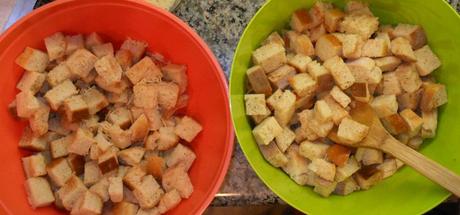 I transferred half of the mixture to another bowl to make it easier to mix.  Next, I drizzled the strained garlic infused olive oil over the bread cubes.  I didn't put it all in at once.  I drizzled it over the top, then stirred.  Then I drizzled it again and stirred.  I did this 3-4 times to ensure all were evenly coated.  (Don't you love my fun Halloween bowls?)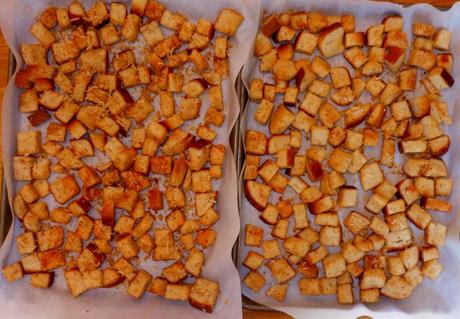 Finally, I spread the mixture on parchment lined cookie sheets and put the cookie sheets into a preheated 300 degree Fahrenheit oven for 15 minutes.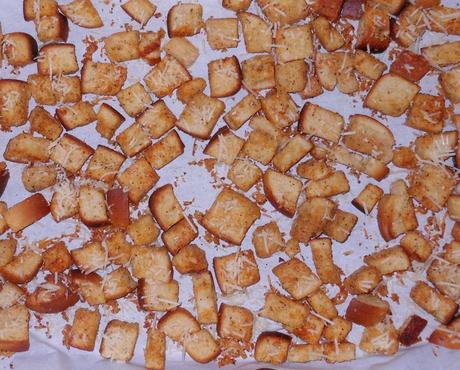 After 15 minutes, I removed the cookie sheets from the oven and stirred the bread cubes. The ones on the outside of the pan brown faster than those in the center of the pan.  Stirring ensures they cook evenly.  Next, I put it back into the oven for another 15 minutes.  After 15 minutes, I removed the pans and stirred the bread cubes again.  Then, I sprinkled the remaining Parmesan on the cubes and put it back in the oven for another 15 minutes.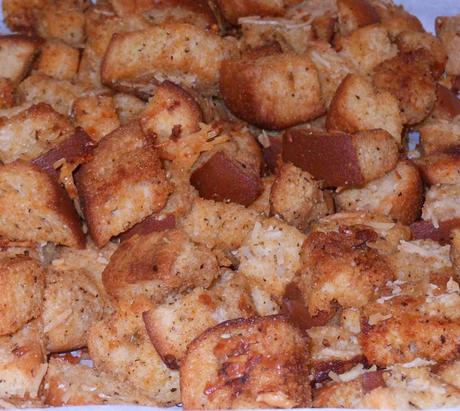 After the final bake, I removed them from the oven.  And, VIOLA!, I had lovely, delicious, garlicky croutons.  Don't they look yummy?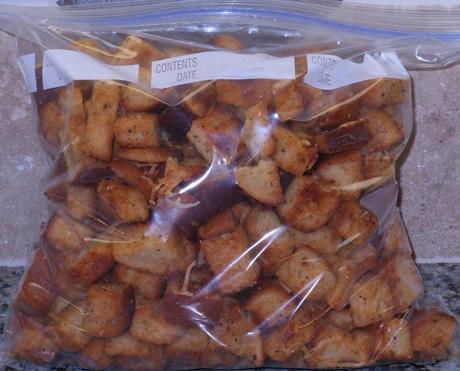 After they cooled completely, I put them in a ziplock bag. We're having Chicken Caesar Salad tonight with these delicious croutons!
This recipe made about 16 cups of croutons, but, honestly, I can't tell you exactly how much it made, because my boys kept picking them off the pans as they were cooling.  It could have been a little more or less than 16 cups.  I guess I'll never know unless I can keep the boys out of the kitchen next time I make these.
Not only were these were super easy and super good, they also saved me a lot of money!  As mentioned in my "Am I REALLY Saving Money?" post about sandwich bread, 2 loaves of bread cost me $1.19.  The cost of the olive oil and spices are about 50 cents, so for less than $1.70, I have 15+ cups of croutons.   How does that compare to similar croutons found in the grocery store?  I found these at Wal-mart yesterday.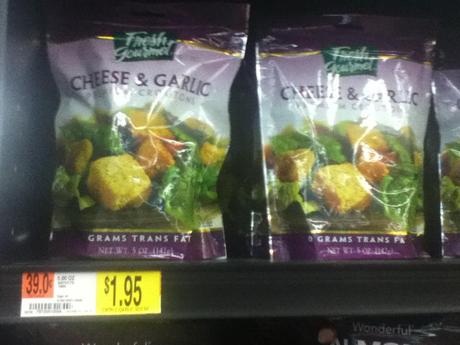 These croutons are just under $2 for 20 servings. Each serving is listed as 6 croutons, which is probably about 1/4 cup. So you are paying about 10 cents a serving. Not too shabby.
My recipe made over 15 cups of croutons which is about 60 1/4-cup servings.  That works out to 2.8 cents per serving.  Less than 1/3 the cost!  Wahoo!!
I'm a pretty happy camper.  I recovered from a potentially disastrous bread experience and ended up saving money along the way.  Today is a very good day.
Have you ever had to be creative when something went wrong in the kitchen only to make something awesome? 
Or has it gone the other way with disaster begetting a bigger disaster? 
Please share with me!