NEWS COPY
Carlsberg is to erect a billboard poster in Shoreditch, London that dispenses free beer.
The Danish brewers, who proclaim to make 'the best lager in the world', have stepped up the ante with a new billboard ad that reads 'Probably the Best Poster in the World'.
Located on the side of the Old Truman Brewery in Shoreditch the poster will have a tap that dispenses free beer. Early indications suggest that the promotion will run from 1pm to 7pm today (Wednesday 8th April).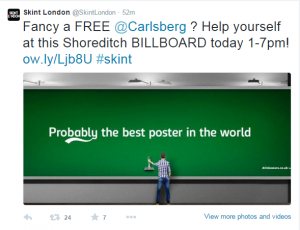 It's not the first time Carlsberg have put 'best' to the test. In 2013 they ran a 'Friendship Test' prank where they tricked people into rescuing their friends from a gambling den. The full video can be found below.
ENDS