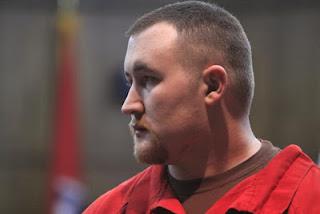 The Times Free Press reports
An affidavit filed by an undercover agent with the Bureau of Alcohol, Tobacco, Firearms and Explosives details an undercover operation the agency conducted on Dawson months after the arrest of Jesse Mathews, who could face the death penalty if convicted in the killing of Sgt. Tim Chapin on April 1, 2011, during a botched robbery at the U.S. Money Shops on Brainerd Road.
Dawson admitted to investigators that he'd traded a firearm to Mathews at a local gun show before the shooting. An ATF investigator "advised Dawson he should seek a federal firearms license because of his apparent frequent and consistent firearms sales."
I'm confused about who's who in this story. One thing that's completely clear though, is there are criminals and there are hidden criminals, and they all have too much gun availability.
One of the best loved arguments of the gun-rights fanatics is that criminals will always get guns.  If we "close the gun show loophole," they'll just go elsewhere.
I don't think that's true, but even if it were, is that justification to make it easier for them to arm up?
This story highlights the fact that "private sellers" of guns are sometimes hidden criminals who flaunt the easily-circumvented laws about gun sales and background checks. This could be ended without any impact on the law-abiding.
Background checks on all gun sales should be combined with licensing of gun owners and registration of guns. Until that's implemented in all 50 States, we simply cannot be said to have gun control.
What's your opinion?  Please leave a comment.