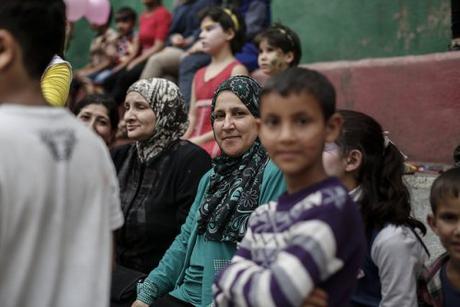 Photo courtesy of Oxfam International/Sam Tarling
More than five and a half years deep into the Syrian war, the development aid space is crowded: crowded with emergency relief agencies working to supply besieged communities with critical food supplies and healthcare; crowded with multinational donors working to catalyze economic and political change in the Middle East's countries of first asylum.
In these countries—namely, Jordan, Lebanon, and Turkey— many development organizations and practitioners have shifted the focus away from immediate, emergency assistance. Instead, they are opting for initiatives designed to generate longer-term, sustainable solutions for refugees and host communities on everything from livelihoods to mental health.
CIPE has taken the longer-term, sustainable approach to ongoing partnership with the Syrian Economic Forum (SEF) – an innovative think-and-do tank establish by Syrian businesspeople. Together, CIPE and SEF are working to advance private-sector solutions to Syria's most critical development challenges and to educate Syrian youth in civics and entrepreneurship so they assume ownership of their future. To date, SEF has graduated more than 1,500 young people from the civics and entrepreneurship course in southern Turkey and northern Syria, and now campuses of Aleppo University have adopted the curriculum and made it compulsory for all first-year students.
The idea is to equip youth with the leadership skills that are necessary to build business ventures and social enterprises that expand opportunity and solve problems currently existing in their communities, while contributing to their country's eventual reconstruction. CIPE and SEF's other initiatives, including recent work to engage communities inside Syria in strategic planning for local economic development, are similarly geared toward encouraging enterprise-focused solutions to community needs.
Indeed, there is much work being done by many diverse actors to respond to the refugee crisis and generate solutions. One oft-overlooked factor, however, is the role of the private sector in contributing to such solutions. Since the onset of the war in 2011, the private sector has contributed billions of dollars to aid refugee relief. In 2016 alone, contributions to the UNHCR from private donors exceeded $239 million, and the U.S. private sector, as a result of a call to action by the White House in September 2016, has pledged to invest, donate, and fundraise more than $650 million. But their role goes far beyond the standard CSR; in fact, the private sector and many of its most prominent figures have emerged as a leading and direct source of innovative refugee response programming.
One example is how Refugee Open Ware (ROW) "harness[es] advanced technology, co-creation and open innovation to reduce suffering, fulfill basic needs, and accelerate inclusive development in fragile and conflict-affected areas.". The company describes itself as a "for-profit impact investment fund, which invests in entrepreneurial solutions to conflict that feature humanitarian technology and innovation." ROW goes far beyond financial investment, however.
Working on the ground in Jordan, Turkey, Greece, Serbia, Sudan, and the United States, ROW seeks to develop both the skills and thought leadership of refugees themselves. In Amman, Jordan ROW established an initiative to bring low-cost courses on 3D design, additive manufacturing and physical computing. In less than a year, an affiliated program, "3Dmena Academy," has graduated nearly 500 Jordanians and refugees across the country from its courses. The courses are part of ROW's efforts to enhance refugees' capacity for self-sustainability, and to develop skills critical to labor market advancement. ROW has also led efforts to bring low-cost prosthetics and other healthcare technologies to refugees. Most often, it is refugees who are designing the products; ROW simply serves as the onramp for them to revolutionize the healthcare space.
500 Start Ups is another private sector investor transcending traditional boundaries. Based in Silicon Valley, the company recently launched an initiative in Turkey and is raising awareness and integrating Syrian refugees into its accelerator. Poised to become a regional startup hub, and with half of its population under the age of 30, 500 Startups is seeking to tap into Turkey's well-educated and tech-savvy talent pool of would-be entrepreneurs. The company aims to connect Turkish startups—and now, Syrians—with other global tech ecosystems, including those in Silicon Valley, Europe, the Middle East, and Southeast Asia.
On a slightly smaller scale, a start-up based in Beirut, NaTakallam, has proven to be a powerful (and popular) engine for job creation. The brainchild of three Columbia University graduates, NaTakallam connects Syrians who have fled to Lebanon—many of whom were in the process of completing a university degree or owned small businesses when they left Syria—with global language learners seeking to improve their Arabic skills. In Lebanon, as in many other countries where Syrians comprise a significant portion of the population, refugees' right to work is severely restricted. Existing laws preclude many opportunities for formal employment and business formation, and thus large numbers of refugees are relegated to employment in the informal sector or seek to move elsewhere. Stagnation and mounting pressure on local economies in these countries compounds the issue.
If long-term, sustainable solutions are to be generated for the worst refugee crisis since World War II, a comprehensive approach recognizing and leveraging the unique insights and contributions of all actors will be necessary. The development and business communities must work together to catalyze change that positively impacts both refugees and the countries in which they reside.
A comprehensive refugee response won't involve a one-size-fits-all solution; it must be a multi-stakeholder approach that improves the business-enabling environment for everyone—refugees and host communities alike. It means investing time and resources in creating jobs, promoting enterprise development, and building the skills of both refugees and the communities in which they live. It means promoting market-oriented solutions in communities affected by the crisis, to ensure the sustainability of these investments, and to ensure that Syrians are well-prepare for life after the civil war, whatever that may look like.
Kate Moran is Program Assistant for the Middle East and North Africa at CIPE.