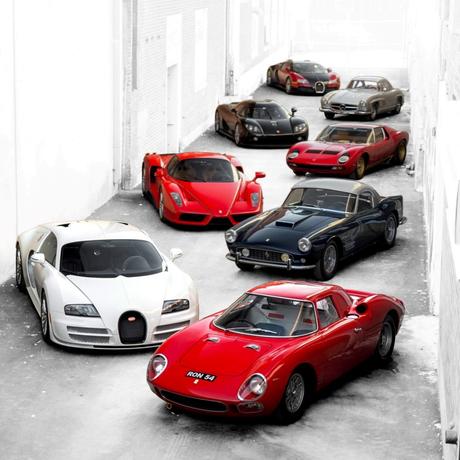 A private car collection made up of the most desirable models is set to sell for a record-breaking $100 MILLION after being assembled with "surgical precision".
It was announced in June that RM Sotheby's would be selling The Pinnacle Collection - a meticulously sourced fleet of desirable motors.
The auction house has now revealed it has one final motor from the Aladdin's Cave of cars to sell - a 1960 Ferrari 250 SWB Competizione.
With a guide price of around $17 million, the yellow car looks set to boost the total value of the collection to more than $100 million.
The 250 SWB, which was raced by the NART team and is known as 1773GT, has also just undergone a $600,000 restoration.
Under the hood is a 3-litre V12 engine which gives it a top speed of more than 150mph.
If it achieves its estimate, it will be one of the most expensive cars ever sold publicly - although it might not even be the most valuable car from the collection.
Shelby Myers, car specialist, RM Sotheby's, said: "When it comes to SWB Ferraris, there is a clear division between top-tier examples and the rest.
"The example in The Pinnacle Portfolio sits at the apex of the group. Matching-numbers, its fantastic race history coupled with its great originality and spectacular restoration make it a clear standout.
"Then there's the drivability. If you've never driven a vintage Ferrari, it doesn't get better than this.
"1773GT is precise and exact in everything it does, which is a fantastic testament to the quality of its world-class restoration.
"It truly must be the finest performing and best looking SWB in the world."
The Pinnacle Collection, seen by many as an unprecedented, single day, single owner sale, will take place on August 13 in Monterey, California.
Every sports car is up there with the best, or the most important of its type, and each represent key milestones in design, engineering and performance.
There is a Ferrari Enzo built for Pope John II, which is expected to sell for more than $3.8 million.
The first and last Bugatti Veyron will be sold and there are also important models from Lamborghini, Koenigsegg and Porsche.
A McLaren F1 upgraded to LM spec could sell for in excess of #10 million - a record for a British car.
And a 1964 Ferrari 250 LM, which was originally owned by a Bristol man, is expected to be the most expensive car.
Ron Fry, from the famous chocolate family, would race the Ferrari at venues around the UK including Longleat, Castle Combe and Yeovilton.
The 250 LM should sell for in excess of #12 million, while an alloy-bodied Mercedes Gullwing - one of 29 - is worth $8 million.
Mr Myers added: "While many of the world's most impressive collections were established in the public eye of the car-collecting world, The Pinnacle Portfolio was assembled with a clandestine, surgical precision unlike any other that has come to market."
ENDS