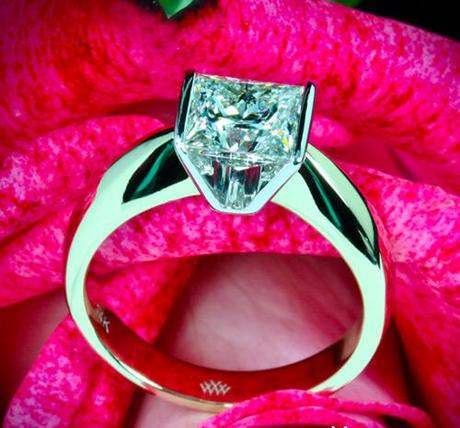 D & T originally posted this beautiful semi bezel Princess cut engagement ring on the Show Me the Bling forum at PriceScope. What a stunning setting for a marvelous diamond, who doesn't LOVE an upgrade story!
This was not D & T's first upgrade, nor was it her first Princess cut engagement ring! The original ring at proposal was a Princess cut, and after enjoying some round upgrades over the years, she went back to her first love. This Whiteflash ring is heaven, I really love the look of that semi bezel/bar setting! Absolutely gorgeous, thank you for sharing it with us!
The Stats:
1.22 ct
Color: I
Clarity: SI1
ACA from Whiteflash
Custom semi bezel or bar set mount.
White gold semi bezel with yellow gold shank.
ring size 4
Visit the original post with more pics, and join me in congratulating D & T
On Throwback Thursdays, we celebrate beautiful pieces that have been shared over the years!
Thank you so much for sharing your jewelry experiences with us. Keep revisiting PriceScope's past with us each Thursday!
#TBT
Come show off YOUR fantastic bling with fellow jewelry lovers and trade professionals Learn more about what diamond to buy from PriceScope
By Kayti Kawachi