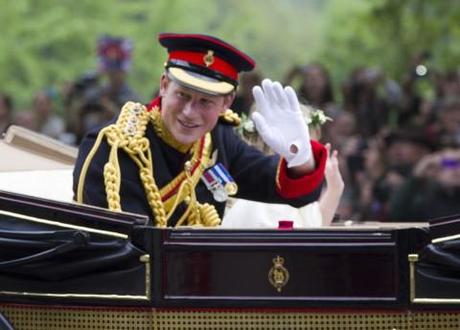 Prince Harry with some clothes on. Photocredit: waynehowes / Shutterstock.com
The background
His Royal Highness Prince Henry of Wales – aka Prince Harry – is in trouble once again. Having managed to rehabilitate his image from party boy to relaxed, yet responsible adult – his Caribbean tour being a success; he also stood in for the Queen at the Olympics Closing Cermony – he's now living it up in Las Vegas. Photographs show him embracing a naked woman, whilst appearing naked in another. He also indulged in a swimming race with Ryan Lochte (watch it below). Harry lost the race, though he was given a three second head start.
"St James's Palace confirmed it was Harry in the pictures but declined to comment further," reported Nico Hines of The Times (£). "A source said the prince, an Army officer and Apache helicopter pilot, was just "letting off steam" before the next important phase of his military career."
The photos were released by gossip website TMZ, and show the third in line to the throne naked during a game of, er, strip billiards. Said the website, "Harry … met a bunch of hot chicks… and invited them up to his VIP suite. Once in the room, things got WILD."
You can check out the naked Prince Harry pictures here.
It's good to be a prince
Strip billiards, said Louis Peltzman on Gawker, "is like strip poker for really rich people. That's all well and good, except for the fact that he let himself be photographed." Unfortunately, "his butt crack has been tastefully obscured." Basically, they all got drunk; also, "it's good to be a prince."
Let's hope he stops this youthful idiocy
It's a real problem for the Prince, and the royal family, said Tom Sykes on The Daily Beast. The video shows "the sleazy tack-fest the Las Vegas pool party scene really is." The audio makes it seem "much more druggy." Then the "other punters … aren't exactly what the carefully-planned rehabilitation of Prince Harry from feckless parasite to charming international ambassador … really needs right now." He's far too royal to "continue with these very public displays of what we had all hoped was just youthful idiocy."
Witnessed Prince Harry dealing with a Papp a few weeks ago. He was charming and very aware of the situation. Clearly its a stitch up

— Mark Borkowski (@MarkBorkowski) August 22, 2012