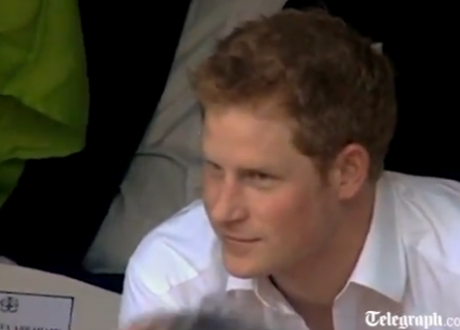 Prince Harry. From the reggae video below.
Prince Harry! The third-in-line to the throne (after his father, the Prince of Wales, and his elder brother, the Duke of Cambridge) is everywhere. Literally, eh-very-whaaare. Why is the cheeky chappy, not previously known for his good PR (remember the Nazi fancy dress?), in everyone's hearts at the moment? He's doing a tour of the Caribbean, at the moment, as part of visits to mark the Queen's Diamond Jubilee. So cry God for Harry, England and St George? Perhaps. The Telegraph waxed lyrical about him. He's "a soldier with rhythm; a diplomat with charm; an innocent abroad who is willing to listen and to learn – the Royal Family would be foolish not to deploy him elsewhere as soon as they can. If only Iran were in the Commonwealth … [he could] give that nice Mr Ahmadinejad a hug."
Even republicans love him. Jean Hanna Edelstein on The Guardian's Comment is Free.  said that it was hard for them – when you look at Prince William, for instance, and note that he's very dapper; or that the Duchess of Cambridge has "pretty hair." It's a "classic form of love." For republicans, these people are representative of everything they don't stand for. It might be an "adolescent impulse." It might even go back to "our earliest understandings of romance" – "marriage to a prince is an elegant and comfortable solution to the challenges of being a woman." Dont be ashamed "if you're a prince-loving republican." In fact, you should be "kind to yourself." In fact, your republicanism will be a convenient way to think about them all the time. "Knowing your enemy has never been so hot."
"He's cool, very down to earth. When you meet dignitaries you think it will be difficult but he just wanted to laugh – it was an honor and a pleasure to meet him," said Usain Bolt, quoted on the BBC.
Prince Harry's Top Six Best Moments
Beating Usain Bolt in a race! (sort of). At the University of Kingston, Jamaica, Harry sprinted down a track before the gun went off, whilst a laughing Bolt jogged after him. Peter Hunt, the BBC's royal correspondent, said it was a "light hearted encounter which played to Prince Harry's strengths." Harry, once a "liability", is now "an obvious asset." He represents "the future."
Watch the video below.
Showing his caring side! He chatted with a blind 12 year old girl, Anna Albury, who was primary school student of the year in the Bahamas. Whilst his speech was blown away by a gust of wind, Anna gave a moving rally to the assembled students, whom Harry described as "damn smart."
Dancing! In blue suede shoes! To reggae! At a youth center in Kingston, the young prince took to the stage and joined in with gusto.
Enjoy the royal's moves here!
Hitting all targets dead centre! At an exercise at the Jamaica Defence Force military base, Prince Harry (who's a captain in the British Army Air Corps), fired 16 live rounds at targets – and hit them all dead center.
Being nice about his grandmother! At a state banquet in Jamaica he said that the Queen was a "wonderful, caring grandmother", and in her devotion to others, was an "inspiration."
Having beauty queens throw themselves at him! Miss Bahamas said that she was open to marriage offers from the prince – whom she dubbed "hot". Harry joked that she was "the one."